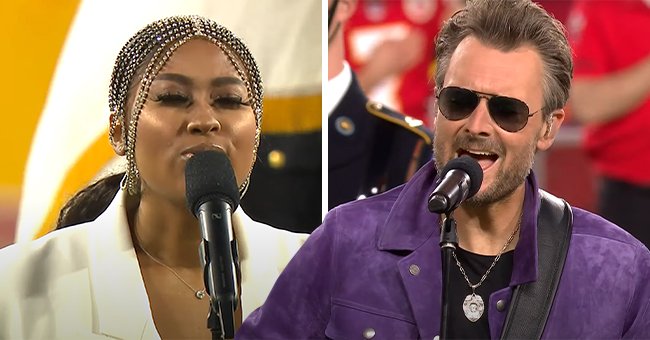 YouTube/NFL
See Eric Church & Jazmine Sullivan's Moving Rendition of the National Anthem at Super Bowl 2021

Eric Church and Jazmine Sullivan teamed up for an unforgettable duet of The Star-Spangled Banner at the Superbowl LV. This was the first time in 17 years the performance featured more than one artist.
Country musician Eric Church and R&B songstress Jazmine Sullivan performed the Start-Spangled Banner at the Superbowl LV on Sunday night. Sullivan expressed excitement before the performance at blending the two genres.
Church led the first verse accompanied by his guitar and looked dapper in black jeans, a black t-shirt, and a purple jacket. Of course, the look would not be complete without the 43-year old's signature dark sunglasses.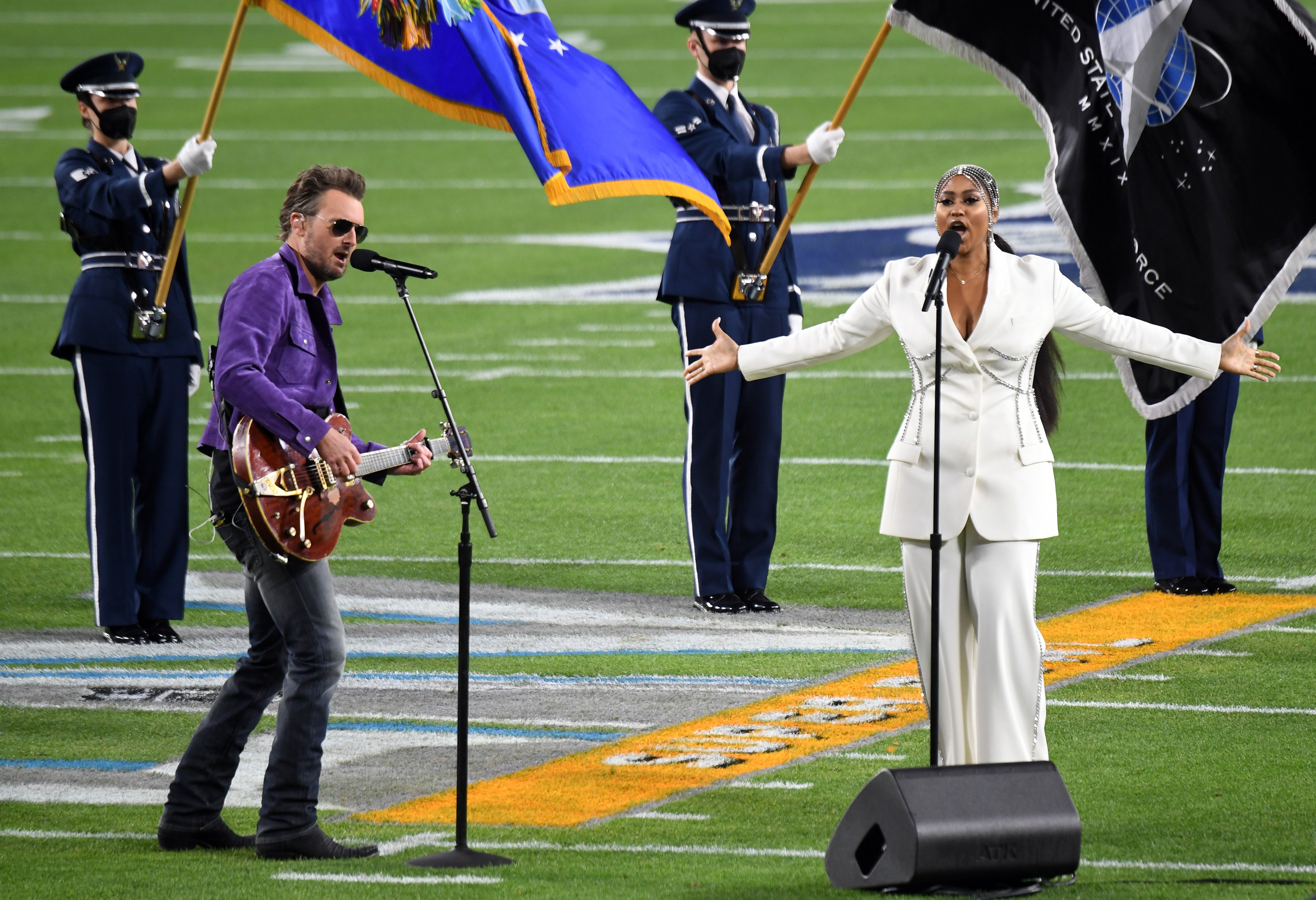 Jazmine Sullivan and Eric Church amazed the crowd with their rendition of The Star-Spangled Banner at the 2021 Superbowl, in Tampa, February, 2021. | Photo: Getty Images.
Jazmine's 33 powerful vocals soon followed, and she looked regal in a cream-colored suit and sparkling headpiece. Cameras panned across the field to reveal players with their hands on their chest.
The camera feed also cut to an army base in Kuwait, showing several servicemen and women standing to attention as they viewed from afar. It was precisely the unified message Sullivan had wanted to represent when she revealed before the show:
"I just hope that it brings unity and it shows that you can be from two different parts of life and come together, you know, for a good common cause, basically."
The two performers' backgrounds and careers couldn't be any different. The church was famously booted from a Rascal Flatts tour, which translated in a slow start to his career in 2006, as program managers considered him a rabble-rouser.
None the less, he released a few hits, including Springsteen, A Drink In My Hand, and Mr. Misunderstood. Church previously admitted to wearing sunglasses to protect his contact lenses from burning under the harsh performance lights.
This year also marks the 30th anniversary since Whitney Houston delivered her historic rendition at the 1991 event.
On the other hand, Sullivan burst onto the scene in 2008 with her debut album, Fearless, which received 5 Grammy Award nominations the following year.
She's also delighted R&B fans with the release of her new concept album, Heaux Tales, following a 5-year hiatus. Speaking to NPR last month, Sullivan said she was inspired by women she knows personally, whose stories she shares in song, adding:
"I just wanted to tell the untold stories of women. I feel like society makes it seem like we have to be perfect and present ourselves a certain way to be considered a good woman."
The last time fans were treated to a duet performance at the Superbowl was in 2003, when Aretha Franklin and Aaron Neville teamed up for Superbowl XL.
As Sullivan pointed out during an interview with ET before the performance, this year also marks the 30th anniversary since Whitney Houston delivered her historic rendition at the 1991 event.
One would never have guessed that the "Bust Your Windows Out Your Car" hitmaker was nervous going into the performance, given her delivery, even though she did express being anxious.
Furthermore, Sullivan said she had never in her wildest dreams imagined that taking center at the prestigious event was something she would get to do in her career.
Please fill in your e-mail so we can share with you our top stories!