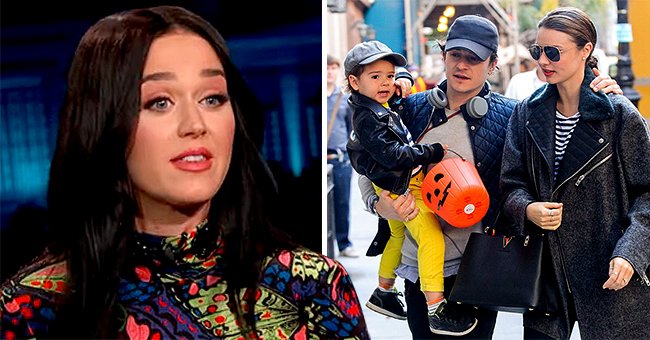 GettyImages youtube.com/Jimmy Kimmel Live
Katy Perry Admits She Initially Didn't Want Orlando Bloom Sharing Stories about Raising His Son

A few months after her first child's birth, American singer Katy Perry admits she did not want her fiancé, Orlando Bloom, to share stories about raising his son, Flynn.
36-year-old pop star Katy Perry was newly introduced to motherhood more than five months ago, and for her, it has been a rollercoaster of experiences.
She shares her daughter, Daisy Dove, with Hollywood actor Orlando Bloom. Daisy is the couple's first and only child. However, Bloom, 44, already has a son, Flynn, whom he shares with an ex-lover, Miranda Kerr.
Katy Perry performs during SHEIN Together Virtual Festival on May 09, 2020. | Photo: Getty Images.
Despite being a second-time parent, Bloom is re-living the baby movements with his younger child again and has committed himself to guide his fiancée, who is new in the business.
During a recent appearance on Jimmy Kimmel's talk show, "Jimmy Kimmel Live," the host inquired about how Perry is taking motherhood.
The mother of one exclaimed that she is in love with the entire experience, especially since she has loved ones around to help her out.
The singer confessed that she initially did not want Bloom to share stories about raising his son, but she's glad he did. According to her:
"...[Bloom] has a 10-year-old son. So as much as I was a little bit like 'I don't need to hear all those stories,' they actually helped."
Perry, who stars on "American Idol" as a judge, went on to sing her fiancé's praises and later confirmed to the interviewer that they were made for each other.
During the same interview, the mother of one revealed what transpired when she gave birth. She explained that the actor led her through with his presence in the delivery room.
The actor surprised fans by getting a tattoo of his son's name typed in Morse code on his arm.
The pair held hands, and Bloom focused his gaze on her while showing his unwavering support for his fiancée. After the narration, Kimmel jokingly recommended the father of two for delivery sessions.
It turns out baby Daisy was not only welcomed by her parents. Her stepbrother Flynn was stricken with excitement following the news of her arrival.
According to the actor, his son could not conceal his joy at having a baby sister. Although the 10-year-old already has two step-siblings from his mom, he still showed happiness to add a third sibling to his list.
Bloom's son spends time with his mother and father separately, and the former couple shares a friendly connection despite their separation.
A few months before the onscreen star welcomed his daughter, one would have thought that the 44-year-old would be unable to balance his attention for the pair.
However, the actor surprised fans by getting a tattoo of his son's name typed in Morse code on his arm to reaffirm his love for Flynn. At first, there was a spelling mistake, but the father of two soon corrected it and shared the experience online.
Please fill in your e-mail so we can share with you our top stories!