Gabriella Wilson aka HER Can Play 5 Instruments — Get to Know the Super Bowl 2021 Performer
Grammy Award-winning R&B singer-songwriter Gabriella Wilson, who goes by the mononym H.E.R. wanted to remain as anonymous as possible as she started to release music. But now we are getting to know more about her.
23-year-old Filipino/African-American singer-songwriter and multi-instrumentalist Gabriella Sarmiento Wilson, known professionally as H.E.R. (an acronym for Having Everything Revealed) was chosen to perform at this year's Super Bowl.
Wilson beautifully sang "America the Beautiful" as she played the electric guitar, right before the 55th edition of the Super Bowl, airing on February 7 on CBS, and she certainly didn't disappoint with her heartfelt and impeccable show.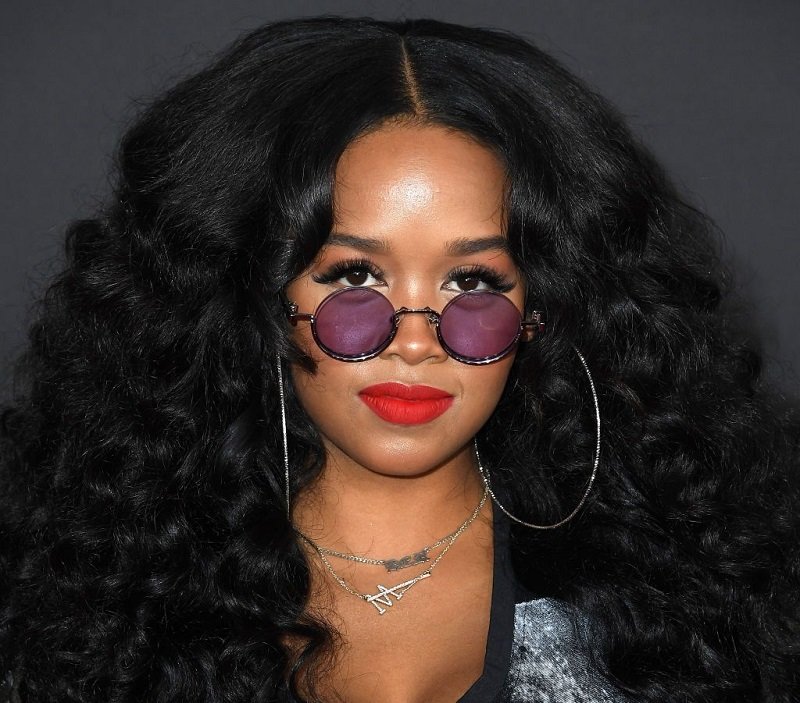 Wilson started to make a solid impression in the music industry in 2018, when she won her first two Grammys, and then in 2020, she was nominated for three categories, including Song of the Year.
Moreover, Wilson has earned the praise of some of the biggest names in the music business, including the likes of Rihanna, Drake, Alicia Keys, and Janet Jackson, which shows how she appeals to different generations. 
NOT AN OVERNIGHT SENSATION
Wilson's relatively recent emergence to the spotlight should not be taken as an overnight sensation, since the singer is considered a child prodigy, starting to sing in her father's cover band as a little child.
When Wilson was only 10 years old, she made an appearance on the "Today" and performed a cover of Alicia Keys' hit song "If I Ain't Got You." Then, at age 12, Wilson had her breakout opportunity when she took part in a Radio Disney contest.
Wilson was among the five finalists in a singing competition for the network titled "Next Big Thing," and even though she didn't win first place, it led her to lad her first record deal with Sony at age 14.
"I've really put in the time and work. I'm so happy that everything has been, you know, manifesting," Wilson told Rolling Stone magazine in an interview published in December 2019.
EARLY LIFE AND ROAD TO SUCCESS
Wilson was born in Vallejo, California, on June 27, 1997, the daughter of a Filipina woman and an African-American man who gave her a very musical childhood that mixed her different heritages and influenced her music tastes for the best.
Even though she proved her vocal talent very early in her life, Wilson said that by the time she was a teenager she focused on finding her own creative voice and learning from her coming-of-age experiences to write more poetic songs.
Despite having music as her priority at all times, Wilson went to a regular high school. And while at the time she felt like it was almost a waste of time for her career, she now hanks for having had the opportunity to have a normal childhood.
While, as we mentioned above, Wilson has signed with Sony at age 14, she reinvented herself as an artist and re-launched her career under the name of H.E.R. with the EP "H.E.R., Volume 1" in 2016, keeping her identity concealed.
SHE CAN PLAY FIVE INSTRUMENTS
If Wilson's sultry yet powerful voice, even when she is just speaking, wasn't enough to captivate the audiences and the critics alike, she is a skilled musician that masters at last five musical instruments.
While she is most famously an electric guitar player, and her transparent Stratocaster is already iconic, Wilson also plays the acoustic guitar, the piano, drums, and bass guitar.
What is still more impressive is that she didn't receive a formal musical education, rather learning from frequenting her father's cover band rehearsals at home when she was growing up.
"I just gravitated towards instruments. They were at my house and my dad would rehearse with his band. So yeah, they were just available to me," Wilson shared in an appearance at the "Late Late Show with James Corden."
Also-singer Alicia Keys has not only publicly endorsed Wilson's music but she has also known Wilson personally for a decade, and she has praised Wilson's progress and "serious musicianship," proving that the young artist's hard work shows.