Josie Bissett's Personal Life Including Meeting Her Second Husband on a Blind Date
"Melrose‌ ‌Place"‌ ‌star‌ ‌Josie‌ ‌Bissett‌ ‌tied‌ ‌the‌ ‌knot‌ ‌with‌ ‌Thomas‌ ‌Doig‌ ‌in‌ ‌2017,‌ ‌following‌ ‌their‌ first‌ ‌meeting ‌on‌ ‌a‌ ‌blind‌ ‌date.‌ ‌The‌ ‌wedding‌ ‌marked‌ ‌the‌ ‌second‌ ‌for‌ ‌the‌ ‌50-year-old‌ ‌actress‌ who‌ ‌was‌ ‌previously‌ ‌married‌ ‌to‌ ‌actor‌ ‌Rob‌ ‌Estes.‌ ‌
Actress‌ ‌‌Josie‌ ‌Bissett‌ ‌has‌ ‌experienced‌ ‌more‌ ‌weddings‌ ‌than‌ ‌most‌ ‌since‌ ‌her‌ ‌venture‌ ‌into‌ ‌the‌ entertainment‌ ‌industry, thanks to her role on "Melrose Place."
Although‌ ‌most‌ ‌of‌ ‌these‌ ‌weddings‌ ‌happened‌ ‌on-screen,‌ ‌it‌ ‌hardly‌ ‌erased‌ the‌ ‌excitement‌ ‌of‌ ‌rocking‌ ‌a‌ ‌glamorous‌ ‌wedding‌ ‌dress‌ ‌and‌ ‌being‌ ‌the‌ ‌center‌ ‌of‌ ‌attention‌ ‌while‌ ‌it‌ ‌lasted.‌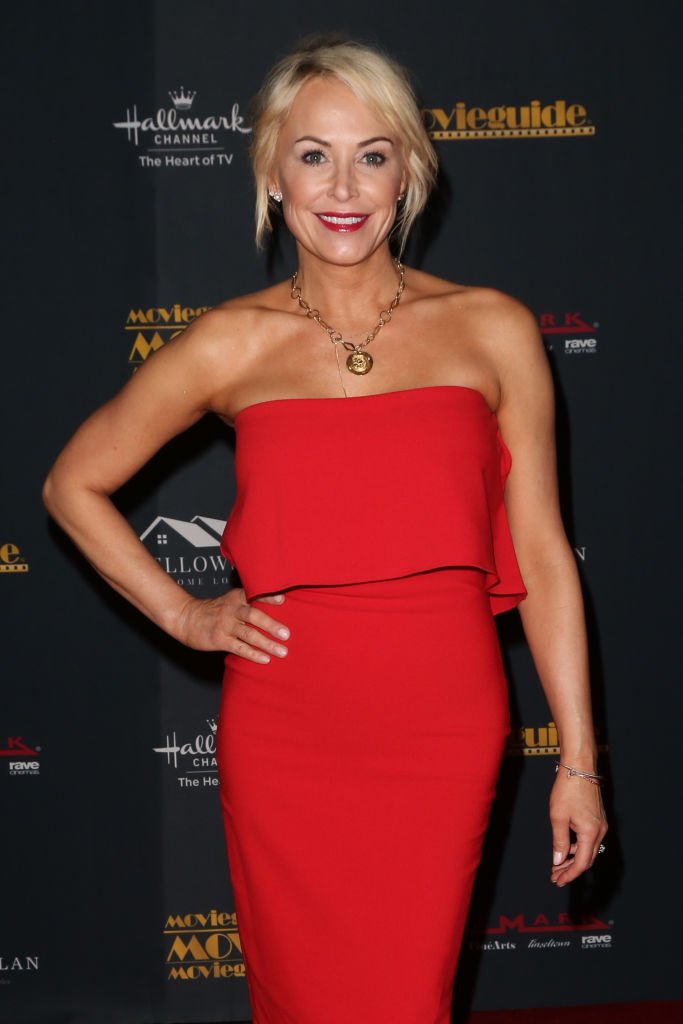 In‌ ‌real-time,‌ ‌the‌ ‌50-year-old,‌ ‌who‌ ‌played‌ ‌Jane‌ ‌Mancini‌ ‌on‌ ‌"Melrose‌ ‌Place,"‌ ‌has‌ ‌only‌ ‌been‌ married‌ ‌twice.‌ ‌Her‌ ‌first‌ ‌was‌ ‌to‌ ‌"Melrose‌ ‌Place"‌ ‌co-star‌ ‌Rob‌ ‌Estes‌ ‌in‌ ‌1992,‌ ‌and‌ the second was ‌in 2017‌ ‌to‌ ‌Thomas‌ Doig,‌ ‌whom‌ ‌she‌ ‌met‌ ‌on‌ ‌a‌ ‌blind‌ ‌date.‌ 
Here is a brief glimpse into Josie Bissett's personal life in‌ ‌honor‌ ‌of‌ ‌all‌ ‌the‌ ‌glamorous‌ ‌wedding‌ ‌appearances‌ ‌and‌ ‌epic‌ ‌love‌ ‌stories she's had over the years.‌ 
BISSETT'S‌ ‌RELATIONSHIP‌ ‌WITH‌ ‌ROB‌ ‌ESTES‌ ‌
Josie‌ ‌Bissett‌ ‌met‌ ‌her‌ ‌first‌ ‌husband,‌ ‌‌Rob‌ ‌Estes‌, in‌ ‌1991,‌ ‌during‌ ‌a‌ ‌casting‌ ‌call‌ ‌for‌ ‌a‌ ‌movie‌, and‌ they‌ ‌hit‌ ‌it‌ ‌off‌ ‌immediately.‌ Soon enough, the‌ ‌two‌ ‌became‌ ‌a‌ ‌couple and ‌decided‌ ‌to‌ ‌further‌ ‌their‌ relationship‌‌ ‌by‌ ‌May‌ 1992.
But [Heather Locklear's] years of stardom were short-lived, as the actress went down the addiction path.
Bissett‌ ‌and‌ ‌Estes‌ ‌‌exchanged‌ ‌vows‌ ‌on‌ ‌May‌ ‌1,‌ ‌1992,‌ ‌the‌ ‌same‌ ‌year‌ ‌the‌ ‌actress‌ ‌landed‌ ‌her‌ life-transforming‌ ‌role‌ ‌on‌ ‌Fox's‌ ‌"Melrose‌ ‌Place,"‌ ‌a‌ ‌"Beverly‌ ‌Hills:‌ ‌90210"‌ ‌spin-off.‌ ‌
Estes‌ ‌joined‌ ‌the‌ cast‌ ‌in‌ ‌the‌ ‌fifth‌ ‌season,‌ ‌portraying‌ ‌restaurant‌ ‌owner‌ ‌Kyle‌ ‌McBride‌ ‌from‌ ‌1996‌ ‌to‌ ‌1999.‌‌ Prior‌ ‌to‌ ‌that,‌ ‌he‌ ‌guest-appeared‌ ‌as‌ ‌Sam‌ ‌Towler‌ ‌in‌ ‌a‌ ‌1993‌ ‌episode‌ ‌of‌ ‌the‌ ‌Fox‌ ‌series.‌ 
‌The‌ ‌duo‌ worked‌ ‌together‌ ‌on‌ ‌the‌ ‌series‌ ‌until‌ ‌Bissett‌ ‌became‌ ‌pregnant‌ ‌in‌ ‌late‌ ‌1996‌ ‌and‌ ‌‌suffered‌ ‌a‌ miscarriage.‌ To‌ ‌recover‌ ‌from‌ ‌her‌ ‌loss,‌ ‌the‌ ‌star‌ ‌took‌ ‌a‌ ‌temporary‌ ‌hiatus‌ ‌from‌ ‌the‌ ‌show‌ ‌while‌ ‌her‌ then-husband‌ ‌kept‌ ‌acting.‌
‌In‌ ‌1998,‌ ‌Bissett‌ ‌returned to‌ ‌starring‌ ‌alongside‌ ‌Estes on "Melrose Place"‌ ‌until‌ ‌the‌ ‌series‌ went‌ ‌off-air‌ ‌in‌ ‌1999, to the dismay of most of the fans.‌ 
BUILDING‌ ‌A‌ ‌LOVING‌ ‌FAMILY‌ 
After‌ ‌spending‌ ‌years‌ ‌grieving‌ ‌the‌ ‌loss‌ ‌of‌ ‌a‌ ‌child‌ ‌to‌ ‌the‌ ‌tragic‌ ‌miscarriage,‌ ‌the‌ ‌pair‌ ‌moved‌ ‌on‌ ‌and‌ focused‌ ‌on‌ ‌starting‌ ‌a‌ ‌family‌ ‌afresh.‌ ‌In‌ ‌1999,‌ ‌Bissett‌ ‌gave‌ ‌birth‌ ‌to their‌ ‌first‌ ‌child,‌ ‌Mason‌ ‌True‌, without‌ complication.‌ 
Three‌ ‌years‌ ‌later,‌ ‌they‌ ‌welcomed‌ ‌a‌ ‌new‌ ‌addition‌ ‌to‌ ‌the‌ ‌family,‌ ‌Maya‌ ‌Rose,‌ ‌born‌ ‌in‌ ‌April‌ ‌2002.‌ Eventually,‌ ‌the‌ ‌family‌ ‌of‌ ‌four‌ ‌relocated‌ ‌to‌ ‌Seattle,‌ ‌where‌ ‌the‌ ‌couple‌ ‌lived‌ ‌in‌ ‌marital‌ ‌bliss‌ ‌for‌ years.‌ 
THE‌ ‌DIVORCE‌ 
‌Things‌ ‌soon‌ ‌turned‌ ‌sour‌ ‌between‌ ‌the‌ ‌duo.‌ ‌In‌ ‌January‌ ‌2006,‌ ‌the‌ ‌former‌ ‌couple‌ ‌announced‌ ‌their‌ divorce‌ ‌after‌ ‌thirteen‌ ‌years‌ ‌of‌ ‌marriage.‌ ‌Following‌ ‌the‌ ‌announcement,‌ ‌Rob‌ ‌Estes‌ ‌revealed‌ ‌that‌ he‌ ‌never‌ ‌wanted‌ ‌the‌ ‌divorce‌ ‌but‌ ‌was‌ ‌forced‌ ‌to‌ ‌oblige‌ ‌Bissett's‌ ‌request.
He also confirmed he moved out of their Seattle home seven months prior, at his ex-wife's request. They finalized the divorce later that year.
FINDING LOVE AGAIN
A decade after splitting from her ex-husband, Josie Bissett found love again in Thomas Doig, a TRD Construction Service employee. The two met during a blind date and caught each other's eyes.
They wasted no time before taking the bold step of uniting in matrimony. The couple exchanged vows on July 4, 2017, in an intimate ceremony at the DeLille Cellars Chateau, a winery in Redmond, Washington.
To commemorate the event, the happy bride shared pictures from the wedding on social media, along with a promise to live "happily ever after" with her new husband. Their marriage is going strong to date.
JOSIE BISSETT'S CAREER
Bissett has been in the spotlight since the tender age of twelve. She started as a model in TV commercials and print advertisements before moving to Japan to further her career and then embracing Hollywood.
She made her acting debut in 1989 in the horror flick "Hitcher In The Dark" and went on to land a recurring role in "The Hogan Family" in 1990.
The actress made her big break two years later, playing Jane Andrews-Mancini on "Melrose Place" for five and half seasons. Her stint in the primetime soap opera skyrocketed her to stardom.
Since becoming a Hollywood sensation, Bissett has landed opportunities to appear in movies and shows such as "Deadly Vows," "I Do, They Don't," "Law & Order: SVU," "The Secret Life Of The American Teenager," and "Mikey," among others.
Although her appearance in movies has dwindled in recent years, she has been active in other ventures like TV hosting and book authoring.
"MELROSE PLACE" CASTS: THEN AND NOW
Like Josie Bissett, the other casts of "Melrose Place" moved on with their lives after the show's cancellation. While most remain active in the entertainment industry to date, others have embraced new projects.
Heather Locklear starred as Amanda Woodward on the show, which notably made her the breakout star for seven seasons. But her years of stardom were short-lived, as the actress went down the addiction path.
Due to addiction issues, Locklear has been in and out of prison in the last two decades for crimes including DUI, hit-and-run, assaulting an officer, and domestic violence. 
Jack Wagner played hospital chief of staff, Dr. Peter Burns, and went on to star as Dominick Marone for nine years on "The Bold And The Beautiful." In 2011, he proposed to Locklear, but the two called off their engagement later that year.
Andrew Shue starred as Billy Campbell for seven years on the Fox series, and today he is committed to his charity projects and is a father to five children.
Courtney Thorne Smith played D&D Advertising receptionist Alison Parker for five years before exiting the show in 1997. She went on to star in "Two And A Half Men" and the "Emma Fielding Mysteries" franchise as the lead character.
Since 2007, she has been married to Roger Fishman. Grant Show and Daphne Zuniga, who played Jake Hanson and Jo Reynolds, have continued starring in notable movies.
Thomas Calabro, who played Dr. Michael Mancini, is now a father of three and is currently married to Lisa Calabro, his second wife. 
Kristin Davis, who portrayed intern Brooke Armstrong went on to attain superstardom with her role as Charlotte York on "Sex And The City." 
Laura Leighton and her "Melrose Place" co-star, Doug Savant, got married in 1998 and have continued in marital bliss to date. Their union is blessed with two children. Notably, Leighton played Ashley Marin, Ashley Benson's mother on "Pretty Little Liars."
Rob Estes, Josie Bisset's ex-husband, who played restaurant owner Kyle McBride snagged another starring role as school principal Harry Wilson on "90210."
Additionally, he has two children from his previous marriage to "Melrose Place" co-star Josie Bissett and a son from his 2010 marriage to Erin Bolte.
Other casts like Marcia Cross, Jamie Luner, Brooke Langton, Vanessa Williams, Kelly Rutherford, Amy Locane, Alyssa Milano, and Lisa Rinna have also done well for themselves in the entertainment industry.
Most of these stars can retrace their roots to their outstanding breakouts from the Primetime soap opera, "Melrose Place," almost thirty years after its premiere.