Getty Images
See Vanessa Williams' Beautiful Turquoise Christmas Tree with Nude Garland

American singer Vanessa Williams, popularly known for being the first African-American to win Miss America, showed off her beautiful turquoise-themed Christmas tree with nude garlands in a new photo on her Instagram story.
With the year slowly coming to an end and Christmas being less than a month away, customarily, it is that time of the year where several people begin to unbox their decorations and show the world just how much they love the holiday season.
With a recent post on her Instagram story, Vanessa Williams, famous American actress, and former beauty queen has proved to be one of the many people who fall under this category.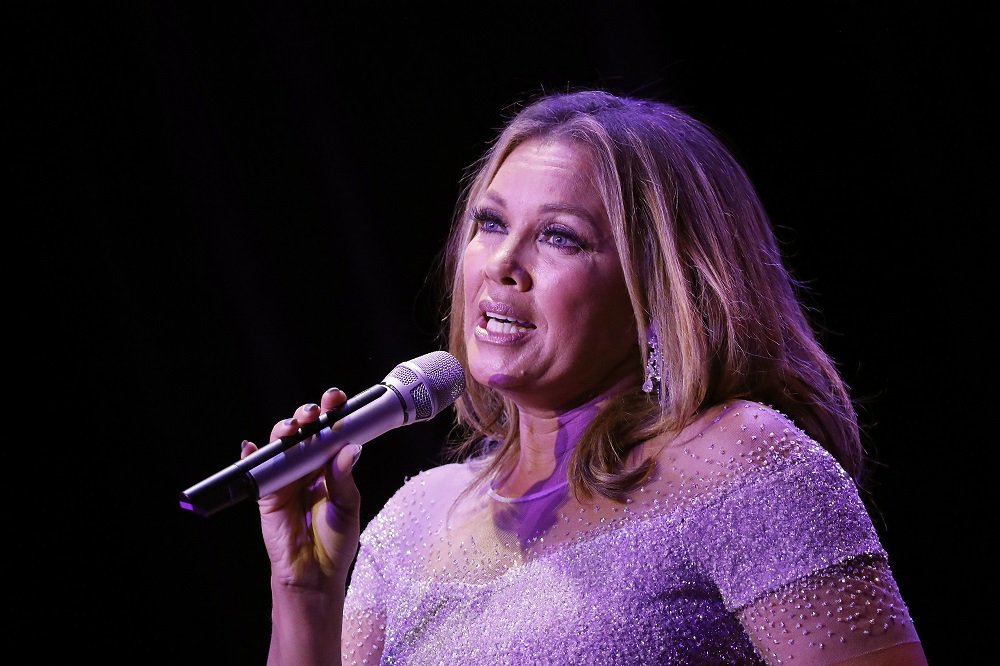 Vanessa Williams performs during the Sheen Center's "Vanessa Williams & Friends: Thankful for Christmas" at Sheen Center for Thought & Culture on November 18, 2019. | Photo: Getty Images
Williams' post was a lovely photo of her gorgeous golden Christmas tree. It stood slightly tall in her stylish minimalist foyer with shining, intricate turquoise blue ornaments and flowers.
There were also stunning nude-colored garlands wrapped around the tree all the way to the top, where it was finished with a gigantic wreath and silver twigs. Also at the base were a number of presents in different colored boxes.
This is not the star's first time showing her reverence for the Christmas season. Last year, to commemorate the launch of The Sheen Center For Thought And Culture in downtown Manhattan, she held an all-out holiday concert.
Over the years, Williams has continued to show the world just how much the arts and self-expression mean to her. Growing up, she took an interest in music and dance, and also played several musical instruments.
Williams had to relinquish her post and lost several endorsements in the process.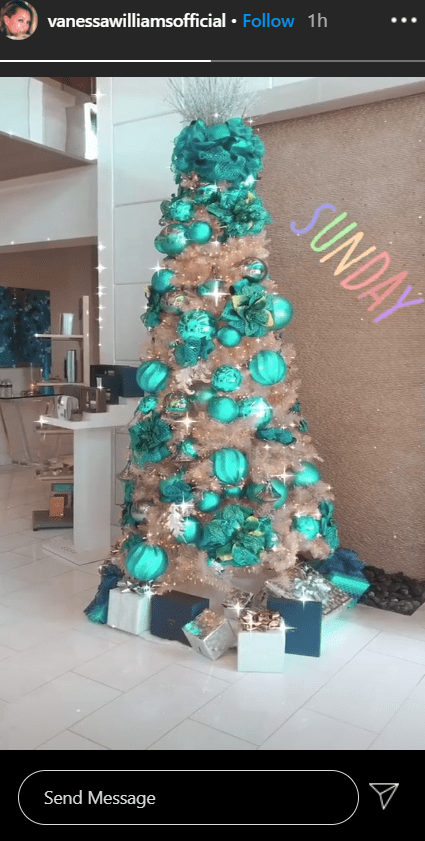 A lovely photo of Vanessa Williams' gorgeous golden Christmas tree | Photo: Instagram / vanessawilliamsofficial
She eventually got a scholarship for the Carnegie Mellon University theatre arts program in Pennsylvania. She, however, chose to study at Syracuse University in upstate New York and it was during her first year that she went into modeling.
The star took photos with photographer Tom Chiapel whose sole interest was nude photography. Dissatisfied with the provocative pictures, she quit the gig and later competed for Miss America, emerging as the first African-American to take home the crown.
Her success was marred when photos from the nude photoshoot appeared in a magazine. Williams had to relinquish her post and lost several endorsements in the process. Refusing to back down, she focused on her music career and became a huge success.
It is no surprise that the singer picked herself back up. In an interview, her mother, Helen, revealed that she taught Vanessa and her brother Chris that the only way to deal with rejection was through acceptance.
It is also clear that the star would never get tired of performing arts despite her age. She once revealed in an interview that musical theatre was a great opportunity to sing, act, dance, and work with wonderful people to put out amazing performances.
Williams also disclosed that one of her daughters was walking down the musical path, adding that she started singing backup for her several years before. With such a keen interest, it is clear that the apple did not fall too far from the tree.
Please fill in your e-mail so we can share with you our top stories!