Brandy & Her Daughter Sy'Rai Show Resemblance as the Singer Poses in a Cinderella Dress & Tiara
Popular R&B singer Brandy Norwood and her 19-year-old daughter Sy'Rai look similar in a photo of them posing on Sy'Rai's Instagram story shared on Monday, February 15.
Brandy Norwood is dressed as Cinderella in a magical blue ball gown and tiara while she hugs her teenage daughter in the picture which was shared on Sy'Rai's Instagram story.
Brandy kisses her daughter's cheek and is absolutely ethereal under the cerulean tulle material layers and netting layers. Both Sy'Rai and Brandy have braided hairstyles, which enhances their resemblance further.
Sy'Rai, on the other hand, is dressed slightly more casually in a white snakeskin blazer and formal black pants. WIth their cheeks pressed together, it is easy to see how alike the mother and daughter look.
Sy'Rai directed her 133 thousand followers to stream her mother's live-action musical "Cinderella," which was originally filmed in 1997 with a cast that included Whoopi Goldberg and Whitney Housten. She wrote:
"Go stream Cinderella on Disney Plus now!!"
Brandy has been making waves recently with Rodgers and Hammerstein's "Cinderella" now available for streaming, and the launch of her album "B7," which came out last year.
Sy'Rai even collaborated with her mother for one of the songs on the album called "High Heels" and is evidently just as musically gifted as her mother. The college-goer has also released one of her own songs.
Brandy's teenage daughter helped her through one of the darkest periods of her life.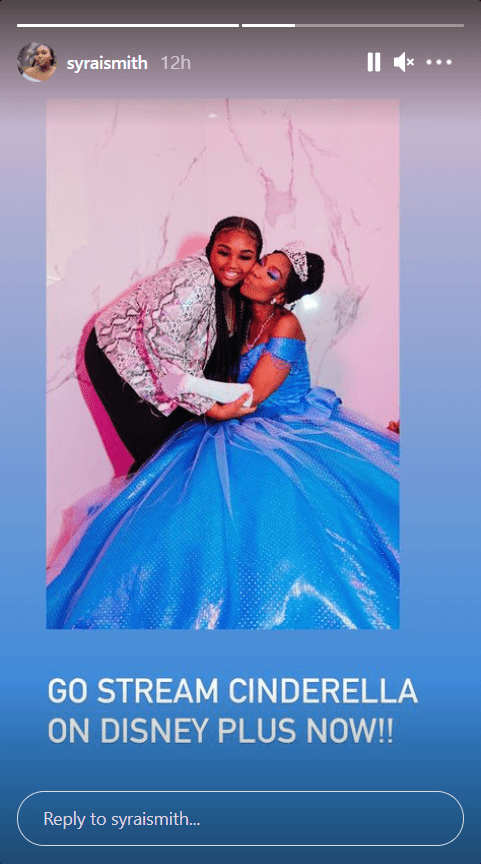 When she was just 17-years-old, Sy'Rai produced a song called "At Your Best" with the aid of her cousin,  Aaron Smith, and the track is a tribute to Aaliyah's music "At Your Best (You Are Love)."
Brandy gave birth to Sy'Rai when she was only 23 years old with her producer at the time, Robert Smith. To avoid scandal, Brandy and Big Bert (as he was known) pretended to be married. She said:
"It changed people's perspective of me, but I had to focus on what was important, which was Sy'rai."
Although Brandy is incredibly successful and has an acting career on top of her role as a musician, she went through a rough patch. Brandy's teenage daughter helped her through one of the darkest periods of her life.
The "The Boy is Mine" singer faced a challenging eight-year break from the music industry due to her own personal struggles and depression. She credits Sy'Rai for reviving her.
After she and her partner split a year after Sy'Rai was born, in 2006, the acclaimed singer was involved in a car accident that unfortunately killed a 38-year-old woman. Brandy was devastated.
Brandy was left in a bleak place following a series of heartbreaks and the incidents mentioned above. Brandy explained that she knew she had to be strong for her daughter, and so she pulled herself out of that hole.