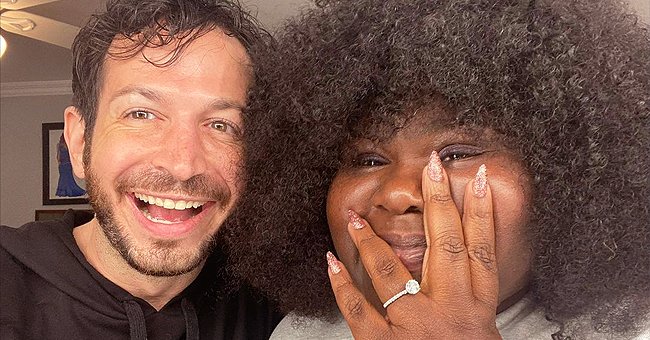 Instagram/brandontour
Gabby Sidibe & Her Fiancé Show Complicating Looks as They Enjoy Unboxing Icy Park Drop (Video)

Actress Gabourey Sidibe and her fiancé Brandon Frankel looked to be having a good time in a new video he shared on Instagram that showed them unboxing their Icy Park gear.
Gabourey Sidibe and her fiancé Brandon Frankel are one cute couple, and in a recent video he shared, the pair looked to be having fun as they unboxed their new Icy Park outfits.
The video showed Sidibe backing the camera with her arms spread out wide. She had on a blue Icy Park jacket that reached past her knees.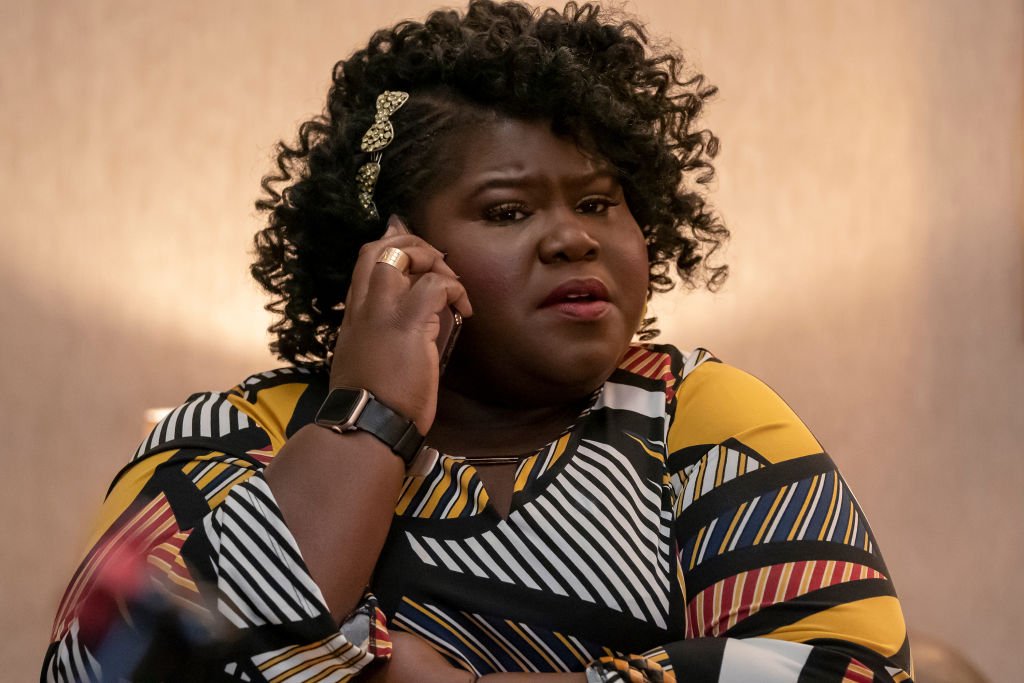 Gabourey Sidibe in the "Talk Less" episode of "Empire" which aired on March 10, 2019. | Photo: Getty Images
Underneath the jacket, she had on blue and white leggings and a white top. She also wore white sneakers. Sidibe looked elegant with her makeup-bare face and with her full hair sitting wildly atop her head.
When she turned to the camera, she looked to be in shock as she immediately pulled the flaps of the jacket close to her chest and smiled at Frankel, who called out to her. He told her she was looking icy, to which she replied:
"Yes, of course, I am. I'm in my new Ivy Park Icy Park [expletive] coat. How dare you?"
Frankel laughed as Sidibe spoke to him, and in the caption of the post, he wrote: "Always keeping it fun- even when unboxing the @weareivypark new #icypark drop. Gotta keep my fiancée flossy....cuz fiancée rhymes with @beyonce..."
Following the video was a picture of Frankel in an Icy Park coat. He had his back turned to the camera, and his arms were spread out wide as though in flight mood. He had on dark blue joggers and white sneakers.
Her relationship with Frankel came around the time she wanted to stay off men.
In the comments section, someone talked about how Sidibe and Frankel were among the cutest couples they had ever encountered, while another admitted that their interaction was beautiful to watch. Someone said:
"I love you two! Ya'll make me happy. ?."
Sidibe and Frankel, who had been dating since 2019, decided to take their relationship a step further last year when Frankel proposed to her in a naughty manner.
In December, Sidibe shared a tribute to him on his birthday and included Frankel's hilarious picture proposing to her in the nude. According to her, his sense of humor was one of the things she admired a lot about him.
Prior to being engaged, there had been rumors about the pair being married, which stemmed from the fact that for the most part of the lockdown, Frankel and Sidibe spent it together.
Amazingly, for the "Precious" actress, her relationship with Frankel came around the time she wanted to stay off men and not cater to their needs. It looks like love came calling, and Sidibe could not resist the call.
Please fill in your e-mail so we can share with you our top stories!