Getty Images
Dolly Parton's Fans Gush as She Dazzles in an Outfit That Fits Her Personality
Country superstar Dolly Parton's fans admire her versatile persona and her beautiful looks. However, her fans are also enthralled by her stylish yet dynamic wardrobe.
It was her chic, bust-baring, sparkles-and-tights style that served as Dolly Parton's Trojan horse. When it comes to the stylish ensembles in her closet, one can't stop admiring them.
Her fans have recently gushed over the Grammy Awards winner, who impresses in an outfit that matches her character, as shown in the adorable photo she shared on Instagram.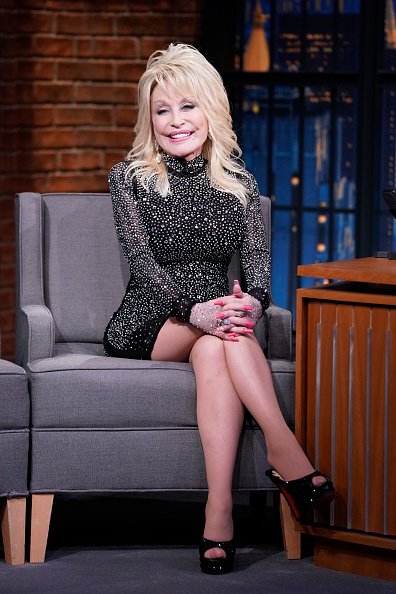 Dolly Parton during an interview with host Seth Meyers on November 21, 2019. | Photo: Getty Images
In the snapshot, the ageless beauty beams for the camera. Parton's twinkling eyes and natural warm smile complement each other. Wearing her signature hairstyle, she opted for minimal makeup.
The "I Will Always Love You" singer captioned the snap: "Hey, good lookin." In no time, the photo received over 100,000 likes and numerous comments from amused fans.
One person expressed a desire to frame the photo and hang it on her wall. Another fan referred to Parton as "a breath of fresh air" and said the singer had everything the world needed right now.
Meanwhile, it may seem hard to believe that someone who shares time with Parton will choose to leave as soon as possible, but a miracle of miracles, it really did happen.
Parton said she has not yet received her COVID-19 vaccine, but will do so eventually.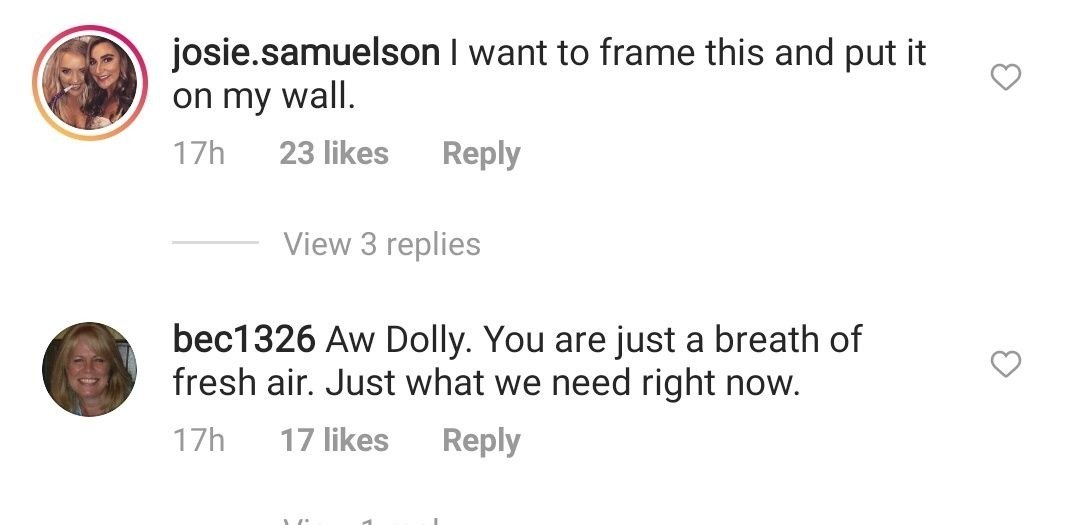 Screenshot of comments from Dolly Parton's Instagram post. | Photo: Instagram/Dolly Parton
In the recent episode of "The Tonight Show Starring Jimmy Fallon," the superstar relayed the story of being abandoned by her date while playing "True Confessions."
The game's participants — Parton, Fallon, and actor Noah Centineo — each confessed a different tale, leaving it up to the rest of the table to decide whether or not it was true.
The "Steel Magnolias" actress then recounted an incident when she dated a guy who kicked her out of a car and made her walk through the forest at night through bears and bobcats.
When Centineo asked Parton about the scary wildlife, she assured him that it was a certainty, telling him that she heard and felt them during her trek through the Smoky Mountains on the way home.
Earlier this month, Parton said she has not yet received her COVID-19 vaccine but will do so eventually. She also mentioned that she donated $1 million toward COVID-19 research.
Parton has debuted her first Super Bowl commercial for Squarespace. To go along with the ad launch, Parton devotees will be able to buy a new scent from her label, "Dolly: Scent From Above."
Please fill in your e-mail so we can share with you our top stories!