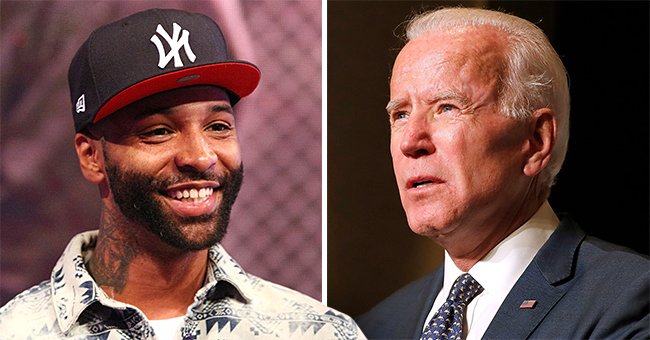 Getty Images
Rapper Joe Budden Gets Mistaken for President Joe Biden in Hilarious Twitter Exchange
Twitter users were amused after one fellow user thought that a former hip-hop star turned cultural critic was President Joe Biden. It turns it was rapper Joe Budden.
Many people become witty in creating fun account names on social media platforms. However, actual full names which sound like the names of public figures also exist online.
This one Twitter user recently drew mixed reactions from fellow users for a case of mistaken identity involving former rapper and top podcaster Joseph "Joe" Budden.
JOE BUDDEN'S POST
Budden, a former "Love & Hip Hop" star, took to Twitter to retweet user Smi's post, which read, "overthinking is procrastinating." The Patreon Creator Equity Adviser disagreed with it.
Many users also expressed their thoughts. One user agreed to what Budden had shared. Another one justified that one can be productive while overthinking.
As more Twitter users continued to chip in their thoughts in Budden's re-tweeted post, one user, @Blvck_Pvul, seemed to have blended in the wrong crowd.
AN EXCHANGE GONE WRONG
User @Blvck_Pvul cut off other Twitter users' moods and eventually demanded Budden to stop dwelling in procrastination and asked for "a stimulus check."
But another Twitter user, @OfficialAtilli, who thought that @Blvck_Pvul might have addressed a wrong person, chimed in and told the fellow user:
"this joe budden not joe biden."
The hilarious exchange drove Twitter users to feel different emotions. Some expressed them with laughing emojis, while others shared crying emojis in the comment section.
Actress Tahiry Jose also shared that she had been in an abusive relationship with Budden.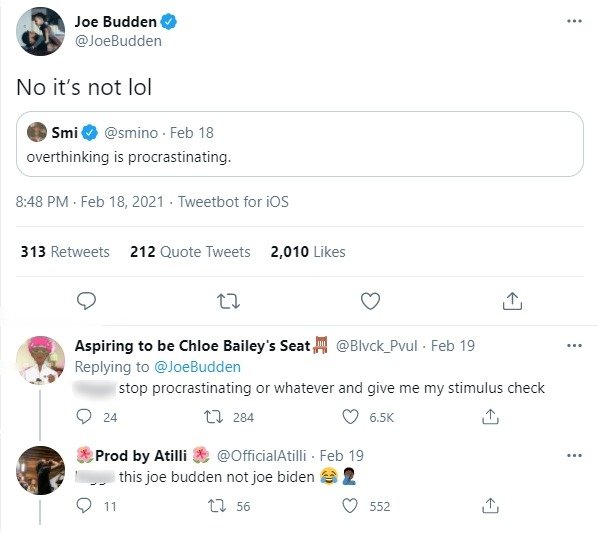 A screenshot of the hilarious exchange under former rapper Joe Budden's tweet. | Photo: twitter.com/JoeBudden
NOT NEW TO BUDDEN
The latest mix-up isn't new to Budden. After Biden's win in November and inauguration in January, the 40-year-old culture critic became a meme sensation.
Budden shared on Twitter that he already had 600 mentions of name jokes. While he found the jokes funny, the "State of the Culture" star quipped that he was not going to stand for it in the next four years.
Earlier, Budden became controversial after Cyn Santana accused the former "LHH" star of getting physical in a leaked phone conversation. Santana was Budden's ex-fiancée.
Aside from Santana, actress Tahiry Jose also shared that she had been in an abusive relationship with Budden. The podcast star denied and claimed it was Jose who abused him.
Please fill in your e-mail so we can share with you our top stories!