Simone Biles Looks Angelic in a New Photo as She Displays Her Slim Legs in a Chic White Dress
Simone Biles showed off in her Sunday best in her latest Instagram post. The Olympic gymnast displayed her athletic legs in a stylish white dress that made her look angelic.
Four-time Olympic gold medalist Simone Biles is often seen in tight leotards and workout gear, but when she's out of the gym, she dresses to impress. She can rock anything from ripped boyfriend jeans to flirty feminine dresses.
On Sunday, February 21, Biles took to Instagram to show off her Sunday best outfit, which revealed her feminine side and had fans filling her comments section with compliments.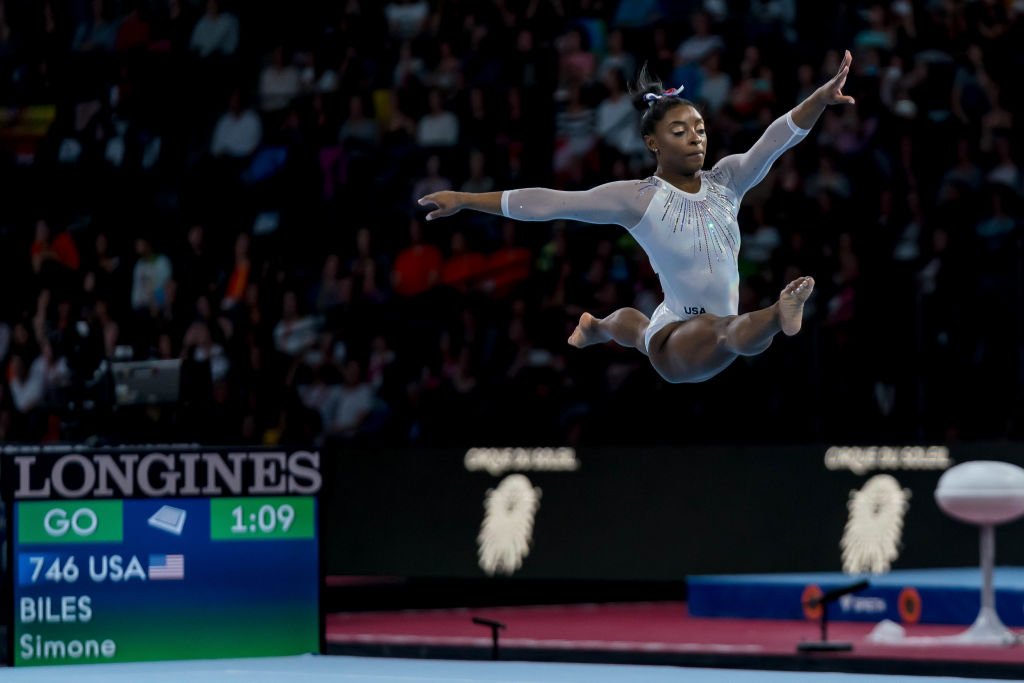 In the photo, Biles posed outside while wearing a white knee-length dress with puffy sleeves and buttons leading from the high collar to the bottom hem. 
To accessorize the textured white dress, she threw on a pair of gold earrings which glistened as her long dark hair was styled in a sleek up-do bun. The photo was captioned:
"no sunday scaries here (sic)."
While her fans were positively stunned by her latest post, it's not the first time that Biles has shown her athletic legs in a stylish outfit. Her Instagram is filled with posts flaunting her fit physique and fashion prowess.
In March 2020, she turned up the heat in a pink figure-hugging mini dress that showed off her beautifully sculpted shoulders and arms. She paired the dress with black high heels that accentuated her derriere and strong legs.
BILES IN THE LIMELIGHT
Biles' Instagram page is lighthearted and easily whisks fans away from her busy life as a professional gymnast, which is physically and mentally demanding. She told USA Today Sports:
"I don't think people get the intensity of how I train and what my life looks like."
To show the world what being the most decorated gymnast in America entails, the 23-year-old will feature in a Religion of Sports documentary out this summer.
SIMONE VS. HERSELF
In the documentary titled "Simone vs. Herself," fans will get a glimpse of who Biles is as she speaks candidly about her life, her training, and the emotional challenges of being an Olympic athlete during the COVID-19 pandemic.
Amid the pandemic, the 2020 Olympics were postponed, which was heartbreaking for Biles who felt mentally defeated by the thought of losing another year at her age. Gymnasts typically peak in their teens, and the sports star is 23 years.
MOVING FORWARD BUT NOT FORGETTING
After encouragement from her coaches, Biles found the strength to push through and continue training for the upcoming games and will compete for the last time this year.
While she will leave a great legacy in the world of gymnastics, Biles declared that she would not let her own daughter compete for USA Gymnastics because of the way the organization mishandled the Larry Nassar scandal.