Michael Strahan Shares a Photo of His Beautiful Twin Daughters Enjoying a Date Night with Him
Who could blame Michael Strahan for parading his beautiful twin daughters, Isabella and Sophia, on his social media again? The girls are naturally gorgeous and share a special bond with their dad.
Michael Strahan posted on his Instagram on February 23, revealing that he and his daughters were having a personal date night together. The girls were perched at the counter with their food.
Sophia was wearing a pale orange sweater and had her curly brown hair tied loosely in a low ponytail. Her identical sister, Isabella, sported a totally different look with her hair pinned up.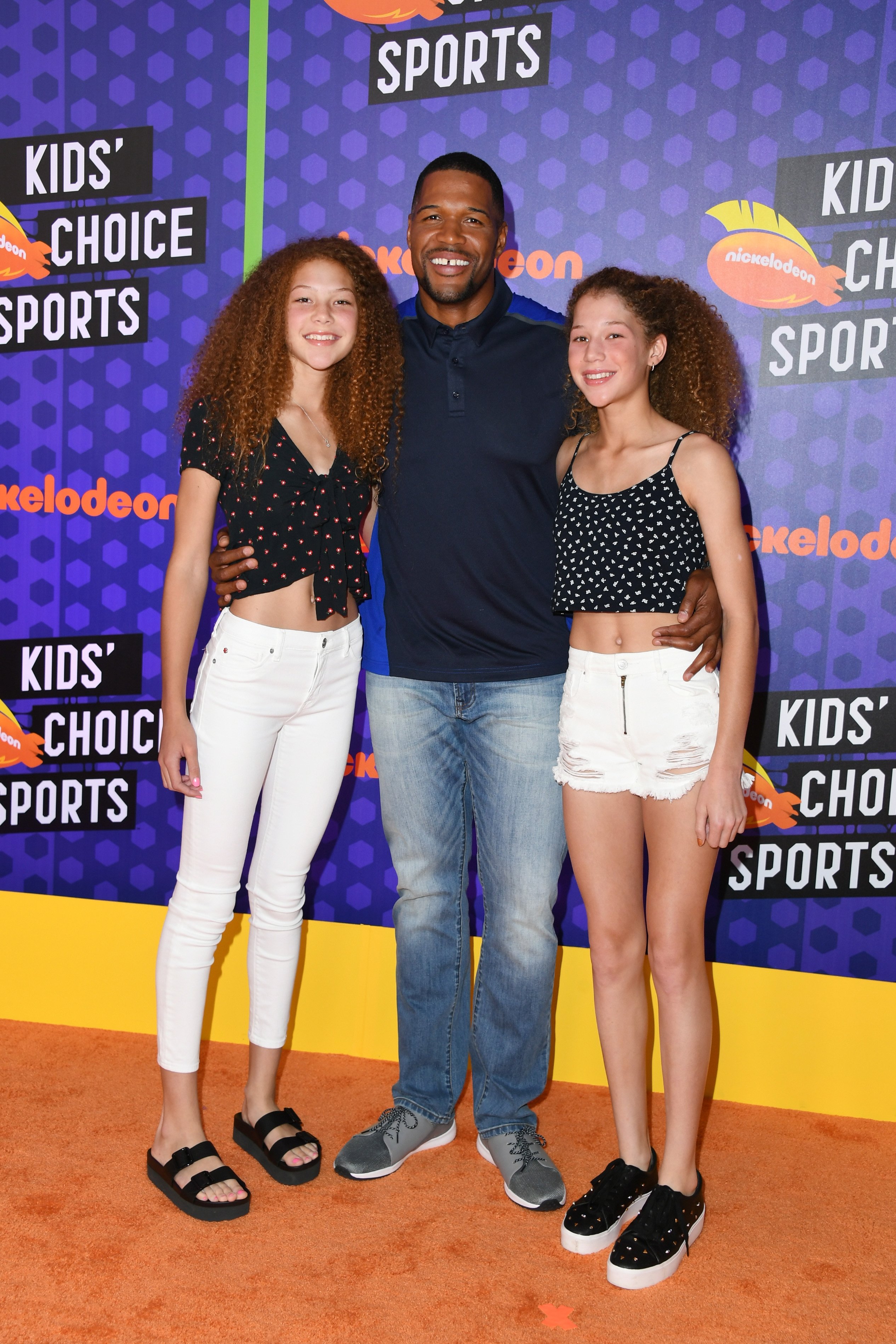 Isabella had a peach headband on and a grey sweatshirt. The girls are incredibly photogenic. They were about to have a nutritious dinner of green vegetables and a protein that looked like fish or chicken.
Both girls had massive glasses of water to go with their meal. No doubt they are health conscious. Their dad showed off the heartfelt moment with his 1.3 million followers, saying:
"Date nights with @sophialstrahan and @isabella.strahan = the best night!"
Strahan also recently shared footage of his girls modeling two outfits from his new fashion collection, M by Michael Strahan. Fans were quick to ask if the twins were getting paid for their promotional work.
During a shopping trip in Florida, Isabella and Sophia tried on his suit trousers and jacket, which were all oversized for their slight build but which they still looked amazing in, of course.
Strahan claimed the twins' mother was verbally abusive towards their daughters.
Strahan was married to Wanda Hutchins in1992, but they divorced in 1996 after having two kids, Tanita and Michael Anthony. In 1999, he married Jean Muggli, with whom he had the twins.
Since their parents' nasty divorce, Isabella and Sophia have been living in the lap of luxury. In 2020 they were pictured flying on their dad's private jet. Isabella also shared a picture in the Bahamas last year and wrote in the caption:
"Glad to be back."
In 2019, things between Strahan and his ex-wife Muggli escalated when he sued for their daughters' custody. Strahan claimed the twins' mother was verbally abusive towards their daughters.
In October last year, the case was dismissed when the parents finally settled on a shared custody arrangement. According to the court documents, Isabella and Sophia will spend alternate weeks with each parent.
Despite their father's claims, the twins still live a glamorous life and enjoy various activities, including beach volleyball, tennis, and horseback riding, for which they have even won several competitions.
At just sixteen, both Isabella and Sophia are considered mini social influencers and frequently show off their attendance at private celebrity events and exotic holiday locations.