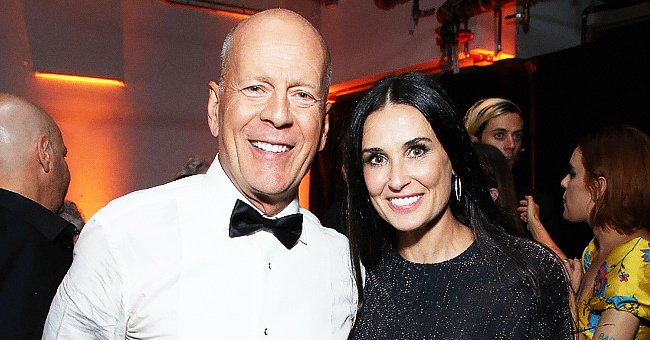 Getty Images
Demi Moore & Bruce Willis' Daughter Rumer Feels like She's Dying during Anxiety Struggles
A real update about her life has been shared by 32-year-old actress Rumer Willis, the eldest daughter of actress Demi Moore and actor Bruce Willis, through her Instagram Stories.
Rumer Willis recently shared a video of herself on her Instagram Story with a filter showing tears coming from her eyes. The caption spoke of her desire to reveal a vulnerable side.
"Wanted to share something vulnerable because I think it is important to remember there are many sides to everyone and so much we don't see outside of the lens of social media," Willis began.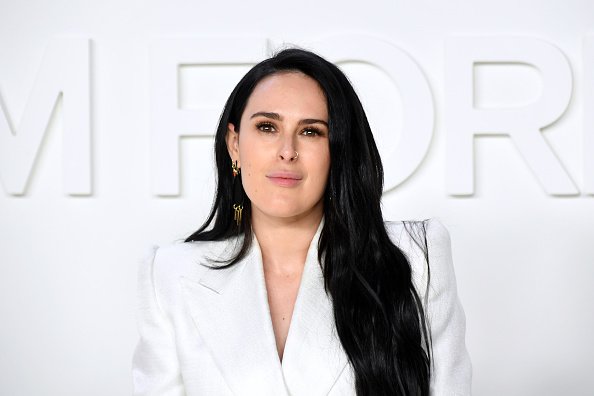 Rumer Willis at Milk Studios on February 07, 2020 in Hollywood, California. | Photo: Getty Images
Willis said she was suffering from bad anxiety since yesterday but that she was studying self-soothing techniques. She added that there had been times when she seemed to be about to die.
In addition to feeling dizzy, she said that her heart would not slow down. There are moments when Willis feels as if a force that is much more powerful has taken over the control panel in her brain.
However, Willis stressed that the worst thing she can do is resist it or fight against it. The actress said she had to hold herself hostage every time she wished things would be different.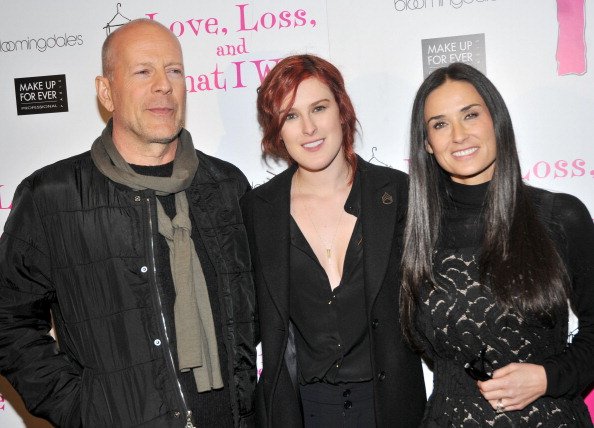 Bruce Willis, Rumer Willis, and Demi Moore pose at B Smith's Restaurant on March 24, 2011 in New York City. | Photo: Getty Images
As she shared her candid video of herself suffering from anxiety, Willis, who co-starred with her mother in the film "Now and Then," explained she was doing it in an effort to get a grip on reality.
On New Year's Eve, Willis opened up about being sober for four years. Her feelings are hard to get through, but she does her best to get through them and pull through in the end, she said at the time.
She clarified to him that all she is asking for is for him to be her guest.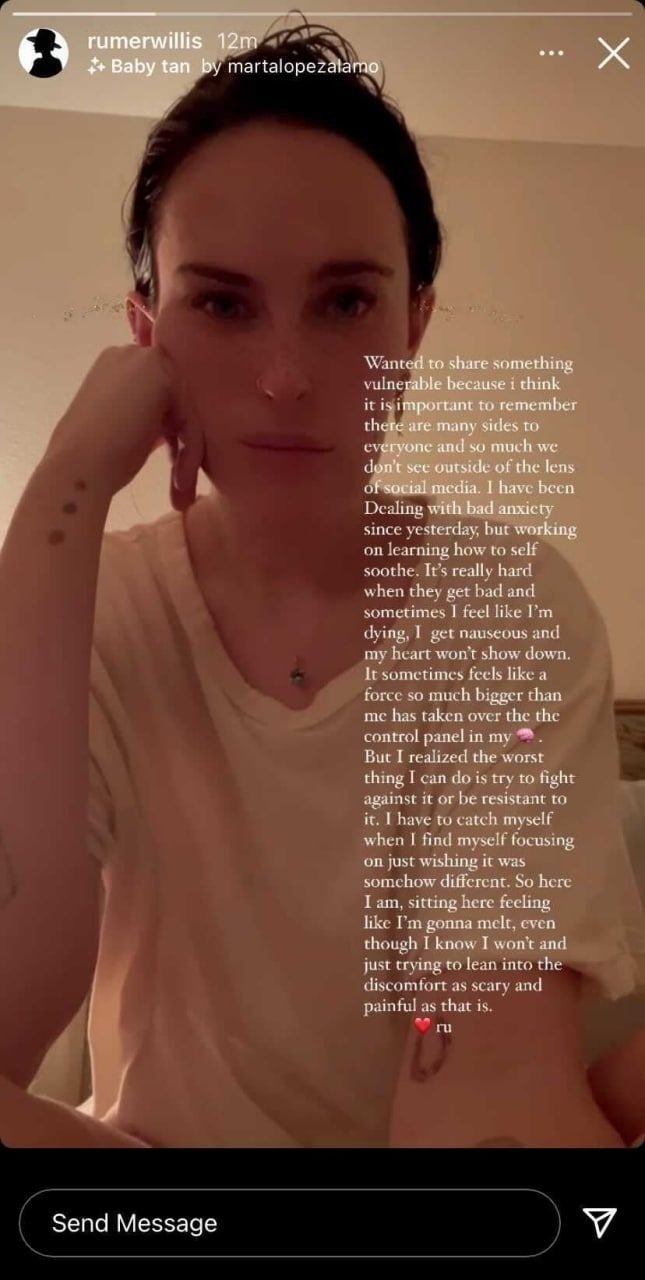 Rumer Willis sharing on her Instagram Stories that she has been dealing with bad anxiety. | Photo: Instagram/rumerwillis
In October, Willis gave an interview to "Red Table Talk" discussing her experiences with sexual consent. She was joined by Jada Pinkett Smith, Adrienne Banfield-Norris, and Willow Smith.
Willis remembered a quick moment with someone in the outdoors. The two of them were kissing, and she said she asked if the person would like to come inside her house.
Willis made him aware that her request to come into her house does not mean that she wants him to get her naked. She clarified to him that all she is asking for is for him to be her guest.
Further stating that her date proceeded to take off her clothes after he was invited inside, Willis explained that she had no idea what was going on. She said she was totally frozen.
Willis confessed that she felt ashamed to bring that story up because she believes that she is such an empowered, strong person but didn't dare to say no when it happened.
In the early days of the COVID-19 pandemic, Willis quarantined with her parents, Moore and Bruce, and sisters Tallulah and Scout. They caused headlines because of it.
Please fill in your e-mail so we can share with you our top stories!