Fans Think Ciara Is Pregnant Again after Posting Video Riding a Water Bike in a White Swimsuit
Stunning R&B singer Ciara Harris is a dream in a white one-piece swimming costume as she rides a giant red water bike on the ocean on Wednesday, February 24. 
Ciara is fun-loving and beautiful in an epic video on her Instagram feed of the songstress wearing a white swimsuit and commandeering a trike with red wheels over the crystal clear seawater.
The sky is a vivid blue in the background, and Ciara looks flawless and entirely in control as she cycles across the frame to the soundtrack "I'm Different" by the artist 2 Chainz.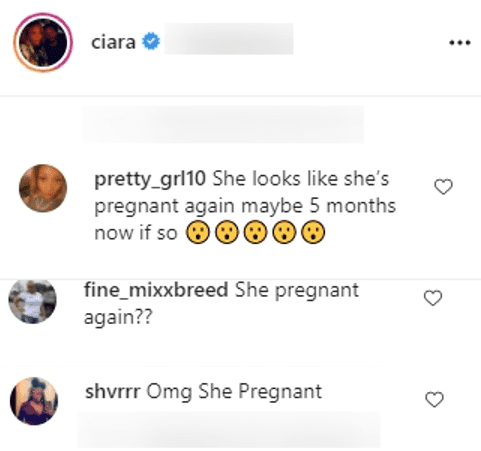 However, fans were quick to comment on Ciara's stomach, which looks slightly more significant than usual in the video clip. Several followers speculated whether the "Work" singer was with-child again.
Ciara, who oozed sass and happiness at having quality time with her husband, Seattle Seahawks player, Russell Wilson, quoted the Two Chainz song in her caption, saying:
"Pull Up 2 Da Scene Wit Da Ceilin Missin.'"
Ciara and Wilson were married in 2016 and have two children together. Their daughter Sienna Princess is now three years old, and their son Win Harris was born last year in July.
Ciara also has a child, Future, with her ex Future (Nayvadius DeMun Wilburn). The blended family has been incredibly content together, as seen on their various social media accounts.
Ciara's weight loss goals shifted after her third pregnancy, and she embraced her curves more than before.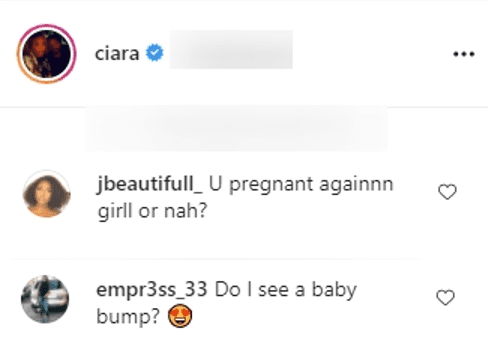 Almost immediately after giving birth to Win, Ciara vowed to lose 48 pounds. The starlet only has 18 pounds left to go, and her progress has been evident through various bikini pictures shared on her Instagram.
In a surprising turn of events, Ciara partnered with Weight Watchers, and it is through their balanced program that Ciara has seen such rapid results. She discussed her fitness journey in an interview, saying:
"The WW programme is about practising good, long-term habits and educating yourself, which I love."
But although Ciara used to put a lot of pressure on herself about shedding baby pounds, Ciara's weight loss goals shifted after her third pregnancy, and she embraced her curves more than before.
Ciara was an extremist in the past when it came to diet and exercise, but she has relaxed her views and is okay with how her body looks and feels even if she has not completed her fitness goals.
Ciara has continued to work and has appeared on magazine covers even though she has not achieved her desired weight post-Win. However, the singer revealed that her decision was empowering.
Another change she made was in terms of her eating habits. Ciara is no longer restricting herself from certain foods while she works on her physique but instead tracks her meals on her WW app.