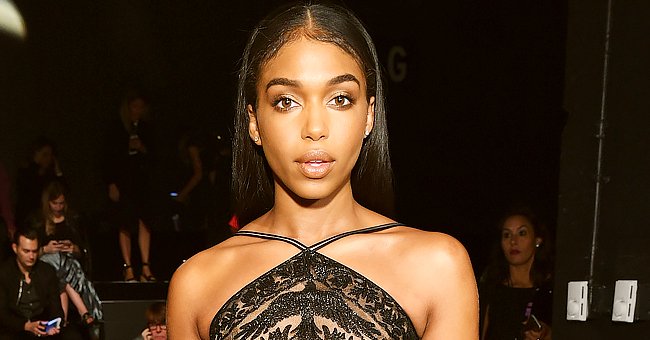 Getty Images
Check Out Lori Harvey Showing Expensive Hermès Bracelets & Awesome Watch Covered in Diamonds
Comedian Steve Harvey's adopted daughter, model Lori Harvey, flaunts her expensive diamond bracelets and watch from Hermès on her Instagram story earlier this week.
Lori Harvey is all about the glam as she showed off her recent acquisition of three diamond bangles and a mesmerizing watch from French luxury jewelry brand, Hermès.
Both the watch and the bracelets are encrusted with diamonds that glint beautifully in the light. Two of the bangles are gold, and the other one is silvery blue. The watch is also silver.
Although she is shorter than most, Lori is a fashion model and has a following of 3.4 million on Instagram. She privileged these fans with a peek of her new accessories.
Lori and the actor Michael B. Jordan announced that they were officially dating last month. For Valentine's Day, he awarded his new girlfriend stock shares at Hermès. A source revealed that:
"They have gotten serious quickly. It's obvious that they don't want to be apart."
The couple was first pictured together last year and since then were seen vacationing in Salt Lake City. They have been keeping their relationship on the down-low since Lori has been public with previous exes, and it didn't work out.
The 24-year-old has had several other famous boyfriends, including the football player Memphis Depay, Trey Songz, Diddy, and Ciara's ex, Future. However, her connection with Jordan seems different.
In 2007 her mother Marjorie Bridges married Steve, and he adopted Lori and her siblings.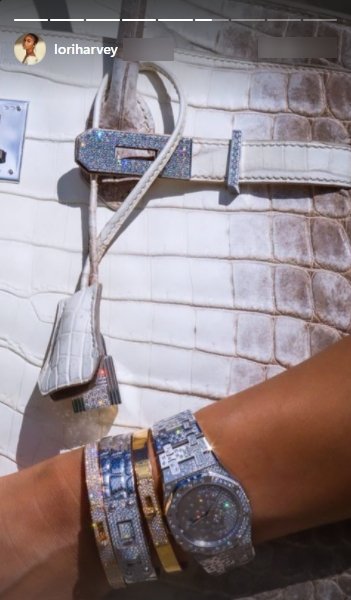 Screenshot of IG story showing Lori Harvey's jewelry | Source: Instagram/loriharvey
Jordan and Lori uniquely celebrated Valentine's Day. Jordan hired an aquarium and filled it with bouquets of roses. They also had a romantic dinner prepared for them there.
The "Black Panther" actor had rented out the whole place and, after a private tour, saw the turtles, followed by a meal from Nobu, an elegant Japanese eatery. A source told People that:
"It seems they have wanted to get to know each other in private."
Lori has also garnered fame through her modeling career. She shares a close relationship with her stepfather, Steve Harvey, even if he is a little overprotective. He once had one of her boyfriends followed.
Lori's biological father is unknown. In 2007, her mother Marjorie Bridges married Steve, and he adopted Lori and her siblings, Morgan and Jason, which is why she has his surname.
Interestingly, before 2015, Lori loved horse-riding until she obtained a severe back injury and a medial collateral ligament injury of the knee. After that, her modeling career took off.
Although Lori is only in her twenties, she is already considered a social media influencer and has a range of accomplishments under her belt. Her new relationship with Jordan is only one component of this success.
Please fill in your e-mail so we can share with you our top stories!