Fans Slam Bryce Dallas Howard for Her Tight Sequin Dress at the Golden Globes — See Comments
Bryce Dallas Howard has come under attack for her Golden Globes outfit. From being called the worst dressed to the least attractive, fans spared no words in airing their disapproval.
The 2021 Golden Globes award was held over the weekend, and as expected, some of Hollywood's finest actors graced the event looking rather lovely in their glamorous outfits.
While several stars looked incredibly exquisite, others did not impress fashion lovers or, most importantly—their fans. One of such is "Black Mirror" star Bryce Dallas Howard.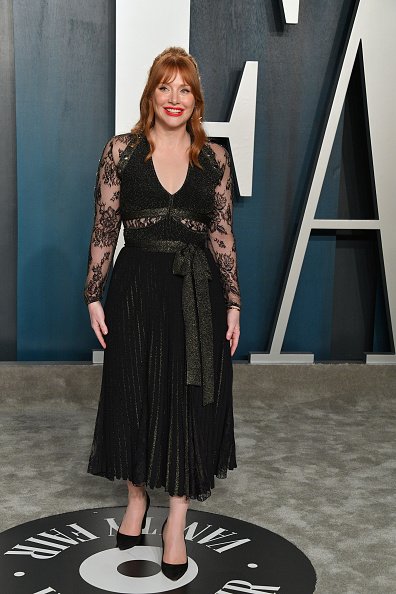 For the event, Howard donned a sequin turtle neck dress. The tight-fitting number had long sleeves stopping at her wrist and left little skin to be seen.
Howard, who presented the award for best director, took to Instagram sharing a post about her love for sustaining consignment fashion while giving details about her outfit.
However, internet users quickly took to social media, airing their disapproval of the actress's outfit. While one Twitter user compared Howard to a sparkly candy wrapper, another wrote: "OMG -- that has to be the WORST look of the night."
The user went on to add that not only was Howard's sequined look the worst for the night, it was also the worst in the entire Golden Globes history.
There were quite a number of stars who brought their A-game to the Golden Globes red carpet.
Similarly, a third Twitter fan called Howard's dress the least attractive for the night. He concluded by describing the number as really unflattering on her figure.
While Howard's recent choice of outfit did not sit well with many, the actress has, in the past, dazzled fans with her red carpet looks and impeccable fashion style.
How Bryce Dallas Howard dress looks like. #GoldenGlobes pic.twitter.com/0Fu0u3XizC

— Calorina (@CarolaDetal) March 1, 2021
In 2016, Howard once again went for a sparkly look when she arrived at the Golden Globes wearing a navy blue sequin gown with three-quarter sleeves.
While the dress was undoubtedly flattering to her figure and skin tone, the actress caused more buzz after revealing that she liked having many options and preferred shopping for whatever outfit she would wear to an event.
Not just the worst dress THIS year.
But the worst dress of any #GoldenGlobes EVER.
"Congrats," Bryce Dallas Howard. pic.twitter.com/fxPyrZMfyy

— The Fully-Vaccinated Goof™ (@PhillyGoof) March 1, 2021
For a star like her who could have some of the finest custom-made designer dresses brought into her home, Howard's revelation was note-worthy.
Though many saw Howard's outfit as a fashion miss, there were quite a number of stars who brought their A-game to the Golden Globes red carpet.
And the winner for least attractive dress is Bryce Dallas Howard! Really unflattering on her.

— Matt Cleary (@MattCleary16) March 1, 2021
Despite the varied opinions on Howard's look for the evening, the Golden Globes brought an array of glitz and glamour as it does every year.