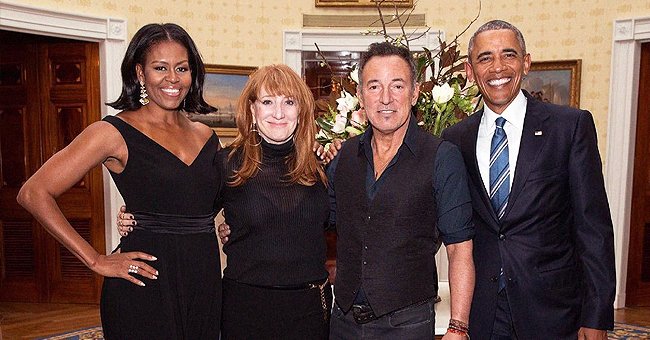 Instagram/michelleobama
Michelle Obama Turns Heads as She Exposes Her Shoulders in a Black Belted Jumpsuit (Photo)

Michelle Obama looked as elegant as always, keeping her glam top-notch in a new photo shared on social media. The public figure's lovely look came complete with her exquisite sense of style.
Former first lady Michelle Obama had her Instagram timeline buzzing with fans who could not get enough of how she pulled off her latest show of style.
Michelle is known for whipping up tasteful outfits and style inspiration, and her new post was no exception. In the photo, she stood alongside her spouse, Barack Obama, Bruce Springsteen, and his wife, Patti.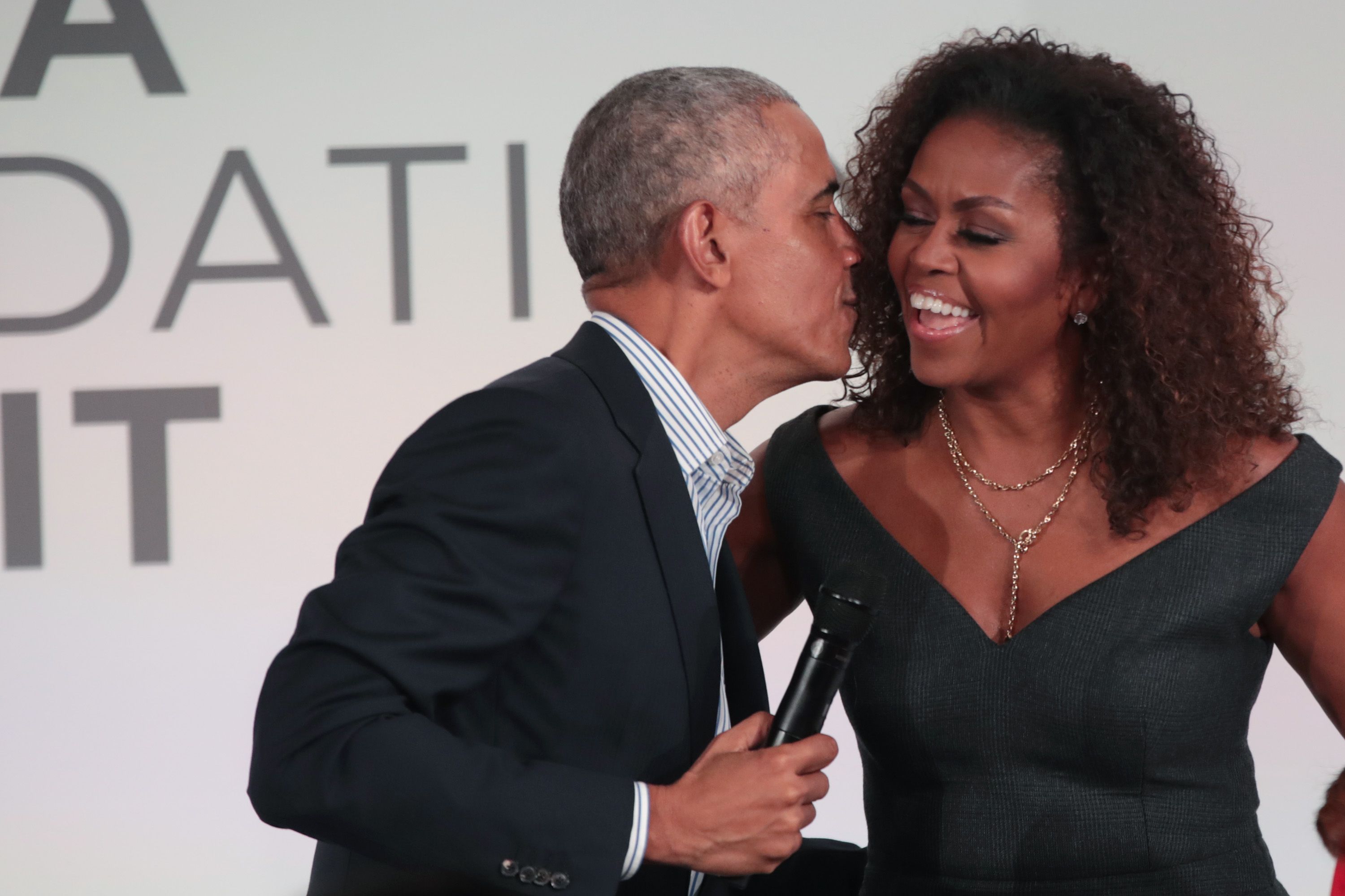 Barack Obama gives his wife Michelle a kiss as they close the Obama Foundation Summit together on the campus of the Illinois Institute of Technology on October 29, 2019. | Photo: Getty Images
While Michelle stood on one end of the photo, rocking a shapely jumpsuit that clung nicely to her body, she showed off her shoulders in the v-shaped bodice. The "Becoming" author added strappy heels and a belt to cinch her waist.
Next up were Bruce and Patti rocking all-black looks as well, while Barack was at the far corner looking dapper in a tailored suit and presenting a big smile. Michelle had an announcement in her caption:
"I'm so excited for you all to listen to @BarackObama's podcast with Bruce @Springsteen! It's called Renegades: Born in the USA"
While the "American Grown" author makes pivotal moves with her legacy in government, she makes sure that her numerous glamorous moments left impressions on millions.
2016 was quite profound after Michelle stepped out for her 14th White House state dinner and her last as the first lady.
The star who has been described as one of the most fashionable first ladies in the history of the United States never fails to live up to her reputation. While at the white house, Michelle aced outfits from designers ranging from Tom Ford to Marchesa.
Many fashion experts' unforgettable looks of her have been documented in time past, and one such was her fiery red dress at the 2008 presidential election. Michelle had exuded power and elegance through the fit.
2016 was quite profound after Michelle stepped out for her 14th White House state dinner and her last as the first lady. The mom-of-two embodied her Versace dress that was designed to fall off one shoulder slightly.
The vinyl dresses featured a ruched-up skirt with a slit, and the drapery line secreted a mesmerizing effect on the former first lady's hip area. Many remember that day as historical in the fashion sphere.
In January, Michelle stole the show at the presidential inaugural ceremony for President Joe Biden and Vice President Kamala Harris. Twitter fashion lovers tagged Michelle's look as the best look of the ceremony.
Please fill in your e-mail so we can share with you our top stories!