Getty images
Marjorie & Steve Harvey's Granddaughter Does Various Model Poses Wearing Colorful Tutu (Video)
Marjorie and Steve Harvey's young granddaughter Rose recently showed off her modeling skills, and fans just couldn't get over how adorable she looked.
Majorie Harvey is a proud grandmother! The fashion designer recently shared a video of her beautiful granddaughter Rose showing fans that she already has a knack for modeling even at a young age.
The clip showed Rose striking different modeling poses while her mom adorably encouraged her. The little one was gorgeously clad in jeans, a white sweater, and a colorful tutu skirt.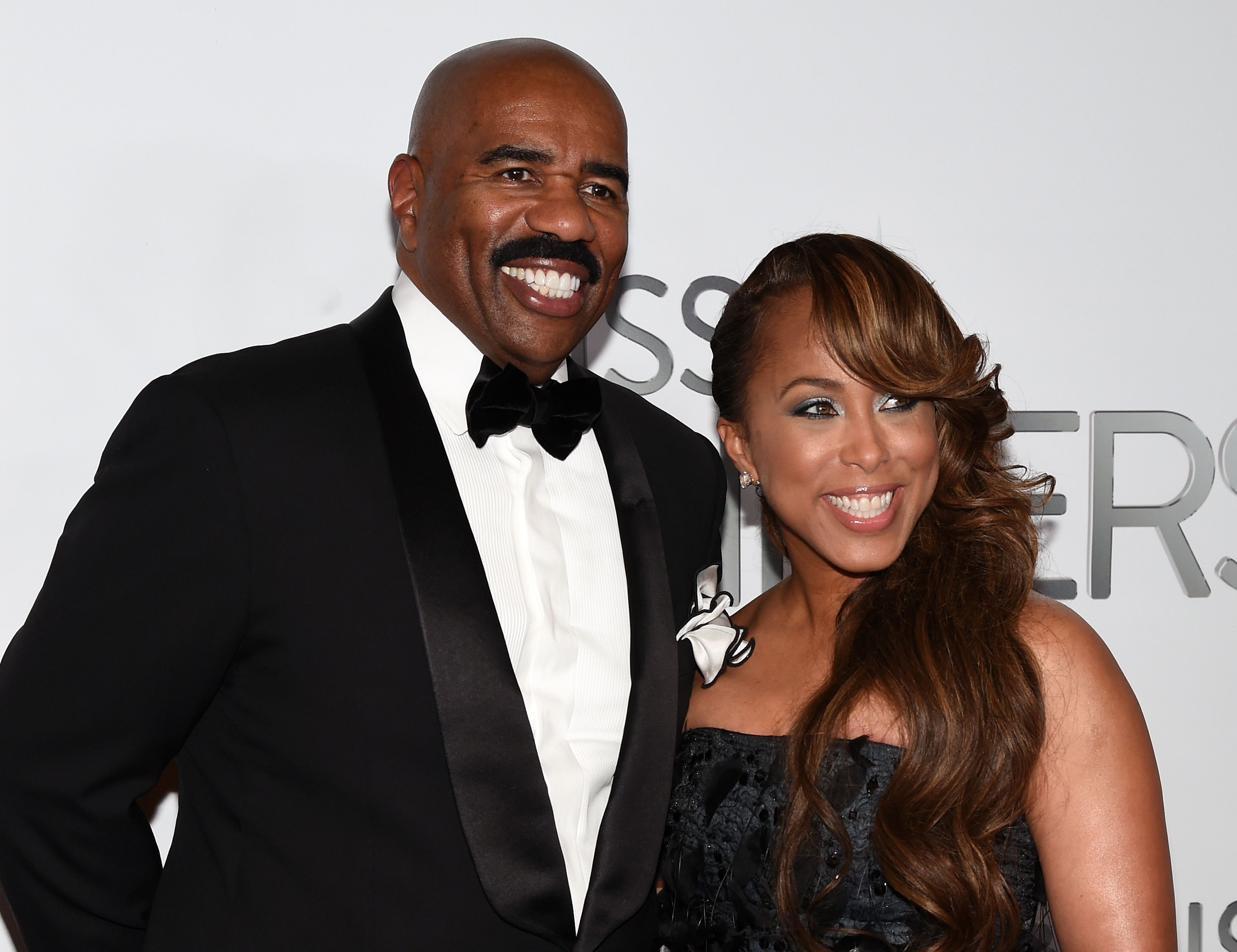 Steve Harvey and his wife Marjorie Harvey at the 2015 Miss Universe Pageant at Planet Hollywood Resort & Casino in Las Vegas on December 20, 2015 | Photo: Getty Images
Rose accessorized with a pair of striped socks. She wore her thick curly hair in two cute buns, giving her an overall adorable look to finish up the outfit.
While Rose's first pose saw her standing with her arms wide apart, the next pose captured the little one adorably doing a pout with her hands to her heart.
Rose's little brother, Ezra, also made a cameo as he imitated some of his sister's poses. Dressed in a red T-shirt and camouflage pants, the toddler looked super adorable.
Marjorie captioned the video with only a smiley, but fans and followers quickly took to the comments section gushing about Rose's looks and modeling skills.
While one user commented that the little one is a natural model like her parents, another pointed out Rose and her famous grandmother's striking resemblance.
Marjorie did not respond to the criticisms.
Rose is the first child of Marjorie's son, Jason, and his wife, Amanda. In addition to their daughter, they are also parents to two handsome sons, Ezra and Noah.
While Marjorie and her husband undoubtedly have busy schedules as public figures, the famous couple never gets too busy to spend time with their grandkids or, even more, show them off.
In January 2019, Marjorie shared a post of her little granddaughters pulling up their shirts to breastfeed their dolls, and while some thought it was cute, many others had contrary opinions.
Some scolded Marjorie, noting that men could see the post and it was wrong for her to have shared it online. Others accused the proud grandma of exposing the little girls.
Though Marjorie did not respond to the criticisms, some of her fans quickly came to her defense, noting that critics were sexualizing something as natural as breastfeeding.
However, despite this, the couple has successfully raised a happy blended family, and now, Steve and Marjorie enjoy nothing more than doting on their little grandbabies.
Please fill in your e-mail so we can share with you our top stories!