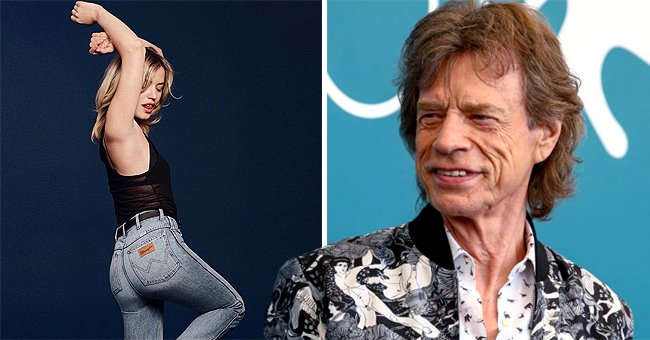 GettyImages. | Instagram/wrangler
Georgia May Jagger Models for Denim Brand in a Stunning Series of Photos
Georgia May Jagger modeled for denim brand Wrangler in their latest campaign showcasing classic denim jeans, and they shared a series of photos of her rocking different looks.
Georgia May Jagger fronted the Wrangler campaign, the brand took to Instagram to share snaps of her modeling jeans for the denim fashion label. "Turn Heads. Capture Hearts" ad campaign.
Under the fashion label's Instagram account, a statement read, "Turn heads. Capture hearts. Swipe for the latest Heritage Collection styles featuring @georgiamay jagger."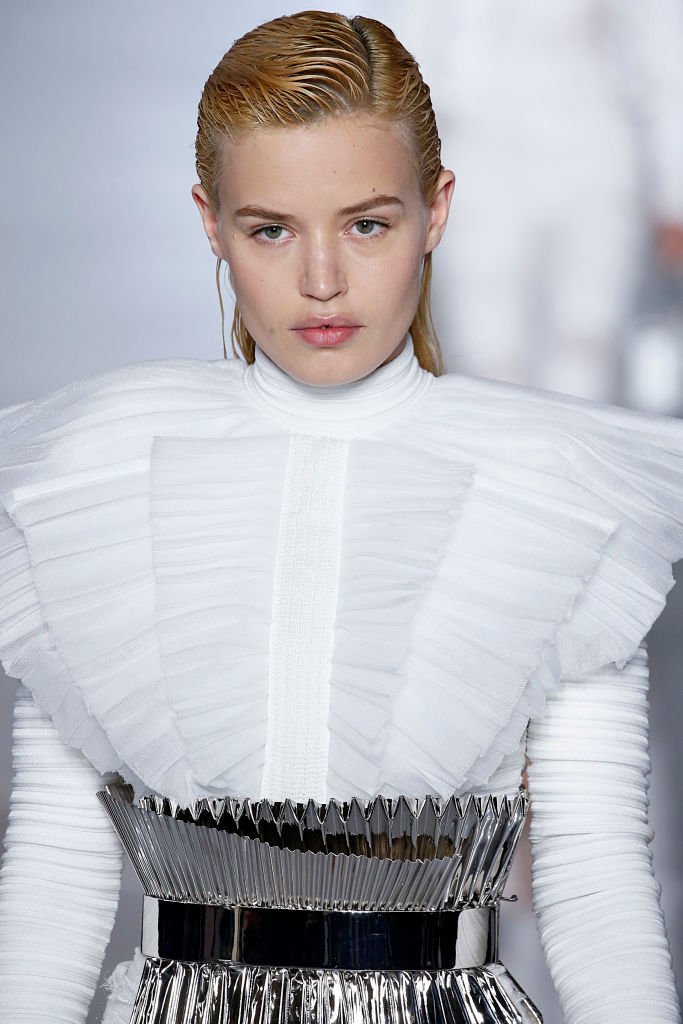 Georgia Jagger walks the runaway during the Balmain Fashion Show at Paris Fashion Week on September 28, 2018 in Paris, France| Photo: Getty Images
FRONTING THE WRANGLER CAMPAIGN
The photo gallery showed Jagger posing with her back turned to the camera wearing a white crop top and showed off the pair of jeans. She had her one hand on her head and the other on the one side of the jean.
The other image showed her wearing high waist flare-leg jeans. She wore the denim with a brown cowboy-inspired top and posed with both her hands on top of her curly blonde hair.
In another image, she wore a long-sleeved beige turtleneck with skinny jeans. Jagger matched the turtleneck with cowboy boots. In one photo, she wore a white tee with flare-leg jeans showing off her high-heeled brown wedges.
One shot showed the designer wearing a white tank top tucked in baggy flare-leg jeans. She posed barefoot with both her hands on the belt loop.
Another snap showed the blonde posing with her back turned from the camera to show off the jean's back. She wore a black tank top with a matching belt.
The last picture showed her laying down on her side, offering a subtle smile while rocking a red striped, white tee. The tagline, "The Wrangler woman confidently commands attention while living by her own rules."
Talking about the campaign, Jagger reportedly shared that she has always wanted to collaborate with the denim label. Speaking on her experience with the ad campaign, she said:
"Wrangler is one of the original denim brands that's been on the map for decades."
She further explained that their authentic heritage and modern style resonates with her and is everything she looks for in a pair of jeans. "I'm really happy to be working with them," she added.
The 29-year-old was born to famous parents, Mick Jagger, a rock singer and actress Jerry Hall. The English native has seven other siblings, and some are in showbiz too.
Her father has eight children in total, and his oldest child is Karis, 48, a philanthropist. The second born is Jade, a Jewelry Designer, followed by Elizabeth, who also took after her mom Hall and is also a model and actress.
Jerry, the oldest son, took after dad's musical talent and became a singer and guitarist for the punk-rock band Turbogeist. Another sibling is Gabriel, also a model and was born dyslexic.
He is followed by Lucas, who enjoys playing sports with his dad and watching games. Last but not least is the baby of the family, Deveraux Octavian Basil.
Please fill in your e-mail so we can share with you our top stories!