Getty Images
Serena Williams Praises Meghan for Her Bravery in Discussing Cruel Treatment during Interview
Tennis champion Serena Williams had some strong and encouraging words for her friend, Meghan Markle, who recently opened up about the cruel treatment that ultimately led to her and Prince Harry's split with the royal family.
While the world is still weighing in on Prince Harry and Meghan Markel's explosive interview with Oprah Winfrey, which aired on Sunday, close friends of the former actress already know on whose side they stand.
23-time Grand Slam champion Serena Williams is the latest celebrity to express her sentiments and extend support to Meghan and Harry, following the couple's heartbreaking revelations.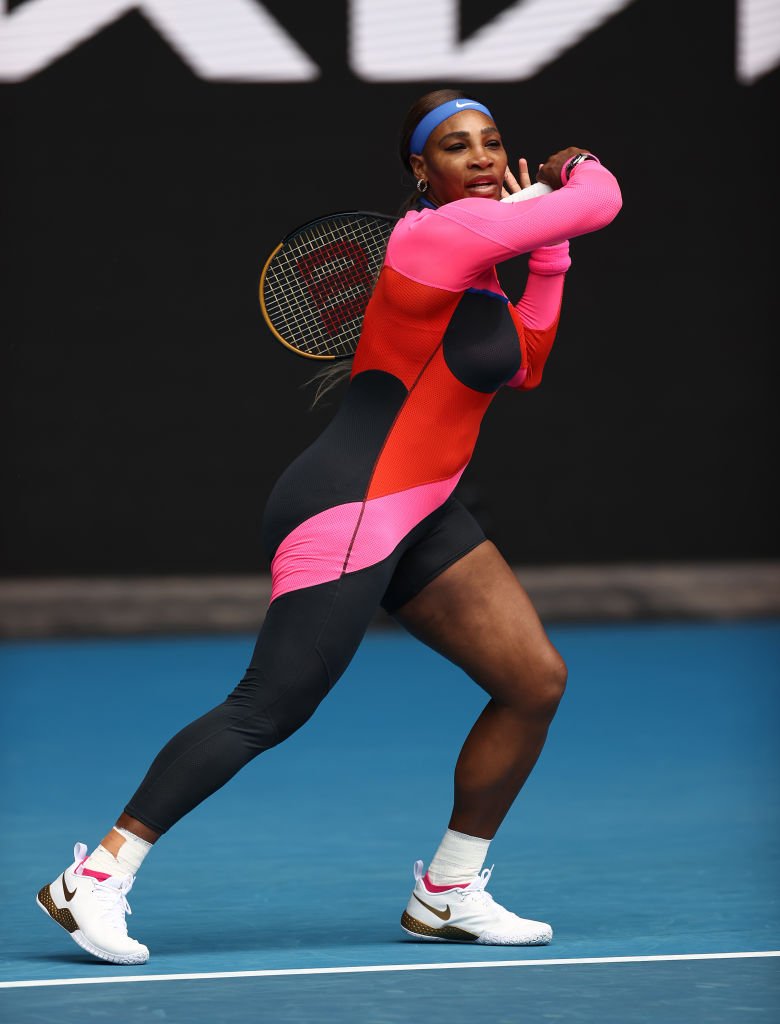 Serena Williams during her match against Laura Siegemund at the 2021 Australian Open on February 08, 2021 in Melbourne, Australia. | Source: Getty Images
Williams took to Instagram to show her support for Meghan while expressing her strong opinions on racism and sexism, which she herself has experienced as a public figure. The post was captioned:
"I am so proud of you for being so brave. I know it is never easy. You are strong- both you and Harry. I love you. I adore you. Your friend S."
The post itself gave praise to Meghan, detailing the positive aspects of her personality and vouching for her honesty. Williams also encouraged others to be compassionate and recognize the issue at hand.
The tennis superstar did not shy away from speaking on one of the major revelations made by Meghan during the interview. Williams reiterated that the systematic oppression suffered by the actress was indeed a threat to mental health.
One of the most shocking revelations Meghan made was that she had felt "silenced" by the royal family and forced to live an isolated life which drove her to contemplate suicide while she was pregnant with their first child, Archie Mouthbatten-Windsor.
[Harry and Meghan] told Winfrey that their son, the first mixed-race royal ever, was denied a title and security.
Meghan admitted that she did not want to be alive anymore and felt ashamed, but when she tried to get help through the institution, she was denied assistance because of how it would look for the family.
The "Oprah with Meghan and Harry: A CBS Primetime Special" was loaded with more allegations from Harry and Meghan. Perhaps the most damaging was the revelation that Archie's skin color had been a topic of discussion before his birth.
While the couple did not reveal the names of those who expressed these concerns, they told Winfrey that their son, the first mixed-race royal ever, was denied a title and security given to other royal grandchildren.
Ultimately, Harry and Meghan chose to step back from their duties as royals and relocated to the US after their security detail was removed. While Meghan regrets believing the royal family would protect her, she and Harry feel more at peace now.
No longer feeling trapped, Meghan and Harry are enjoying their newfound freedom at their California home, where they can play outdoors with their son and prepare to welcome their daughter.
Please fill in your e-mail so we can share with you our top stories!