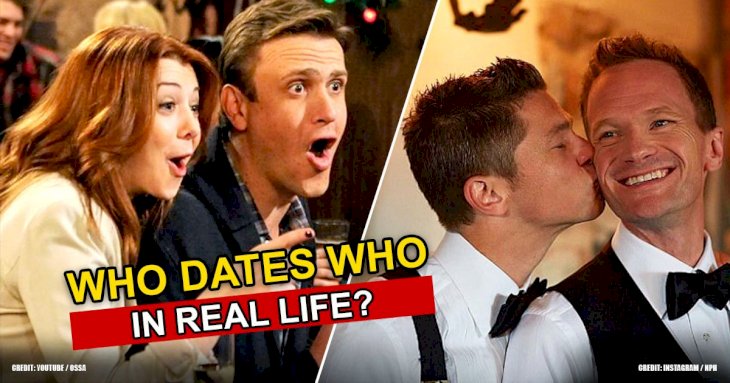 How I Met Your Mother: The Real-Life Partners Revealed
For nine long years, viewers patiently waited for Ted to finish his endless story about how he met his better half on "How I Met Your Mother," leaving fans curious about the cast members' real-life partners.
Can you imagine sitting down to your favorite show and imagining what they are truly like? Do they have girlfriends, or are they married? Are they happy in their relationships, or do they have secrets that they don't want their fans to know about?
All these questions, and finally, we have the answers. So, let's look at the partners of those "How I Met Your Mother" actors.
This was indeed a bombshell for the fans when they discovered that Ted and Trace McConnell got married and had two kids.
However, John Radnor's romantic life in the real world has not been as successful. His life has been relatively quiet since his debut in the entertainment industry, and he's tried very hard to keep all the information regarding his affairs top secret.
Despite this, the public happens to know a few juicy details when it comes to his relations. Radnor was attracted to fellow actress Lindsay Price after first meeting her when she made an appearance on "HIMYM."
Back in 2007, the former couple met on set and started dating 18 months later. Price stated, "He's very thoughtful, and he's very good at giving gifts." However, their connection only lasted for a year.
In 2012, Radnor started dating Julia Jones, who had a lead role in the "Twilight Zone." The last lady that we know of is Minka Kelly, who made an appearance in the "Charlie's Angels" television series "Parenthood" and "Almost Human."
Sadly, this didn't last long either, and they broke up. Perhaps Radnor took his character too seriously and ended up scaring girls away in real life.
Jason Segel as Marshall Eriksen
Unlike Ted, Jason Segel's character, Marshall, was fortunate because he met the love of his life, Lily, back in college. However, the actor is already 38-years-old, and still single. Segel is known for being notoriously private when it comes to his romantic life.
From time to time, paparazzi have managed to catch him with a few gorgeous ladies. Jason has been dating the "Freaks and Geeks" co-star, Linda Cardellini, for six years, but this link didn't lead to any wedding vows.
After separating from Linda, the actor made his rounds with a few famous actresses such as Chloe Sebendy, Michelle Trachtenberg, Lindsay Lohan, to name a few. Besides that, there was a rumor that he had an affair with Drew Barrymore.
It seems that he finally found what he was looking for when he met the photographer, Alexis Mixter. Seen as he's openly going out with her, and it appears that these two are going steady.
Alyson Hannigan as Lily Aldrin
If you've been following Alyson Hannigan's career path or just love television shows about vampires, then you know her husband. Hannigan and Alexis Denisof first saw each other on the set of "Buffy the Vampire Slayer," which Denisof joined in season three to play Lesley Windom Price.
Their involvement had an unexpected start as Hannigan took the lead in asking him out. Sadly, she was turned down because of Denisof's rule of not dating coworkers. When the filming of the show was over, she was already dating another guy.
Denisof became quite persistent, conveniently after she was dating, and offered to stay friends with Hannigan instead. They were so close that other people thought they were an item.
Eventually, they did become a couple, and everything seems to have worked out rather well. They got married in 2003 and had a daughter.
Cobie Smulders as Robin Scherbatsky
We can't begin to imagine what Smulders had to deal with when filming season three of "HIMYM." The 25-year-old actress was diagnosed with ovarian cancer at the time, and she had to undergo surgery to remove two tumors from her ovaries.
Unfortunately, cancer had spread to her lymph nodes, which led to multiple surgeries for two grueling years. She certainly is impressive and an inspiration to have continued her career path with such a positive attitude.
After these kinds of surgeries, women are often diagnosed as sterile. Thankfully, Smulders was lucky and had two lovely daughters. In January 2009, she got engaged to the "Saturday Night Live" comedian, Taran Killam.
They've been happily married for about ten years now and are still going strong. He is very supportive of his wife and shares his feelings openly on social media.
Neil Patrick Harris as Barney Stinson
Fans know him as the womanizer on "HIMYM" with that smooth swagger that swooned its way into any girl's heart. It must have been a massive disappointment for his female fans when he came out in 2009 announcing that he is quite content as a gay man.
He lives his life to the fullest and enjoys working with those in the entertainment industry. Before he met his partner, David Burtka, actor and chef, he thought he would be single for the rest of his life.
A mutual friend introduced him to David, and they certainly hit it off. They are very much in love and co-dependant. They got married in Italy in 2014 after dating for ten years and already had four-year-old twins conceived through surrogacy.
They had a magical wedding ceremony inside a castle, and Elton John was their star performer. Most ladies dream of having a super-star wedding with a romantic castle, but these two certainly made their special day one to remember.
Cristin Milioti as Tracy McConnell
During the show, Tracy won the hearts of Ted and his friends and enchanted millions of fans. This is probably why the sad finale of "HIMYM" brought on so many fans' adverse reactions.
In the real world, she met her Ted ten years ago, Jesse Hooker, a furniture designer. During the last few years, Milioti and Hooker were allegedly engaged, but according to her, that's not the case.
We hope you enjoyed this inside scoop to the hilarious cast of HIMYM, and we certainly loved sharing it with you. Remember to share this with your family and friends, and keep up-to-date with us for more exciting news on all the top actors and actresses.
Please fill in your e-mail so we can share with you our top stories!