Worldwide Famous Conjoined Twins Opened Up About Their Love Life
The birth of conjoined twins is rare, and Abby and Brittany Hensel's story are even more unique. From love to everyday living, the conjoined twin sisters gave a glimpse into their lives.
It is thought that conjoined twins only occur in one of every 200,000 births, so Brittany and Abby Hensel's story gives a glimpse into a little-known way of living.
While their joy of life gives reason enough for inspiration, their survival is a miracle in their own right. Up to 60% of conjoined twins are delivered stillborn, and doctors didn't expect the sisters to survive long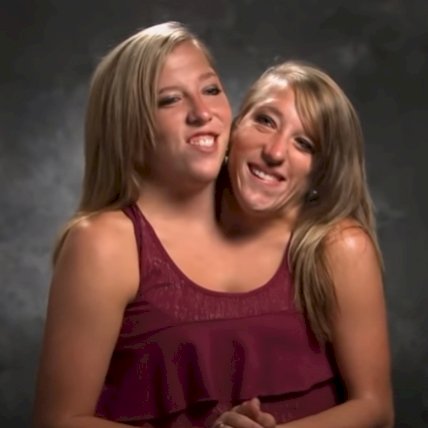 THANKS BUT NO
After the birth of Brittany and Abby, the doctors talked to their parents and exposed them to the possibility of separating the bodies. This was a very hard decision to make.
This operation was dangerous for both girls, with the probability that one or none survived the surgery, so Abby and Brittany's parents immediately rejected the doctors' proposal.
Watch conjoined twins Abigail and Brittany Hensel and how they spend their daily life: http://t.co/HLyqwyhNQx pic.twitter.com/DQb7jL6NDW

— Deccan Chronicle (@DeccanChronicle) July 30, 2014
TEAMWORK
Born on March 7, 1990, the conjoined twins have three decades of experience in the type of teamwork few people in the world ever experience. Joined at the hip, they have to coordinate every physical movement.
However, they do have a split in shared and non-shared internal organs. While Brittany and Abby each have their own spine, lungs, heart, and stomach, they share a large intestine, liver, and reproductive system.
GETTING FAMOUS WITH OPRAH
The conjoined twins were only six years old when they appeared on an episode of "The Oprah Winfrey Show" in 1996 and landed their own reality show.
They astounded medical experts with their prevailing well-being, but they are very different in character and even in key physical aspects like any two people.
CONJOINED DIFFERENCES
The sisters' career choice as teachers is well suited since Brittany has an affinity for writing and the creative arts, while Abby's light shines in mathematics. 
Abby is not scared of heights, while it petrifies Brittany. And with different tastes in just about anything, an equal amount of agreement between them is required.
Brittany is also the shorter one of the two at 1.47m. Since their legs are different lengths, Abby's height of 1.57m requires tiptoe balancing on her sister's part. 
THEIR CAREERS
Brittany and Abby graduated in 2012 from Bethel University and earned a degree in education before beginning their career as elementary teachers with an emphasis on mathematics.
The twins understand that they will only receive a single salary because they will be doing the work of only one person. But as they acquire experience, they intend to negotiate a little more.
CONJOINED LOVE
The Minnesota born twins also have plans in the emotional aspect, and like all girls, they dream about marrying their Prince Charming and starting a family one day.
The sisters prefer keeping their dating status private, but Brittany assured during an interview that she and Abby are "totally different people," while Abby added:
"Yeah, we are going to be mums one day, but we don't want to talk about how it's going to work yet."