Grammys 2021 — the Best and Worst Red Carpet Outfits You Need to See
It's Grammy time and once again the biggest stars in the music industry paraded down the fabled red carpet and showed off their fashion styles and razzle-dazzled the press and fans.
On March 14, 2021, the music world paraded in all its glory and glamour to celebrate the 63rd Annual Grammy Awards. The stars were out, walking the fabled red carpet in their favorite haute couture, or just their sweat pants.
This year was definitely different, with some strutting their stuff in Old Hollywood glamour and others in the aforementioned sweats. Some looked like the proverbial million dollars, and some didn't...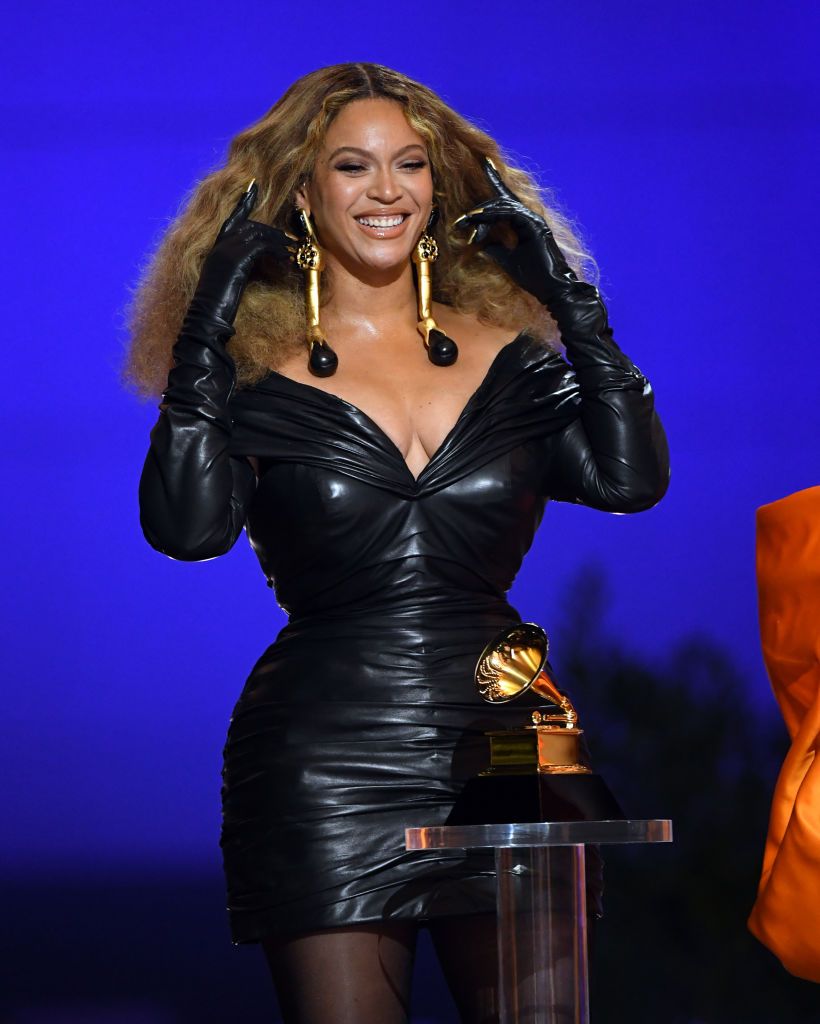 BEYONCÉ
Queen Bey showed once again that she is the most glamorous star ever in a daring black leather Schiaparelli mini dress that clung to every curve. Beyoncé accessorized with a pair of huge dramatic old and black earrings.
Beyoncé dazzled when she accepted the Grammy for Best Rap Performance with Megan Thee Stallion and flaunted her leather gloves which were topped by long golden faux nails. The Queen wore gorgeous Jimmy Choo platforms.
Bad Bunny killed the cool by topping it all with a strange-looking beanie with mousy ears.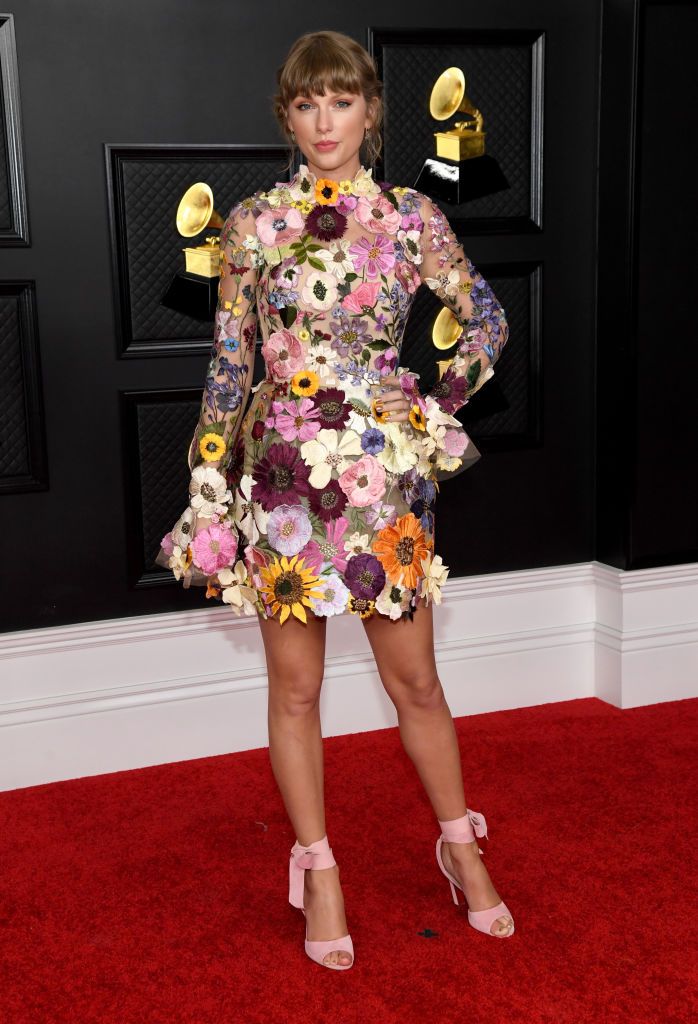 TAYLOR SWIFT
Taylor Swift took home the Grammy for Best Album for "Folklore," and was also one of the best-dressed women on the red carpet in a delicate Oscar de la Renta creation --  sheer long-sleeved minidress covered in hand-appliquéd flowers.
Swift´s makeup was subtle and natural, her hair swept up, with a few artful wisps framing her face. The singer accessorized with delicate Cathy Waterman earrings, and stunning high-heeled pink Christian Louboutin sandals.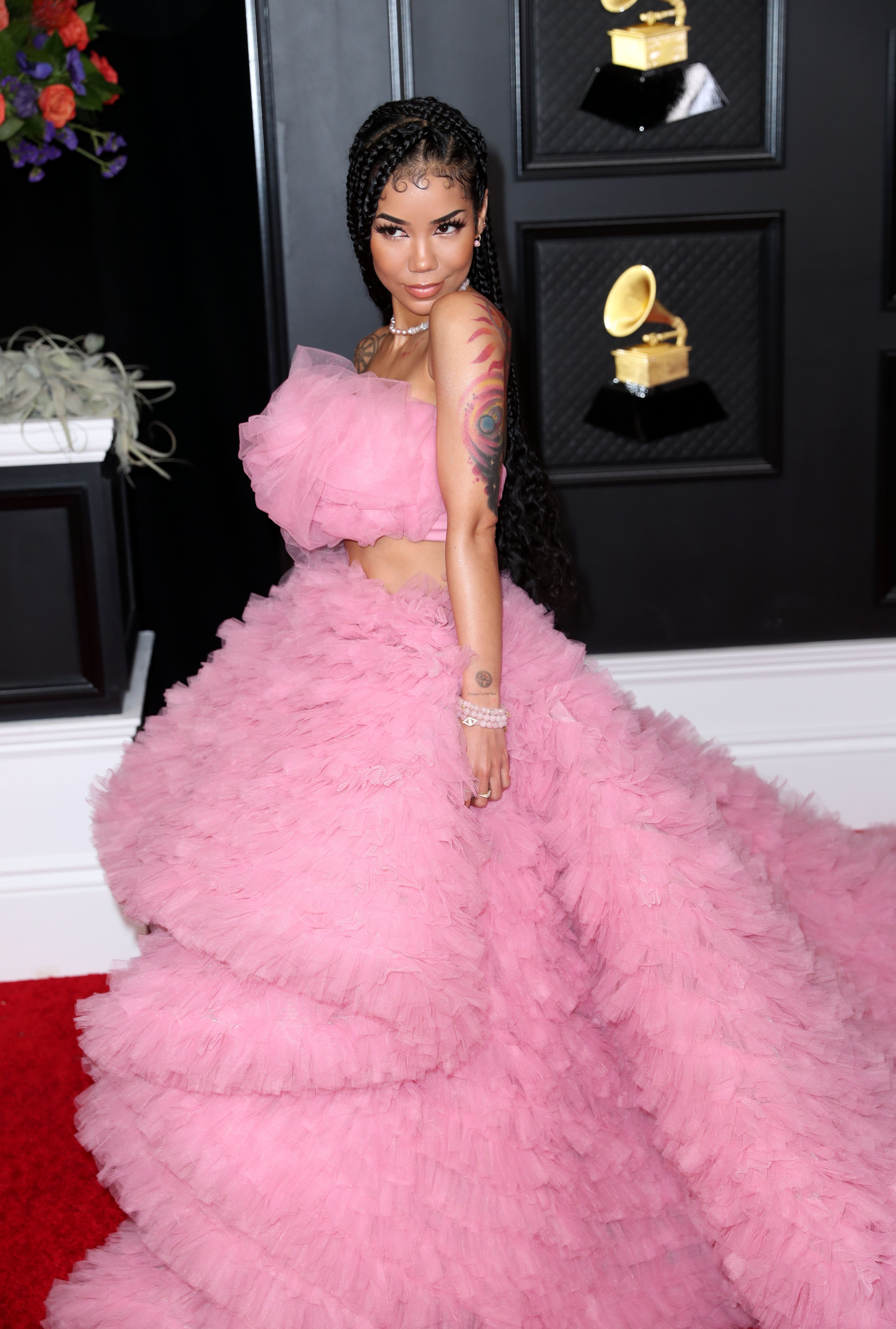 JHENE AIKO
Jhene Aiko was a vision in pink ruffled tule -- every girl's dream outfit for a princess fantasy. Aiko's ensemble consisted of a draped tule strapless cropped top and a matching skirt that was a veritable waterfall of pink ruffles, all by Monsoori.
The outfit left Aiko's slim mid-drift bare and showcased her colorful shoulder tattoos. The singer accessorized with a pretty pink crystal and pearl necklace and matching earring, and a pink quartz bead bracelet.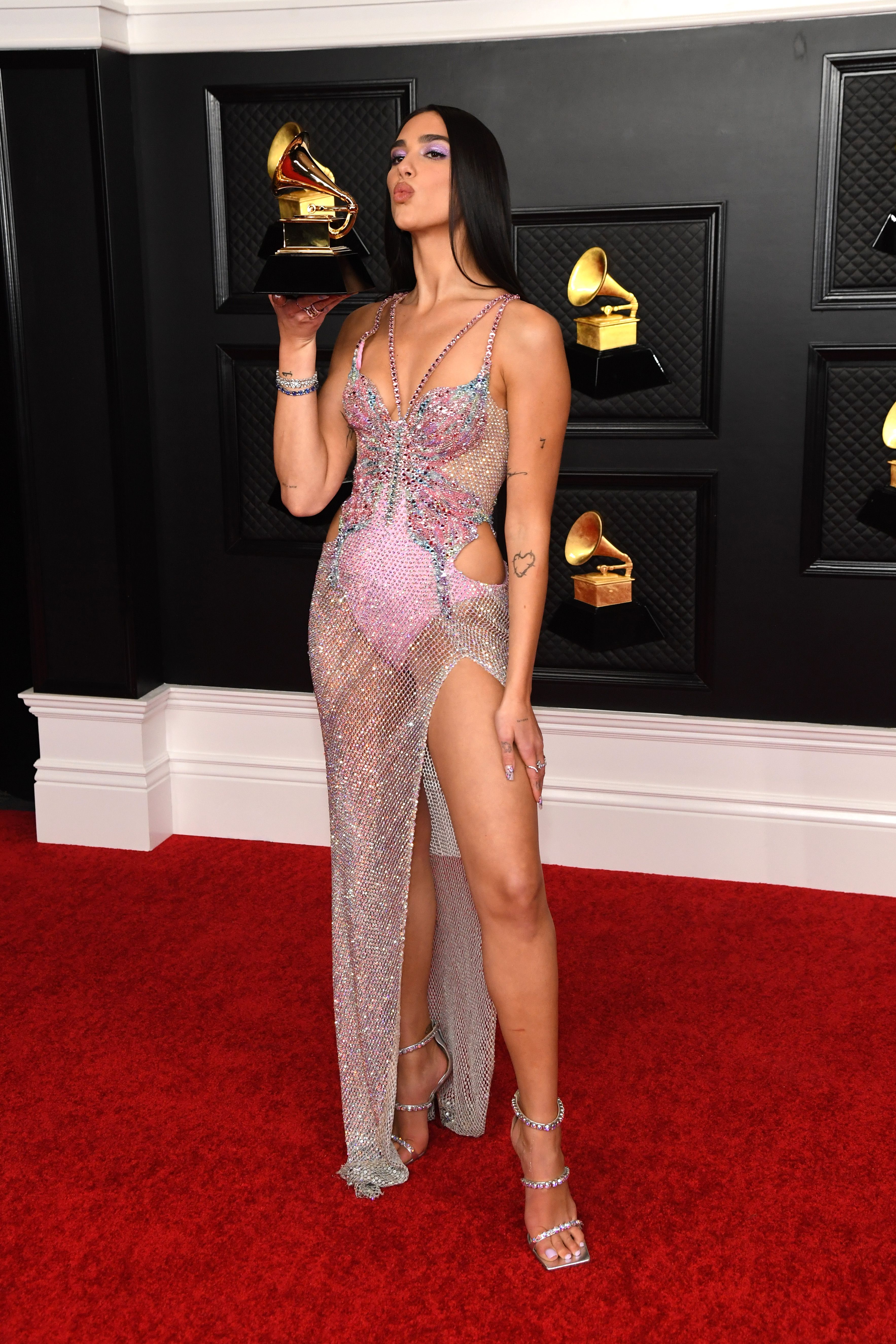 DUA LIPA
Dua Lipa was on an all-time high at the 2021 Grammys. The singer had six nominations and took home the Grammy for the Best Pop Vocal Album. As for her outfit, Lipa clung to her signature butterfly motif.
Lipa dazzled in a sheer silver mesh Versace gown with the bodice and torso embroidered with a sequined pink butterfly. The gown was daringly revealing, with lateral cutouts, a high thigh slit, and pink diamanté straps. Lipa accessorized with sparkling high strappy sandals.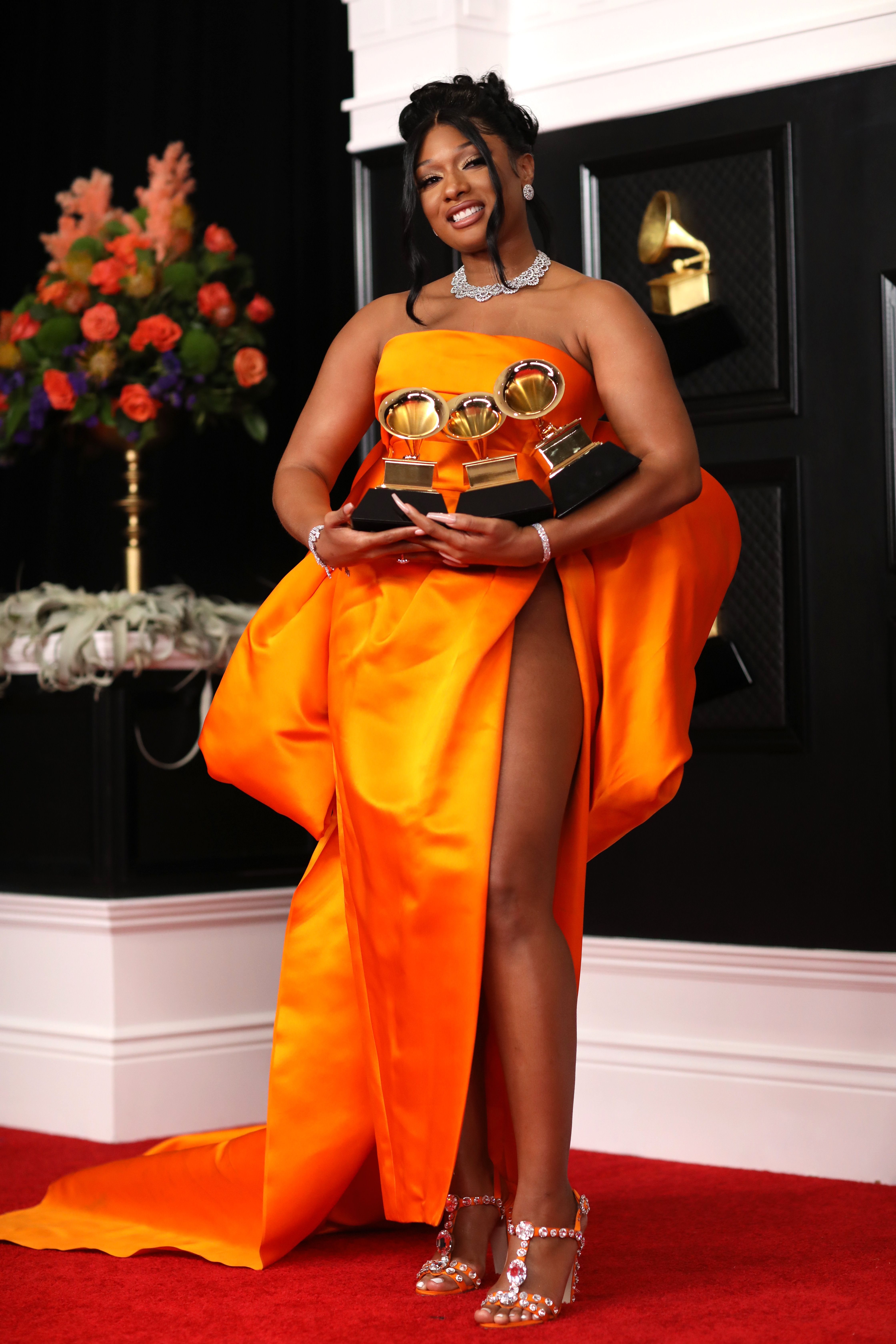 MEGAN THEE STALLION
Megan Thee Stallion was an all-around winner at the 2021 Grammys. Not only did she walk off with three Awards, but she also stole the show on the red carpet in a glorious hot orange evening gown by Dolce & Gabbana.
The dramatic creation was strapless and had a thigh slit that left the singer's shapely legs on display. Megan accessorized with a fabulous Chopard demi-parure consisting of 220 carats in diamonds, and sizzling gem-studded strappy orange sandals by Dolce & Gabbana.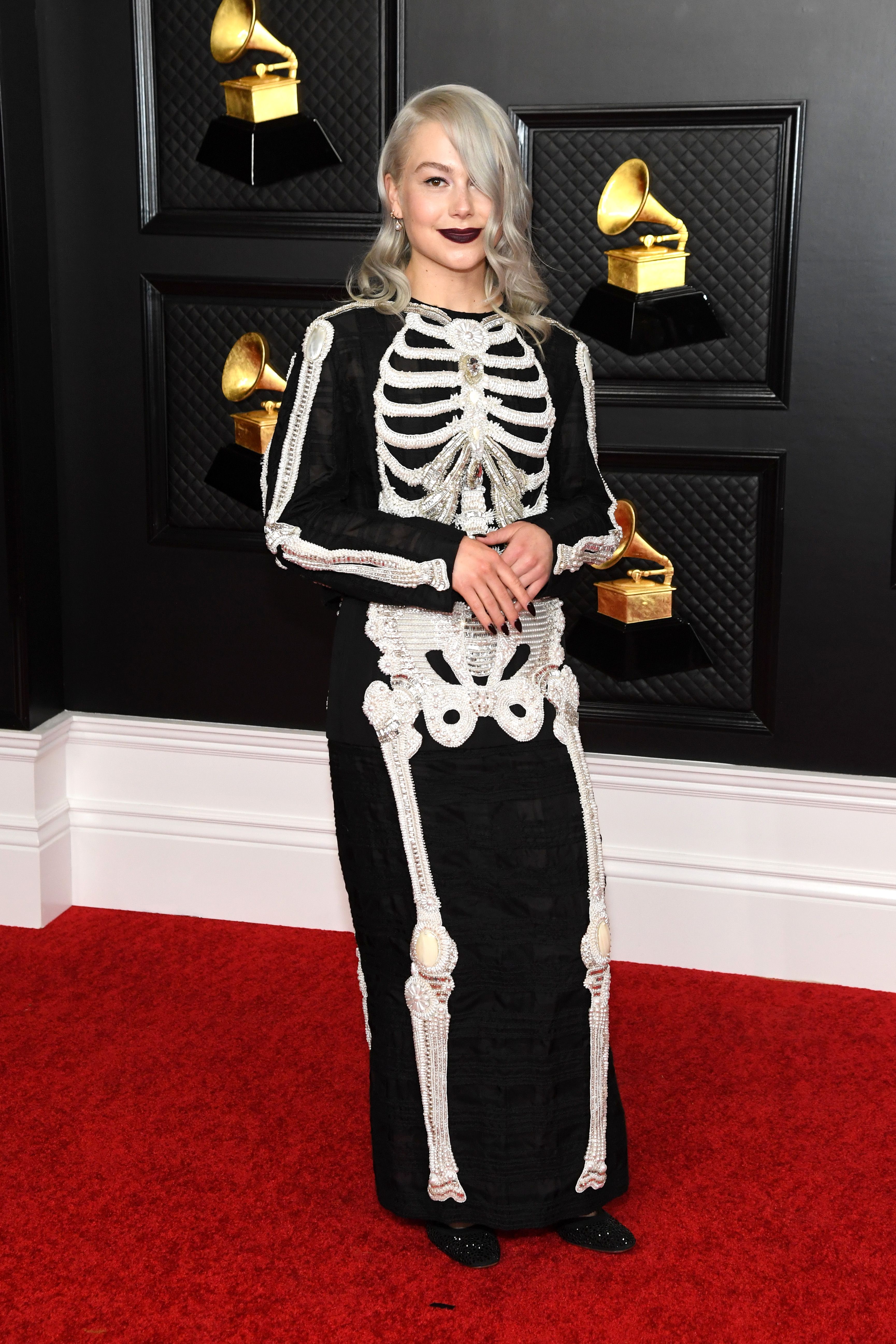 PHOEBE BRIDGERS
On the downside of glitter and glamour, rocker Phoebe Bridgers also clung to her favorite motif -- skeletons. The four-time nominee wore a black Thom Browne dress appliqéd from neck to hem with a skeleton in silver sequins and pearls. She revealed:
"I saw this Thom Browne dress forever ago and thought it was so cool. And I asked for it. I basically stole it." 
NOAH CYRUS
Noah Cyrus is another singer who opted for a Schiaparelli gown, Cyrus stepped out in the creation which had closed the 2021 Spring/Summer collection. The meringue-like stole over the slender ivory dress looked great on the runway, less so on the red carpet.
Cyrus wore her hair in a messy top knot that didn't gel with the sophistication of the gown, and neither did the jewelry she chose. Cyrus was pipped at the post on her only nomination for  Best New Artist by Megan Thee Stallion.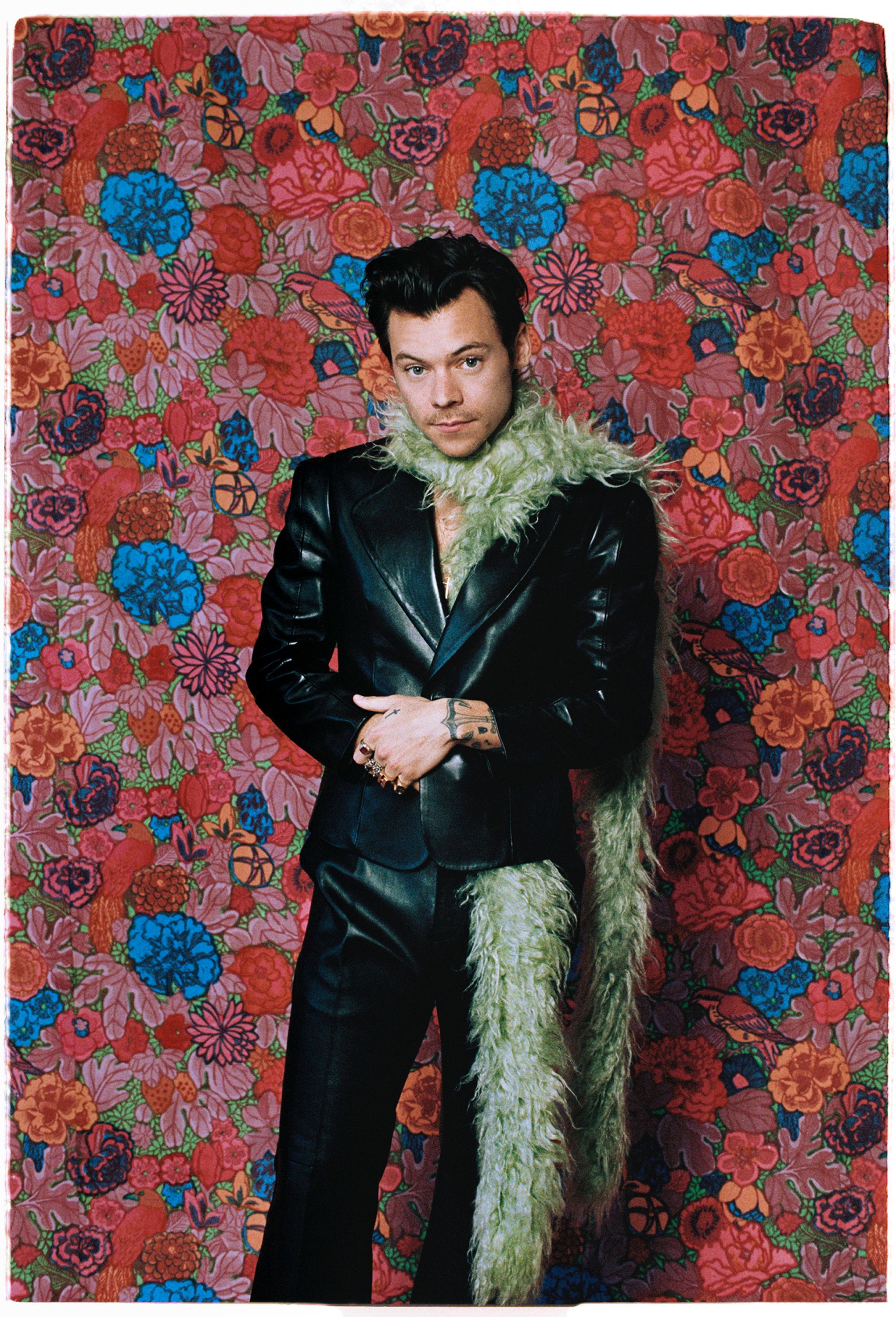 HARRY STYLES
Former One Direction singer Harry Styles was there to belt out his chart-topping hit  "Watermelon Sugar" and took to the stage in Gucci. Styles accessorized the black leather suit with a lime green feather boa.
Styles flaunted another feather boa -- lilac -- in his first outfit of the evening, which consisted of a mismatched clashing acid yellow plaid jacket over a salmon T-shirt worn with chocolate brown pants. 
BAD BUNNY
Bad Bunny made a bad choice. Hee looked fabulous in his black Burberry coat and daring pleated dress, but Bad Bunny killed the cool by topping it all with a strange-looking beanie with mousy ears. Bad, bad choice, Bad Bunny.