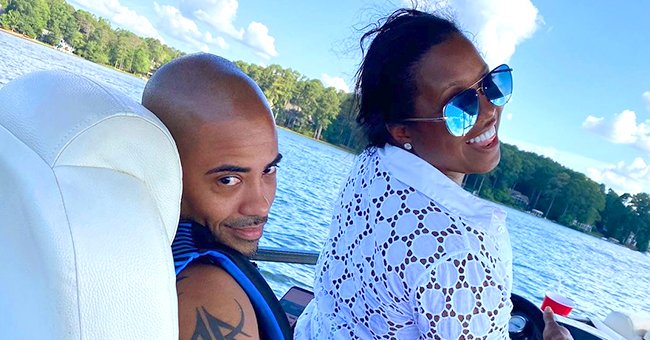 Instagram/keshiaknightpulliam
Keshia K Pulliam's Fiancé Brad James Writes Her a Book after Their Engagement — See His Gift
A few months after Keshia Knight Pulliam announced her engagement to Brad James, the actress posted on Instagram Story a sweet gift she received from her fiancé. Take a look at what the actor gave her.
Keshia Knight Pulliam was overjoyed after her fiancé Brad James surprised her with a gift that she thought wouldn't be possible. It was not even a flower bouquet.
The "The Cosby Show" star took to Instagram Story to share with her fans the gift James sent her. It was a book he wrote titled "Sometimes You Have to Trip to Fall."
The book cover art showed an animated version of James and Pulliam on stage under the spotlight. The 39-year-old actor's animated version bites a rose as he dips Pulliam low.
Pulliam's image showed her in a white dress and cute boots. Her eyes romantically gazed at James, whose animated version looked equally dapper. The book delighted the actress who wrote:
"He loves me so much he wrote me a book!!"
Pulliam ended her short note with an emoji surrounded by tiny hearts. Beyond the material things, James' presence in the former child star's life has been the greatest gift she has ever received.
She made her relationship with James official during the grand opening of Tyler Perry Studios in 2019. The couple has appeared in many shows under producer Tyler Perry.
Pulliam already knew James professionally. They worked together in the movie "Pride and Prejudice," but it never crossed her mind that she would fall in love with James.
Pulliam was previously married to ex-football star Ed Hartwell in 2016. Their marriage was something the actress was not proud of because they separated just a few months after they tied the knot.
In December last year, Pulliam announced on Instagram that she and James were engaged.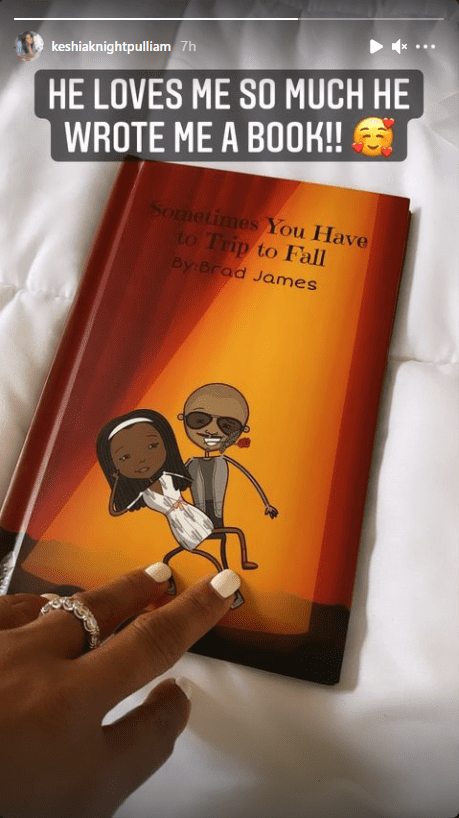 Brad James' gift to Keshia Knight Pulliam. | Photo: Instagram/keshiaknightpulliam
In 2018, the "Tyler Perry House of Payne" star finalized her divorce from Hartwell. The court also awarded Pulliam primary custody of their 4-year-old daughter, Ella Grace, whom they welcomed in 2017.
After coming out from a tumultuous marriage, Pulliam has been clear about her desires and what she doesn't want in a relationship. It gave her a different view of marriage as well.
In December last year, Pulliam announced on Instagram that she and James were engaged. The actor was previously married, but his ex-wife's identity is not publicly known.
Pulliam's next chapter in life with James looks bright than ever. She expressed in her post that she was filled with joy and was excited to continue to choose each other and their family every day.
Please fill in your e-mail so we can share with you our top stories!