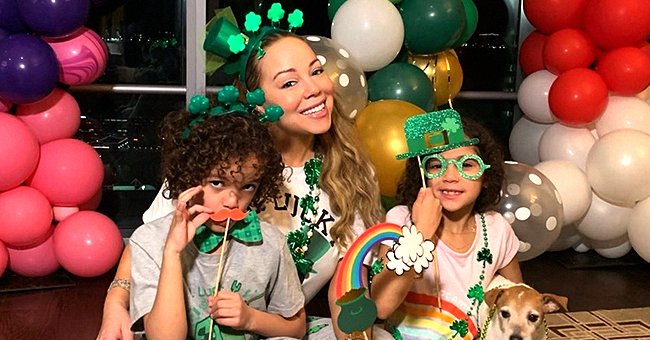 Instagram/mariahcarey
Mariah Carey Is in a Festive Mood Celebrating St Patrick's Day with Her Twins Moroccan & Monroe

Mariah Carey and her twins, daughter Monroe and son Moroccan Scott, were seen heartily rocking a festive mood as they celebrated St. Patrick's Day with their mother.
Award-winning singer Mariah Carey is a mother of two. She shares her twins Moroccan and Monroe with her former husband Nick Cannon.
Carey's kids are regular faces on her Instagram and since their birth, she has dedicated time to revealing brief details of their lifestyle online.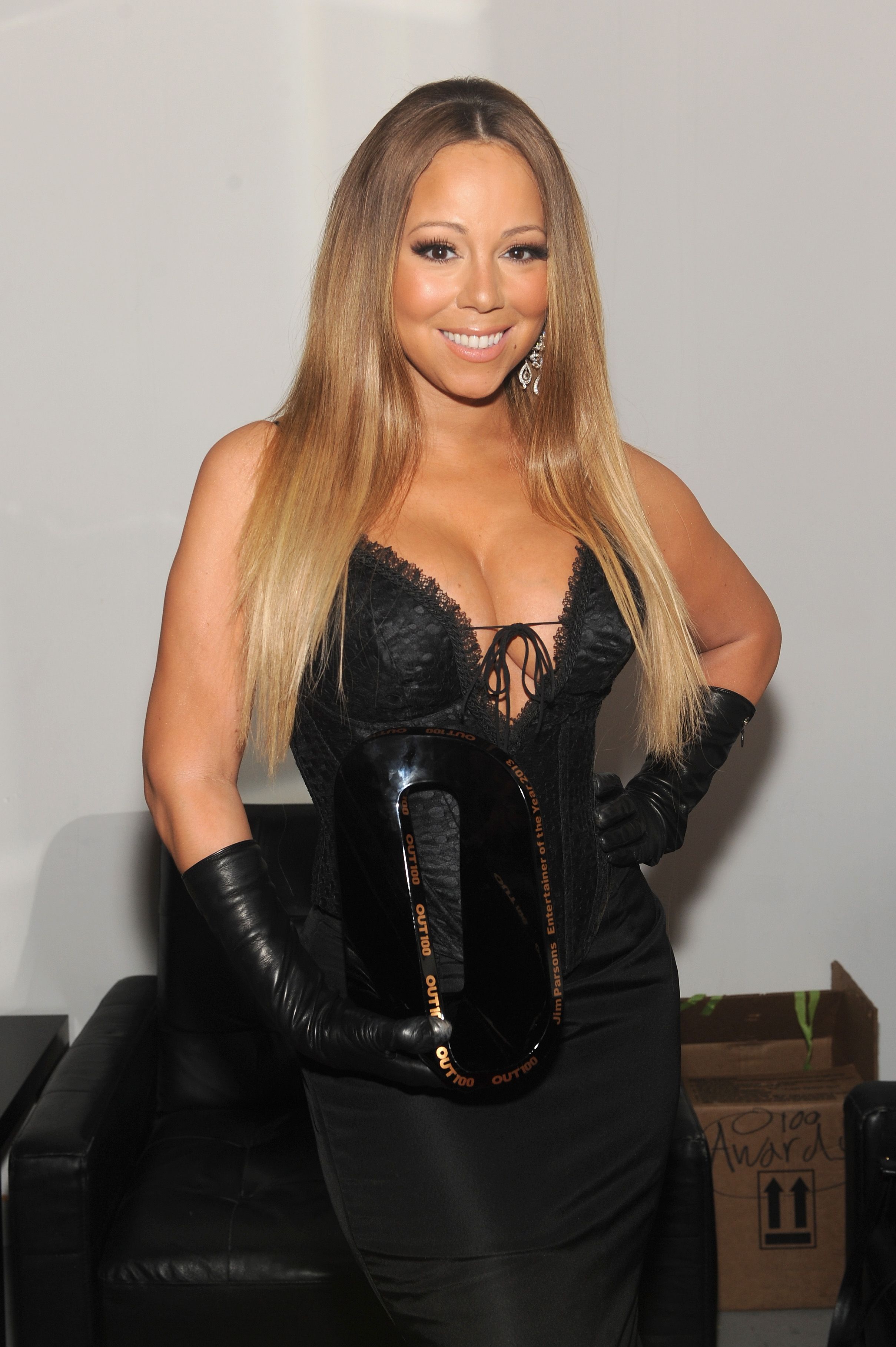 Mariah Carey during the 19th Annual Out100 Awards presented by Buick at Terminal 5 on November 14, 2013 in New York City | Photo: Getty Images
Recently, the singer and her gang celebrated St. Patrick's Day. St. Patrick's Day is celebrated by many across the globe and it holds a cultural and religious significance.
She shared a throwback image. In the post, the trio—mother and kids, were photographed wearing similarly styled sleepwear with different prints and colors. They sat on the floor in a groupie pose while facing the camera.
Each person had a green-colored accessory to go with their outfits. While Carey and her son rocked floral-themed head accessories, her daughter posed in an artistically designed hat with glasses. Carey quipped via the caption:
"Happy St. Patrick's Day to All the Lambs in the Land!!!! #throwback."
Even though it was an old photo, the backdrop featured an adorable semi-circular colorful balloon decor that sheltered a green square-shaped balloon with a celebratory message on it.
Lots of fans were excited about the sweet family photo and celebration. They reached out to the singer in the comment boxes via their heart-melting messages.
Even though she is divorced from the father of her kids, they both have their hands on in grooming their twins in love.
Carey went on to tug at more hearts by posting images of her babies marking the St. Patrick's holiday by surrounding themselves with fun engagements.
Monroe, often called Roe, spent some of her time painting her mom. Her brother, also called Roc, played around. He was caught on camera in a green hat and a white and black outfit, busting some dance moves. His mom captioned it:
"Rockstar feeling lucky!"
Posts from Carey's stable often show that she is incredible in handling responsibilities as a parent. Her ex-husband Cannon is also responsible for showing off his dynamic duo online.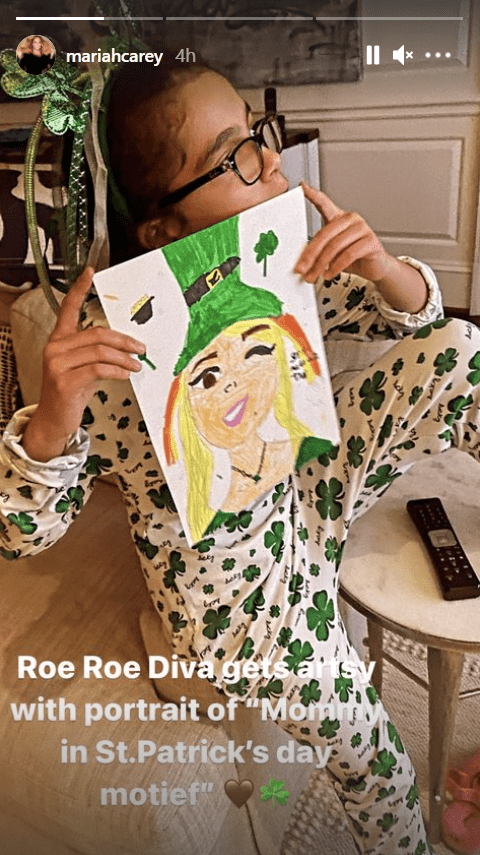 Mariah Carey's daughter, Monroe, holding a portrait drawing she made of her mom | Photo: Instagram/mariahcarey
Even though she is divorced from the father of her kids, they both have their hands on in grooming their twins in love. When they turned 8, both parents affectionately celebrated them while teaming up to throw the celebrants a sweet birthday bash.
The singer has maintained that despite the complexities of motherhood, she would not have it any other way, as her kids provide her with unconditional love.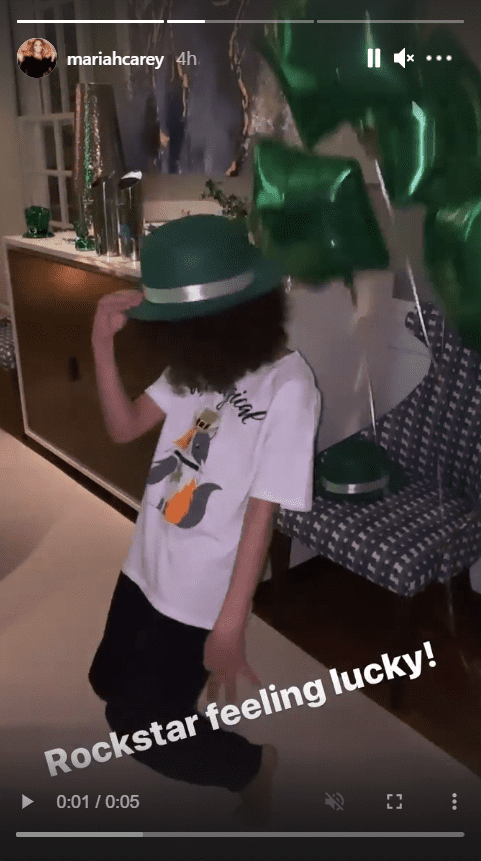 Mariah Carey's son, Moroccan Scott, seen donning a green hat while dancing | Photo: Instagram/mariahcarey
Last year, when she turned 50, her babies were right by her side to mark the big day with love and happiness. She was also celebrated by her lover Bryan Tanaka.
Every step of the way, Carey has gotten the required support from her young ones and she has equally shown them her unwavering love as a mother should, and apart from her incredible music career, this is an impressive accomplishment.
Please fill in your e-mail so we can share with you our top stories!