Boston Marathon Icon Dick Hoyt, Who Pushed Wheelchair-Bound Son at the Race for Decades, Dies
Dick Hoyt, famed for pushing his son in a wheelchair for decades at the Boston Marathon, has died at 80, the Boston Athletic Association has announced. 
On Wednesday, the Boston Athletic Association (B.A.A.) posted a statement on Twitter announcing the sad passing of Dick Hoyt at 80 years old. The statement read: 
"The B.A.A. is tremendously saddened to learn of the passing of Boston Marathon icon Dick Hoyt."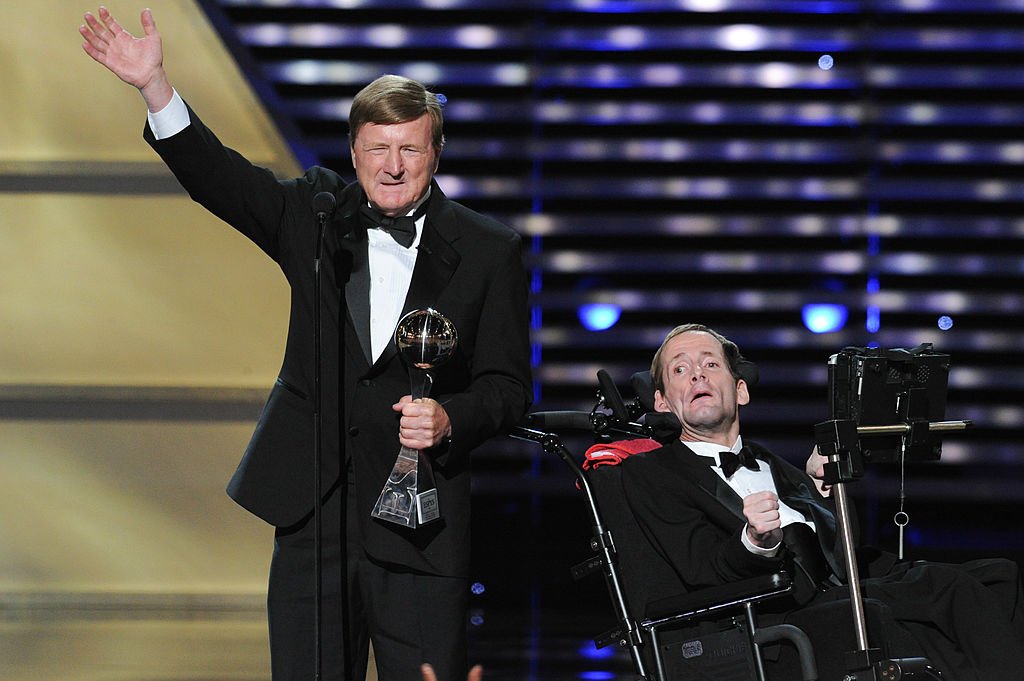 The B.A.A. further said Hoyt was a fan-favorite who inspired thousand and a loyal friend and father who was proud to spend quality time with his son Rick while running from Hopkinton to Boston. The statement further reads: 
"...Dick Hoyt and his son Rick quickly became Boston Marathon legends after their first run in 1980." 
The B.A.A. recalled how father and son competed in the Boston Marathon until their final race together in 2014 and how their bond and presence throughout the course became synonymous with the Marathon. 
In the statement's concluding part, it described Hoyt as one-of-a-kind, adding that he would be sincerely missed. The B.A.A. also said it is keeping his family and friends in its thoughts and prayers. 
After Hoyt retired in 2014, Dr. Bryan Lyons, a member of Team Hoyt, started pushing Rick in the Boston Marathon.
Hoyt is famous for pushing Rick in a customized wheelchair at the Boston Marathon for decades. Together, father and son, who made their marathon debut in 1980, completed 32 Boston Marathons. 
Rick, 59, was diagnosed as a spastic quadriplegic with cerebral palsy when he was born. His umbilical cord wrapped around his neck, leading to the blockage of oxygen flow to his brain. In a 2013 chat with Today, Hoyt said of his son's diagnosis:
"They said, 'Forget Rick, put him away, put him in an institution, he's going to be a vegetable for the rest of his life.'" 
However, he and his wife did not listen to the advice about institutionalizing Rick and raised him as a normal child. The proud father found joy racing with his son, which began when Rick was in middle school. 
THREAD FOR DICK HOYT
Dick Hoyt died today. He was so nice to me when I started writing about heroes. So here is his story: When Dick and Judy Hoyt's son was born with cerebral palsy, unable to walk or talk, the doctors told them to just "put him away."
No, they decided. pic.twitter.com/efsIBMvSpi

— Brad Meltzer (@bradmeltzer) March 17, 2021
The duo were fan favorites at the Boston Marathon and was immortalized for their impact in the marathon in April 2013 when a life-sized bronze statue of them was built at the marathon's starting line.
After Hoyt retired in 2014, Dr. Bryan Lyons, a member of Team Hoyt, started pushing Rick in the Boston Marathon in 2015. In 2019, he ran the 26.2-mile race without Rick, who was sick but presented his medal to him afterward. 
Dick Hoyt, who became a local hero for pushing his son Rick in the #BostonMarathon for more than three decades, has died. https://t.co/3iDYsxeLqH pic.twitter.com/rLErr4w41b

— WCVB-TV Boston (@WCVB) March 17, 2021
Lyons died in his sleep at the end of May 2020. Following his passing, Hoyt shared a message on social media expressing sadness over his death. 
Thoughts are with Rick and the rest of Hoyt's family, friends, and Boston marathoners as they deal with his passing. May his soul rest in peace.