'Empire's Gabby Sidibe Rocks a Mini Skirt & Top as Fiancé Brandon Unexpectedly Shoots a Video
Gabby Sidibe said that she attracted her current fiancé after she stopped trying to live up to patriarchal standards. Based on a recent clip he shared of them laughing together, her decision to do so definitely worked out. 
"Precious" actress Gabby Sidibe looked absolutely stunning dressed in a mini-skirt and top. She didn't realize that instead of taking a picture of the two in the mirror, her fiancé Brandon Frankel was actually taking a video. 
The gifted performer thought this was quite funny when she realized what Frankel was doing. This was made clearly evident by the fact that when she realized what was happened, they both laughed hysterically at his little "prank."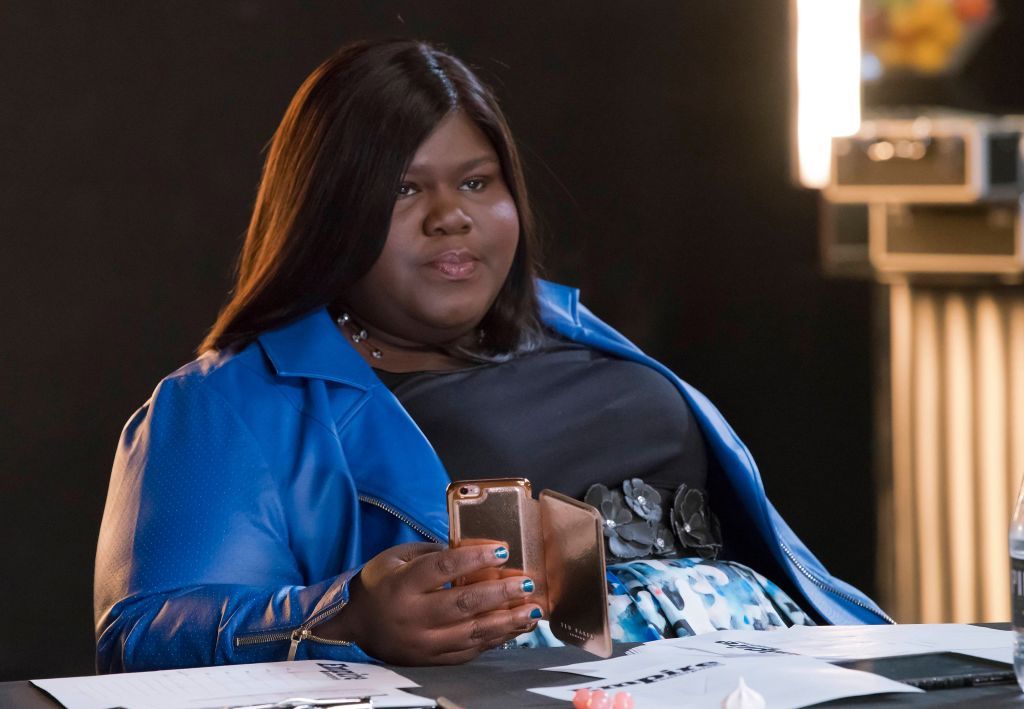 GOT YOU BACK!
Taking to the caption, Frankel expressed how satisfied he was that he caught Sidibe out, claiming that this is something she does to him regularly. In his own words, the actress's devoted lover wrote: 
"She does this to me all the time, verbatim. GOTCHA!! 🤪😂😇😍😘"
In the video, he uses expletive words jokingly towards Sidibe. He continued in the caption, writing that she does this all the time to him, and it is simply a joke they share, asking followers not to assume that he speaks to her badly.
GLIMMERING AND GOLDEN
Sidibe's outfit looked absolutely glorious as it glimmered throughout the lens, complimenting the gorgeous dark tone of her skin. Her mini-skirt was an attractive dark green, while she rocked a black long sleeve shirt.
Speaking about how she attracted Frankel into her life, the gifted performer said it was because she began to let go of patriarchal standards.
Fans and followers absolutely adored the cute exchange between the two lovebirds, flowing in from all corners of the internet to complement their relationship as well as Sidibe's outfit. The post received just over 17,000 views. 
WHAT A YEAR!
These two just love showing off their perfect relationship online. During the December holidays, Frankel took to his official Instagram account, posting a picture of Sidibe showing off her engagement ring, with him writing: 
"Despite 2020 being a totally 🗑 🔥, I'd say we had a pretty amazing year." 
He couldn't seem to stop gushing over Sidibe, expressing how grateful he is to have her in his life. He also went on to convey how ridiculously ecstatic he is to be spending the rest of his days with her. 
PUT A RING ON IT 
Last year, Sidibe took to Instagram to officially announce her engagement to her previous-boyfriend turned fiancé Frankel. Once again, the actress showed off her ring, albeit this time in a mini-clip shared on Instagram. 
In the long and heart-throbbing caption, Sidibe wrote about how funny and sweet Frankel is. She expressed her gratitude towards having him in her life and thanked him for all the lessons she's learned from him along the way. 
Speaking about how she attracted Frankel into her life, the gifted performer said it was because she began to let go of patriarchal standards. Continuing, she said that she chose to stop being a caretaker for men.
Weirdly enough, she met Frankel quite shortly after choosing to make this change in her life. However, Sidibe said this was not her intention but rather something she chose to do purely for her own well-being.