Lori Harvey Looks Stylish Celebrating Easter at Her Parents' Home in a YSL Jacket & Crop Top
Lori Harvey, known for changing up the modeling industry, being the daughter of Steve Harvey, and dating Michal B. Jordan, never hesitates to post stylish and gorgeous pictures on her official Instagram account. 
Recently, model Lori Harvey took to Instagram, posting three gorgeous shots of herself at her parent's home. She looked stylish in a YSL jacket and crop top celebrating Easter with her family. 
Of course, Harvey looked absolutely stunning in every shot. She showed off her high-class modeling skills by pulling a different yet equally elegant pose in every snapshot.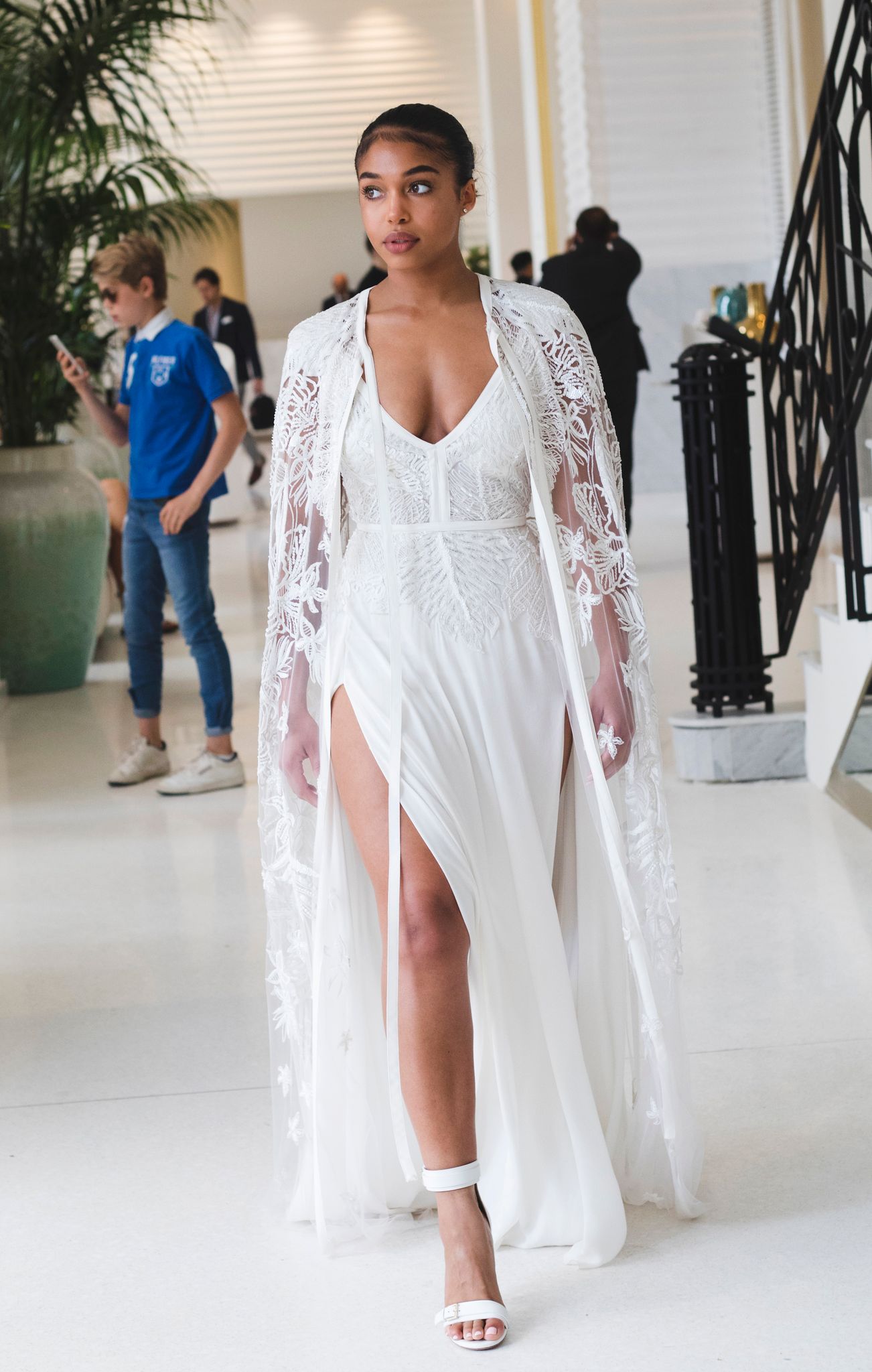 REGAL AND ROYAL 
The first picture of the post was a close-up of Harvey, her head slightly pulled up as the sun illuminated her flawless skin and high cheekbones - more so emphasized by her hair sleeked back into a gorgeous ponytail. She wrote in the caption: 
"Happy Easter 🐣✨."
Her attire was exquisite and high class, with her YSL jacket exuding a royal blue combined with gold - giving off a regal essence. Her watch matched the color of the jacket, emphasizing this ambiance even more so. 
CONSERVATIVE YET SEXY
The second snapshot was taken from further back, showing her full body, while she elegantly held a glass of alcohol and posed gracefully. Pink, purple and blue balloons hung joyously in the background. 
She is also challenging the norms of the fashion and modeling industry.
The white crop top gave off a slightly exotic essence to the generally conservative look. Fans and followers absolutely adored it with comments and emojis running in, the post receiving around 457,000 likes in total. 
DAD AND DAUGHTER
Harvey is well known for dating actor Michael B. Jordan and appears to be very happy in the relationship, but what does her father think of it? Speaking to Jimmy Kimmel, Steve Harvey expressed: 
"I like him. I'm pulling for him."
He continued, stating that Jordan appears to be a kind individual. Jokingly, however, he said that the "Black Panther" star is not the most attractive man to him personally. 
LOVE IS IN THE AIR
The two appear to be an intensely romantic couple, Jordan not hesitating to pull out the stops for Harvey this past Valentine's Day. In fact, Jordan rented out a whole aquarium for Harvey, where he wined and dined the gorgeous model. 
A plethora of multicolored petals were strewn all over the floor with glittering candlesticks which paved the way to the romantic dinner table. Of course, Harvey couldn't help but show off this gorgeous night on Instagram. 
Of course, there is much more to this powerful woman than being linked to two famous men. That being said, she does have a history of dating celebrities such as Justin Combs, Future, Diddy, and Trey Songz, to name a few.
Harvey is also challenging the norms of the fashion and modeling industry. This is because her type of body is much more curvaceous than the average model and she is widening representation by being African American.