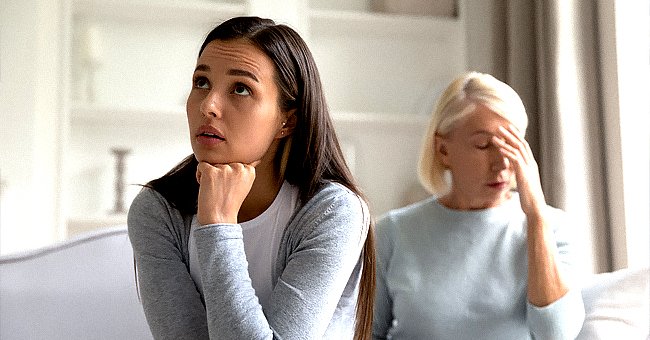 Shutterstock
Story of the Day: Woman Does Not Want to Support Her Daughter and Grandchild
Greg and Abee will soon be approaching their retirement age and cannot support their daughter's new family, including their grandchild.
While parents need to help children plan their future, it is not necessary that they also support their grandchildren's basic needs. Greg and Abee, both in their late 50s, were faced with a backlash after they chose not to pay for their daughter's new family.
Louise, 25, is currently attending college through her parents' support. Although the couple gave their daughter the option to choose her path in life, be it college or not, they saved up money to get Louise the education she wanted.
However, they always made it clear that the money was not for their child's disposal but for her college education, should she choose to attend. While in her first year in university three years ago, Louise met a guy, Nico, 27.
Nico was not a student, not a college graduate. However, he lived with his parents nearby and, frankly, had no goals and plans in life. Greg and Abee raised a responsible daughter and kept their relationship close.
Immediately, the couple told Louise their initial thoughts about Nico and said he did not have a plan to support their family, should they end up together. For four months, Louise moved in with Nico and his family because of the pandemic.
He suggested that they move in with Greg and Abee since she already stayed in his house for four months. The couple declined the suggestion and only wanted their daughter back, if ever.
Nico was furious with the couple's reply and threatened to leave Louise if she went home. Instead, she continued staying with his family. Five months ago, Louise found out that she was carrying Nico's child and immediately told her parents about their plan.
Nico's plan was for Greg and Abee to support them while raising their grandchildren, which the couple did not agree with. Louise's parents told her that they would support Louise's education and housing but will not pay for the child and Tony.
According to Abee, it is not their responsibility to support anyone, and a baby is not financially helping the couple as they are nearing retirement. The couple let their daughter know that the options were all up to her and she should choose to do what's best for her,
After talking to Nico, they decided to keep the child. While Louise did not complain and understood the responsibility she had to take, Nico was upset that Abee and Greg did not help them financially.
Every other week, he would ask Greg and Abee for money that is beyond their means. Nico's family began sending messages to the couple, claiming that they were heatless for not helping their own grandchild and providing for Louise and Nico.
However, Greg and Abee disclosed that they could not help before their daughter went on with the pregnancy, adding that they should not have had a child if they don't have the means to support one.
Do you think Greg and Abee are too harsh in this case? For a similar story about financial problems, read about what Jane and Mark are going through to solve their relationship and salvage their marriage.
Please fill in your e-mail so we can share with you our top stories!