People: 'Sister Wives' Star Mykelti Brown Padron Welcomes Her 1st Baby With Her Husband Tony
Mykelti Brown Padron and her husband, Tony, welcomed their first child this month, and People reported on all the details. 
Mykelti Brown Padron, a daughter from "Sister Wives," and her husband, Tony Padron, welcomed their first child, daughter Avalon Asa Padron, on April 5th. The couple shared details of the birth with People magazine. 
Just before 10 o'clock, the couple welcomed their baby girl at home with a successful home birth on Monday night. Avalon measured 20.5 inches and weighed nine pounds.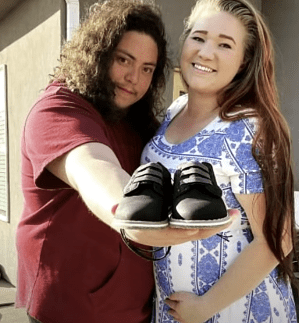 The first time dad told People in an exclusive interview that the new parents were happy that "Sister Wives" Robyn Brown joined the couple for the whole labor process via Zoom. 
Padron had lovely words for his wife, as he told the outlet that she was the strongest woman he knew. The new mom told People that Avalon was gorgeous, and she described their new baby:
"Avalon is gorgeous, enjoyable and full of life."
Brown Padron shared a photo of herself and Padron holding their baby on Instagram. In it, she is wearing a gorgeous floral robe while she and Padron smile lovingly at the baby.
Brown Padron is the daughter of Christine and Kody Brown. Little Avalon is Brown's third grandchild as his daughter Maddie Brown Brush has two children, a daughter Evangalynn and son Axel. 
Mom and now grandmother Christine posted a few photos of herself holding Avalon while she was cooking.
Padron announced that they were expecting their first child in September. Brown Padron had shared with People at the time the couple had been excited to have children since their marriage four years earlier. 
Later the couple announced that they were expecting a girl. The new mom admitted that early on in the pregnancy, she had felt she was having a girl, as she explained to People:
"The whole pregnancy she's felt like a girl, that's what I really wanted for my first so I'm extremely stoked she's a girl."
The Padrons tied the knot in December 2016 in a large wedding that had 400 guests. Their ceremony venue was the Bloomington Country Club in St. George, Utah, which followed with a vintage-Mexican themes reception.
Mom and now grandmother Christine posted a few photos of herself holding Avalon while she was cooking. She also shared an adorable photo of daughter Truly Grace holding the little one. 
Recently, Christine shared her feelings on "Sister Wives" Meri's relationship with Kody Brown. She said that although all relationships go through ups and downs, it was hard to watch Meri and Brown's relationship troubles in the series. 
Meri and Brown have been open about the struggles they have faced. In a sneak peek shared by People, they admitted that they were celebrating a non-anniversary as they were not in a relationship.