Check Out Susan Lucci's Age-Defying Beauty at 74 as She Lies On Her Bed Wrapped In a Towel
Actress Susan Lucci recently showed the "perks" of relaxing at home as she shared a snap taken during a telephonic interview with her fans. 
If anyone has the secret to defying aging, it is undoubtedly "All My Children" star Susan Lucci. The stunning 74-year-old actress recently stunned her fans with a photo of herself in bed with a caption that read:
"One of the perks of doing an at-home interview by phone—not Zoom💃🏽💃🏽💃🏽."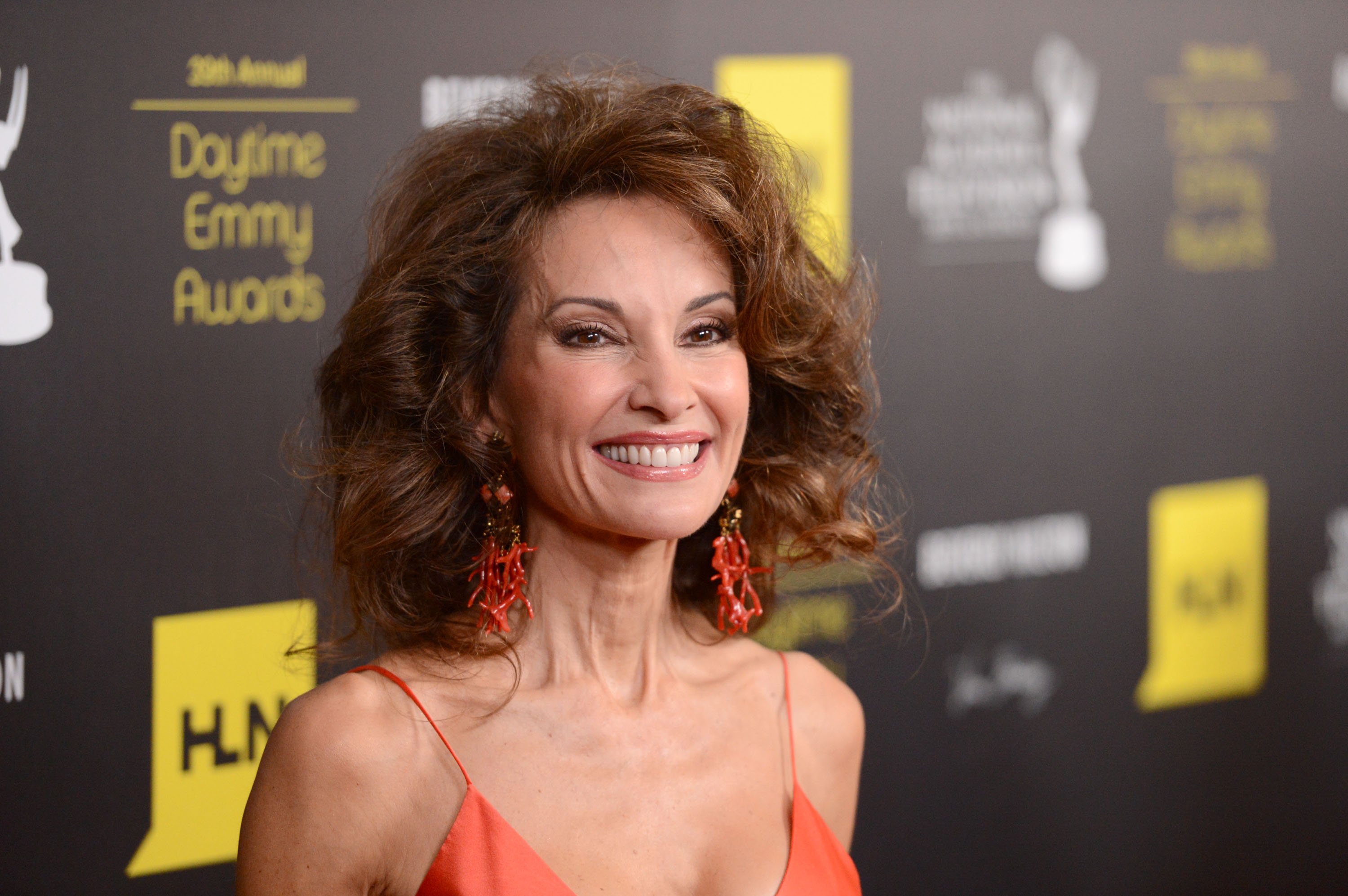 Lucci's beautiful photo showed her looking effortlessly radiant as she comfortably lay on her large, pristine bed with her phone in her hands. She looked very comfy.
The actress was clad in nothing but an expertly wrapped towel that extended long enough to cover her legs, allowing her to show off her shoulders and feet.
With her thick brunette locks swept up into a high bun atop her head, Lucci's beautiful face lay bare for her fans to see as she focused on her at-home interview over the phone.
The comments section was filled with awe-inspired fans and followers who simply could not get enough of her age-defying beauty. The actress certainly has one or two tricks up her sleeves.
Sometimes, amid the many fabulous photos Lucci shares with herself, she also loves to post even more daring shots!  At 74, the legendary actress is a woman who knows how to stun anyone with her fabulous looks.
Sometimes, it is the occasional lounging around stay-in-bed snap, and other times, she goes all out with an all dressed up look. In February, the former "All My Children" star blew her fans away with the most incredible snapshot in an unforgettable hot pink dress.
In her caption, she announced that she would be taking part in a benefit for Broadway Cares/Equity Fights AIDS and wrote: "Please join us for ABC Daytime/Back on Broadway—benefit for Broadway Cares!!! Streaming live at 8 pm on Broadway Cares Utube channel."
The brunette beauty showed off her million-dollar smile as she sat atop a magnificent glossy black grand piano in her house. She complimented her pink dress with hot pink nail polish on her shoe-free feet as well as gold jewelry.
Fans were once again impressed with how radiant the actress looked. Weeks before that, the soap opera icon showed her fans how she looks when relaxing at home. She posted a snap of herself in velvet loungewear as she posed by the fireplace in her home. 
Sometimes, amid the many fabulous photos Lucci shares with herself, she also loves to post even more daring shots! Early in March, the star showed off her sensational trim figure in an exquisite white bathing suit while laying in the sun.
Fans were blown away as they marveled at how youthful and beautiful the actress still looks! While she may not have shared her secret yet, fans are ever ready to marvel at her beauty.