Magic Johnson & Wife Cookie Are All Smiles Flashing Their World Series Championship Rings (Photos)
Magic Johnson took to Instagram to flaunt the World Series Championship rings that he and his wife, Cookie, received over the weekend. The couple was all smiles as they celebrated another win.
Earvin "Magic" Johnson was recently honored with yet another championship ring. The retired NBA player and businessman now has quite the collection of championship rings across three sports, the NBA, WNBA, and MLB.
Magic, a part-owner of the Los Angeles Dodgers baseball team, received his World Series Championship ring on Saturday with his wife of 29 years, Cookie Johnson, by his side.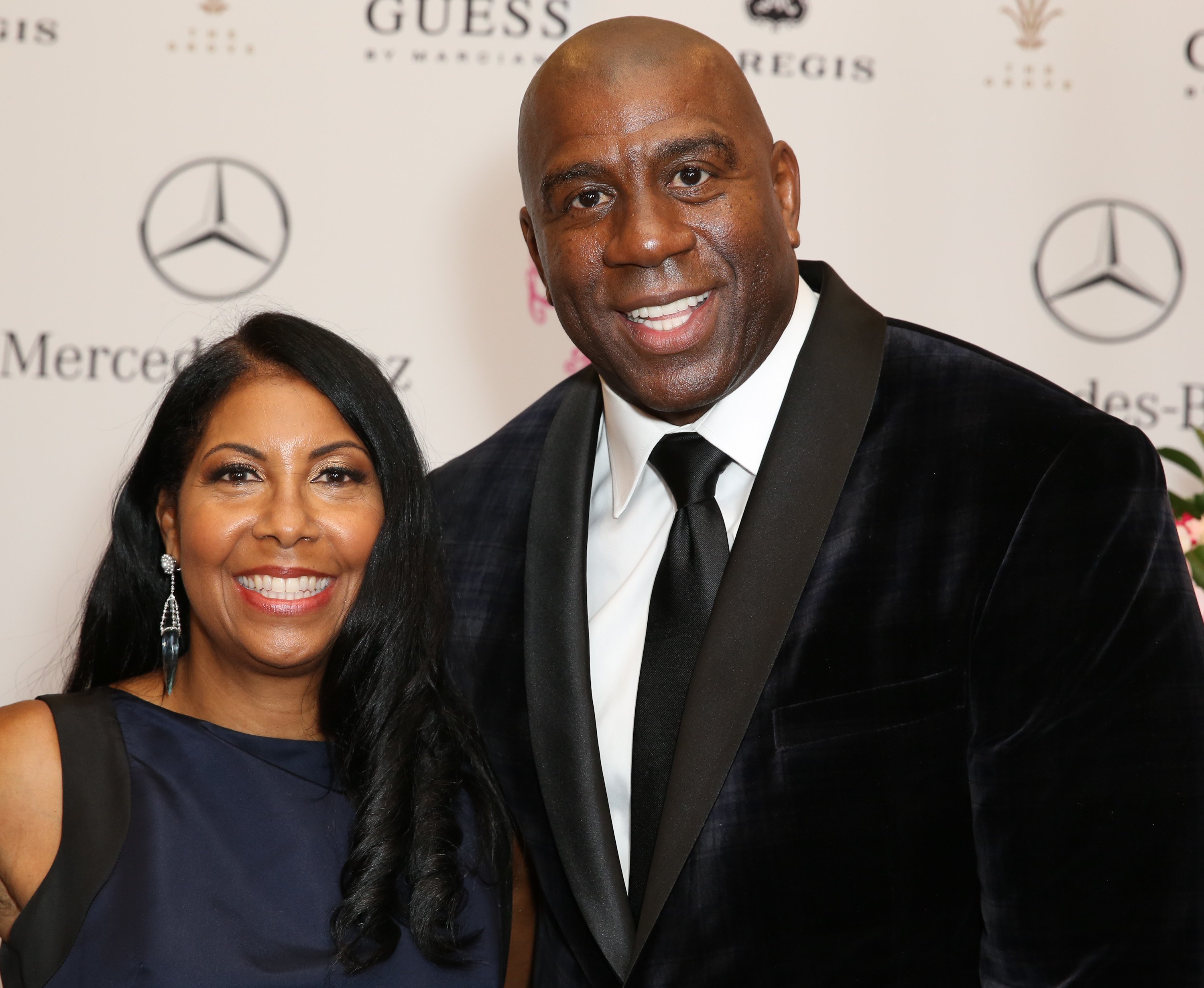 Magic shared three snaps from the celebratory moment. In all three photos, the six-foot-nine player stood next to his wife, both smiling while holding out their hands to show off the huge rings. He captioned:
"Today Cookie and I got our World Series Championship rings at @dodgers Opening Day!"
Magic looked simple but classy in a black Dodgers golf T-shirt, black pants, and sneakers, while Cookie, wearing dark-rimmed glasses, opted for a smart-casual look with white ripped jeans, a T-shirt, and a gray blazer. 
As the couple celebrated, they posed for one snap in the stadium, with empty seats around them before taking more photos indoors. Fans in the comments section applauded Magic for the achievement.
In November 1991, Magic, 61, publicly announced that he was HIV-positive.
Like many celebratory milestones, Magic's wife, Cookie, was by his side where she has been for over 29 years, ever since the early beginnings of his phenomenal basketball career and successful business ventures. 
Not only has Cookie been there for the good times, but her devotion to the former Los Angeles Lakers player is unwavering, and she has stood by him through sickness and health, literally. 
In November 1991, Magic, 61, publicly announced that he was HIV-positive. He and Cookie had only been married for 45 days when he told her about his diagnosis. Also, she was pregnant with their first child, EJ Johnson.
Cookie, 62, revealed that, although the news was terrifying, especially at a time when HIV was not well understood, she stayed with Magic and supported him both publicly and privately. 
With their marriage being tested so early on, Magic and Cookie proved to be a strong couple as they weathered other storms along the way. The most recent being their son, EJ's sexual orientation. 
Although EJ, 28, came out publicly in 2013, he initially told his parents at age 13, and because of their own experiences, Cookie and Magic were able to come to terms with the news and accept him with love and pride.