Magic Johnson's Wife Cookie Praised for Looking Gorgeous as She Posed in an Orange Outfit
Cookie Johnson, the wife of former NBA basketballer Magic Johnson, recently shared a picture of herself looking stunning in an orange outfit, and her fans surely complimented her look.
Fan love is a great thing to have. The hype they give and the genuine compliments are quite flattering. Cookie Johnson, the wife of former NBA basketball player Magic Johnson, is receiving a massive dose of love from her fans after she shared a picture on social media.
Taking to her Instagram account, Cookie shared a series of pictures that got her fans excited. The post showed her wearing an orange outfit and some of the accessories she wore alongside the outfit.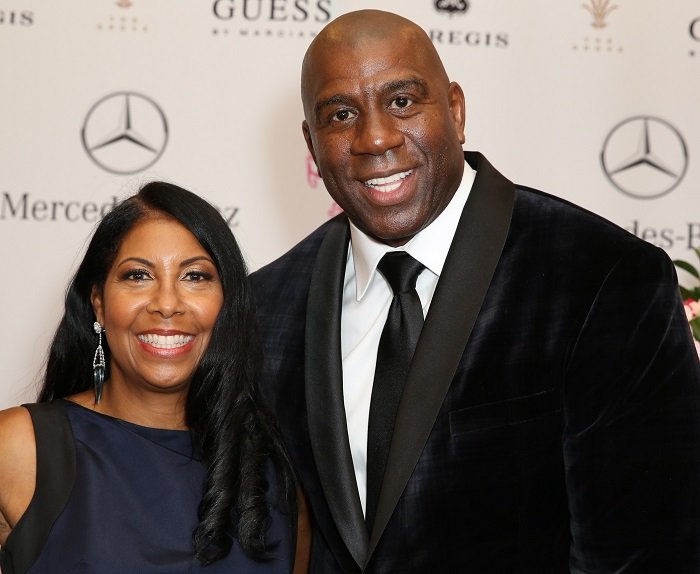 The first image in the series showed Cookie leaning against the back of a chair with her hands pulling her hair back to reveal her huge hoop earrings. Her clear and flawless skin was on display in the shot as she wore an orange outfit with three quarters arm length.
Cookie completed the look by wearing a gold-banded wristwatch and a ring. Her fans were quick to take to the comments section to express their thoughts on the images she shared. Someone complimented her, saying:
"Just Flawless."
Other fans also took to the comments section to share their thoughts, with most of them acknowledging that Cookie was indeed beautiful. Another person expressed that not only was she beautiful on the outside, she was also beautiful on the inside as well.
While some could not get over how beautiful Cookie looked, someone stated that she was fabulous, and as the years progressed, she looked to have not aged one bit.
She and Magic separated for two weeks during the course of their marriage.

The other images in the post featured a gift box from Oprah Winfrey that contained jewelry from Simon Smith, which happens to be one of Oprah Winfrey's "Favorite Things."
In the post's caption, she thanked Smith for the jewelry and complimented it as one of the greatest gifts ever. The honeycomb gold earrings were the ones she accessorized her outfit with, and they were a stunning match.
Cookie has been married to her husband Magic for almost three decades now, and through the years they have been together, the pair have battled various issues in their marriage. Thankfully, they were able to come out of it stronger.
In her 2016 memoir titled "Believing in Magic," Cookie talked about the time she and Magic had a two-week separation in their marriage. She also opened up about staying with Magic after discovering he had HIV.
Through it all, Cookie and Magic have worked on their relationship and she credits God as being the one who truly saved her marriage.