Magic Johnson's Wife Flaunts Fit Body in TBT Pic Posing on a Staircase in Black Blouse & Jeans
Cookie Johnson recently shared a throwback photo of herself in a casual outfit of a black shirt and jeans. Her fit body caught the attention of many fans.
Cookie Johnson is popularly known as the wife of legendary basketball player Magic Johnson. Her latest post on Instagram would go a long way to make her famous for a fit body.
The 61-year-old recently shared a captivating throwback photo on her Instagram page. It is not just the memory that got fans raving, but how in shape she has managed to be.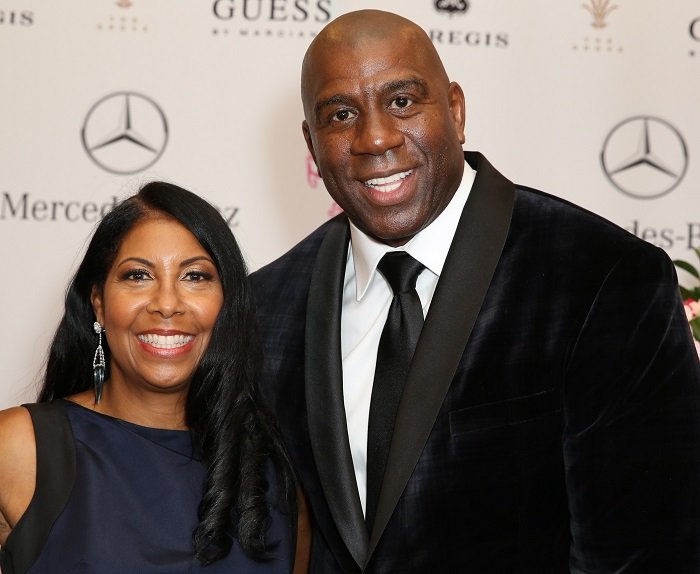 The author was seen standing on the staircase rocking a black top that revealed her trimmed body and a pair of blue jeans with matching shoes.
One fan commented that she is always so classy while another noted that she looked incredible in her jeans. The post has received over 7,000 likes and many comments. Cookie captioned the post:
"Focused on the reasons to smile! #TBT #KeepTheFaith." 
Cookie was born Earleatha but said her mom decided to call her "Kookie" after a popular teen idol character. She decided to change it to "Cookie" because she was not impressed by her mother's version.
Cookie revealed that she and her siblings were called country bumpkins by tough-talking children because they were always going barefoot. Her family left Alabama for Detroit when she was 6 to pursue the American dream.
Aside from Magic's HIV diagnosis, the couple had to come to terms with the sexuality of their eldest, E.J.
Cookie and Magic met as students at Michigan State and got married in 1991. The union was barely two-months-old before it got hit by a piece of disastrous news.
Cookie received the news that Magic was diagnosed with HIV. The mother of two reportedly said she said she fell on her knees when she heard the news. Despite his diagnosis, Cookie opted to stay with Magic.
She was said to be pregnant with their son at the time of the diagnosis. It has still not been revealed how Magic contracted the virus. Cookie said she had to be tested for the virus and she came out negative.
When many expected her to leave, it never occurred to Cookie to quit because she only thought about how he would survive and wanted to give him all the love he needed.
Magic has still not forgotten her love during his difficult days. In a recent post, the athlete revealed he would probably have been dead if Cookie chose to leave and said his wife and family are the reason he works hard today.
During their 29th anniversary, Magic took his tribute a step further and called his wife "a gift from God." The retired basketball player reportedly said that marrying Cookie was one of the best decisions he ever made.
Aside from Magic's HIV diagnosis, the couple had to come to terms with the sexuality of their eldest, E.J, who announced that he was gay in 2013.
After many difficulties, the family got to respect his decision and showed him love and support. The Johnsons might go through a lot but one thing is sure, they stick together.