Get to Know Julian Edelman's Family and the Daughter He Acknowledged After a Paternity Lawsuit
Julian Edelman, the wide receiver who announced his retirement in April 2021 after playing with the New England Patriots for 12 seasons, was involved in a paternity lawsuit.
Born in May 1986, Julian Edelman attended Woodside High School and led his team, the Wildcats, to a 13-0 record as a senior. The team ended up as the Central Coast Section champion, and he was named first-team all-league and all-county.
Julian then went to Kent State, majored in business management, and was selected by the New England Patriots in the 2009 NFL Draft. On April 12, 2021, he announced his retirement.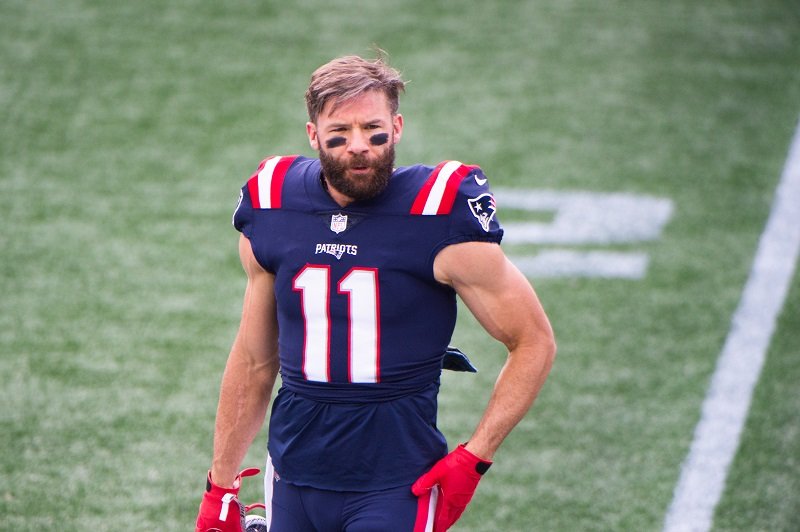 JULIAN EDELMAN'S FATHER
During his 12 years in the NFL, he took home three Super Bowl championships and was named the MVP of the 2019 edition. Julian Edelman's parents were crucial in his path to becoming a football great, especially his dad, Frank Edelman.
Frank once said that he started training with his son when he was about five or six years old. Throughout Julian's childhood, he was mainly focused on school and training seven days a week.
Apart from that, Frank would make Julian do some unusual drills specifically created to help him improve his flaws, like making him catch the football with one hand or with one eye covered.
According to Julian Edelman's father, his son's goal in life was to be Tom Brady's receiver and "go-to guy." He did it as they connected 571 times, making Julian the player with the most receptions from the legendary quarterback.
JULIAN AND FRANK'S TROUBLES
However, things were not always easy for the Edelmans. Julian was "terrified" of his father growing up because of all the pressure he put on the boy's shoulders. Eventually, Julian learned to appreciate it.
Apart from that, when Julian got a four-game suspension for using performance-enhancing drugs following his torn ACL suffered before the 2017 season, he and Frank didn't talk for 81 days.
Julian Edelman's mother, Angie, explained that the player didn't want his dad to be part of the process as he and his attorneys were handling it, but Frank didn't understand that.
Speaking of Angie, she was a stay-at-home mom who supported Julian and his siblings in everything from school to sports. She said that "Jules" got the work ethic from Frank and the "fun side" from her.
You're not living for yourself anymore, you're living for your little girl now.
JULIAN EDELMAN'S DAUGHTER
In 2016, Julian made headlines after Swedish model Ella Rose hit him with a paternity suit, claiming that he got her pregnant after a two-year "casual relationship." At that point, he was dating Victoria's Secret model Adriana Lima.
When everything started, Julian allegedly denied that he was the father of the child. In December 2016, though, he publicly acknowledged his daughter, Lily Rose, by posting a photo cradling her in his arms. It can be seen at the bottom of the page.
According to TMZ, Julian flew to Los Angeles before Lily was born (November 30, 2016) to be by Ella's side during the baby's birth. Although the parents are good friends, they were no longer romantically involved at the time.
Three years after Lily's birth, Julian opened up about fatherhood, saying that it was a "huge challenge," especially with his and Ella's professions, as it gets hard to give Lily the time and energy she needs and wishes.
The former NFL player said that he had been working hard since he was only eight years old to be the best he could possibly be in his craft, but "all of a sudden, your priorities change." Julian added:
"You're not living for yourself anymore, you're living for your little girl now. That's how my parents lived for me, so that's all I really know."
At the moment, Julian Edelman and Elle Rose, who met in 2014, are co-parenting their daughter. He's not married but casually dating and always keeping in mind that his partner needs to be "stepmom material."