Here Is the Symbolism behind Diamond Brooch Worn by the Queen with Her All-Black Funeral Ensemble
Queen Elizabeth II wore a gorgeous piece of jewelry to her husband's funeral on Saturday, and it holds great significance for the family. 
On Saturday, April 17, 2021, Queen Elizabeth said her final goodbye to her husband of 73 years, Prince Philip. The Duke of Edinburgh passed away at 99 on April 99, 2021.
The Queen wore a black ensemble which she accessorized with a wide-brimmed black hat, a black face mask, and a large sparkly brooch from her jewelry collection.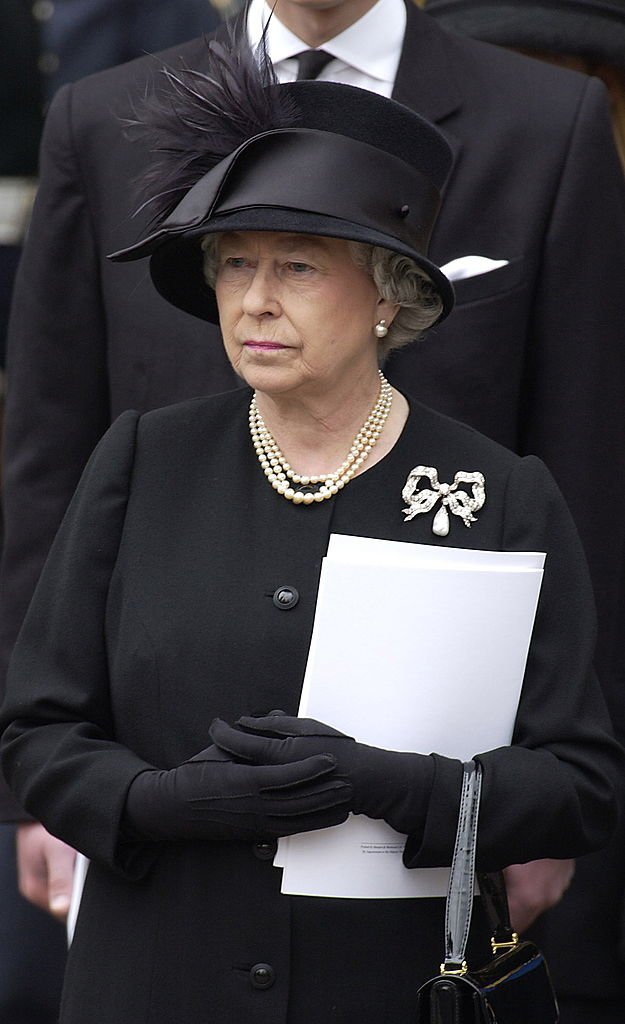 The piece of jewelry, one of the largest pieces of her collection, holds a lot of meaning for the Queen and her family. It is a Richmond brooch that is pear-shaded and has a detachable pearl-drop component.
For the funeral, the Queen opted to wear the brooch without the drop component. She has worn the brooch to other events in the past, such as the 2018 Festival of Remembrance at Royal Albert Hall.
Queen Elizabeth II pays her respects at her husband, Prince Philip's funeral pic.twitter.com/W7DqOiGaTf

— nzherald (@nzherald) April 17, 2021
The Richmond brooch, which Hunt and Raskell made, has a long history within the Royal Family. It was first gifted to Queen Elizabeth's grandmother, Queen Mary, as a wedding gift in 1893. 
Mary wore the gorgeous pearl and diamond piece during her honeymoon at Osborne House on the Isle of Wight. With the jewelry's connections to her grandparents' relationship, it is fitting that the Queen decided to wear it.
Camilla 'supported' Charles who was 'overcome by grief' at Philip's funeralhttps://t.co/PNpBIh3ERs pic.twitter.com/TTbN0ePtQ1

— The Mirror (@DailyMirror) April 18, 2021
The Queen was not the only royal family member to wear an important piece of jewelry to Prince Philip's funeral. The Queen's daughter-in-law, Camilla, Duchess of Cornwell, chose to wear a sentiment piece too. 
Camilla paid tribute to Prince Philip's military heritage as she opted to wear a diamond brooch which Philip had gifted her last year when he transferred his title of Colonel-in-Chief of the Silver Bugle of the Rifles to her. 
Queen Elizabeth had to sit alone at the ceremony, which was limited to 30 guests.
The brooch commemorates the Silver Bugle of the Rifles, a division of the British Royal armed forces. The title transfer took place at an in-person but socially distanced ceremony.
Another royal family member who wore a statement piece was Kate Middleton, Duchess of Cambridge, who wore a gorgeous Japanese pearl choker, one of the Queen's necklaces. 
The three women attended the funeral with other royal family members, including Camilla's husband Prince Charles, Middleton's husband, Prince William, and her brother-in-law Prince Harry. 
Queen Elizabeth had to sit alone at the ceremony, which was limited to 30 guests as COVID-19 protocols state that people have to socially distance if they are among people outside of their "COVID bubble."