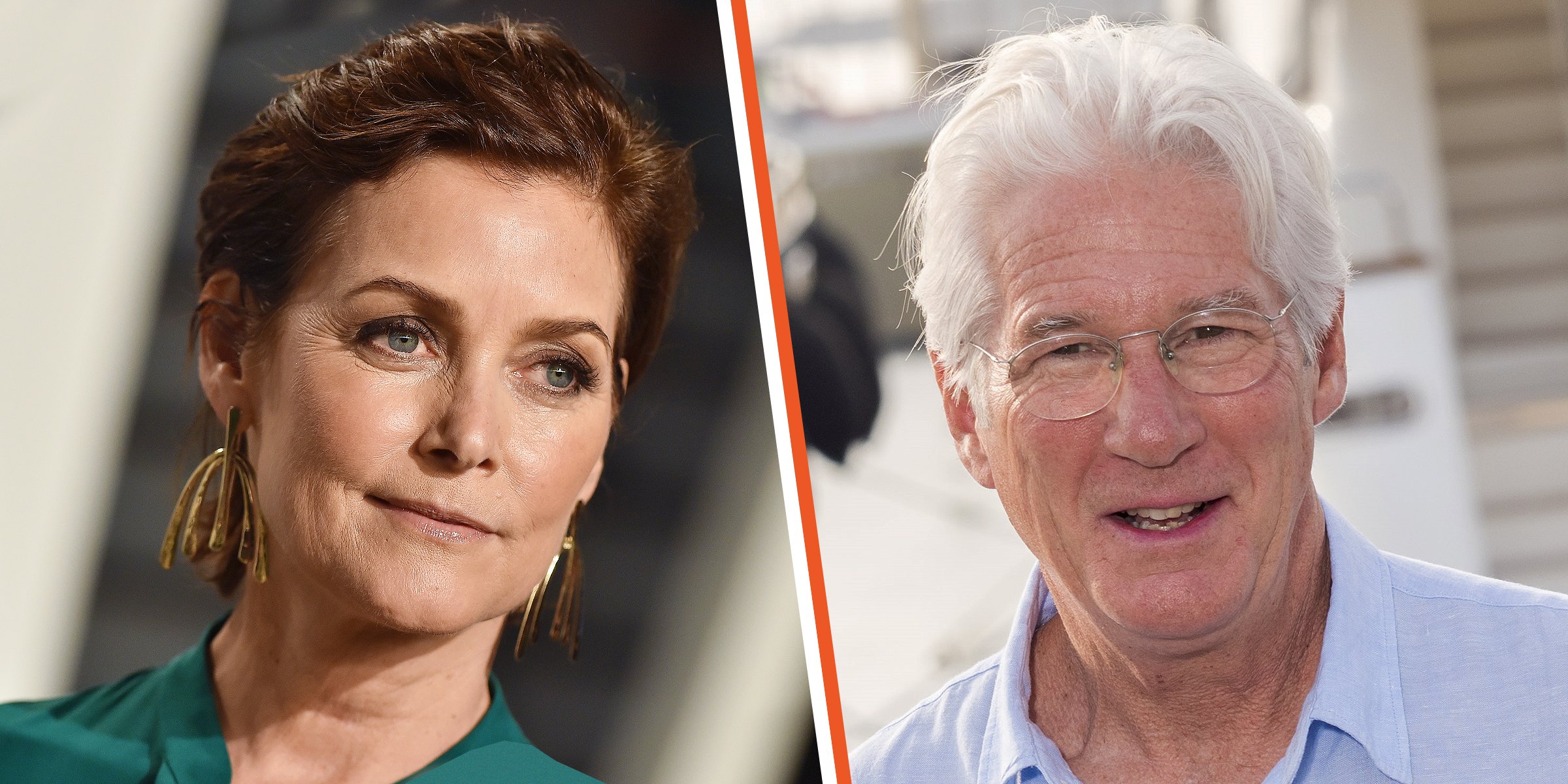 Carey Lowell | Richard Gere | Source: Getty Images
Carey Lowell Is Richard Gere's 2nd Ex-wife: What We Know About Their Relationship
Carey Lowell is a familiar face to the "James Bond" fanatics, but before she became an actress, she was a fashion model. Years later, she ventured into making unique ceramics. Among her numerous titles is "Richard Gere's second ex-wife." Here is everything you need to know about her.
Many movie lovers may disagree that Carey Lowell is a household name, as she was only featured sparingly in movies. However, they would not be quick to argue her successes in these few features, which were blockbusters.
Lowell made her legacy in the entertainment industry by pouring her best into the roles she played. It has been quite some time since she starred on screen, but the former actress, who was married to actor Richard Gere for eleven years, found something that stole her heart, which has been her go-to for years.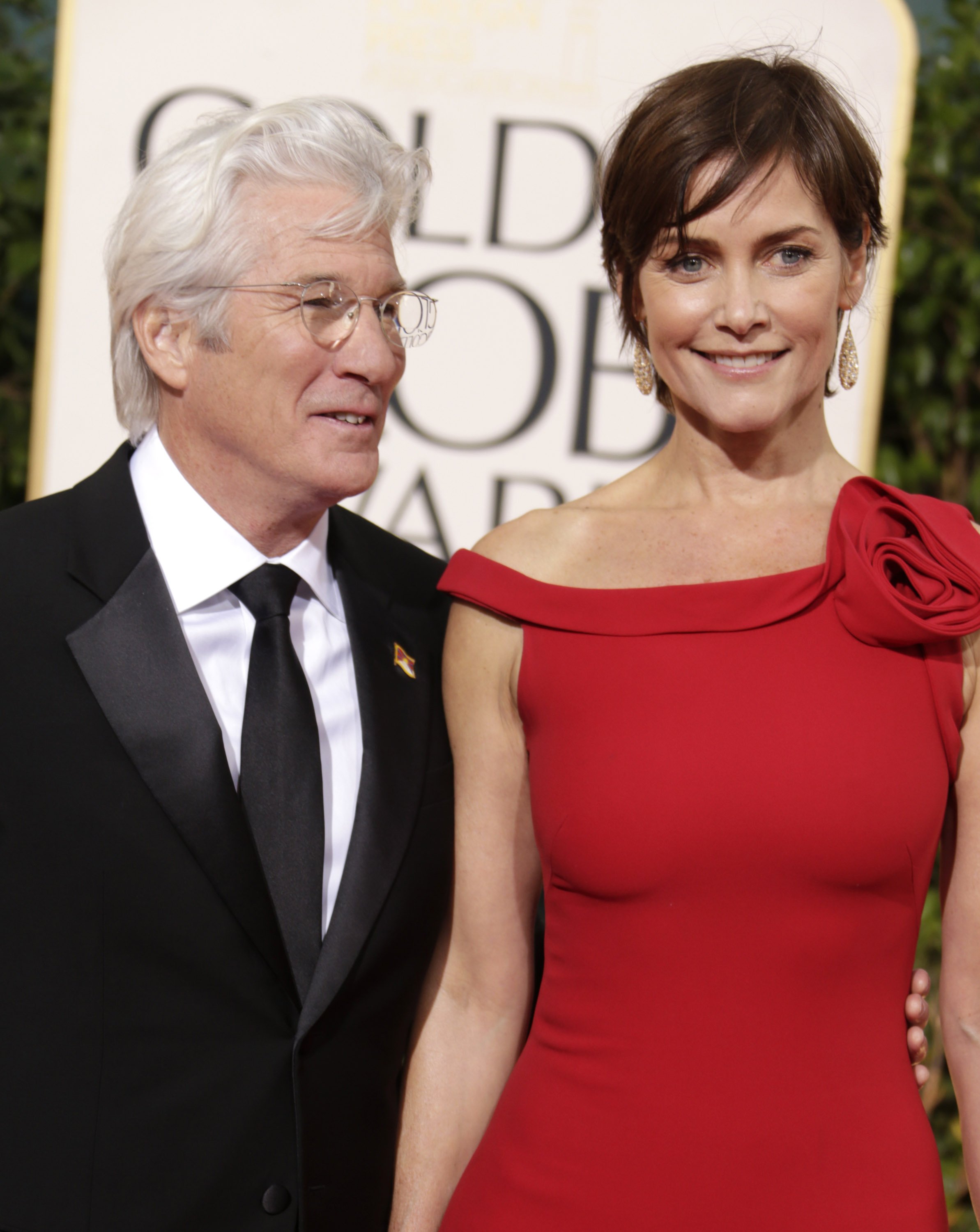 Richard Gere and Carey Lowell during the 70th Annual Golden Globe Awards held at The Beverly Hilton Hotel on January 13, 2013 in Beverly Hills, California. | Source: Getty Images
She is no longer the woman in Gere's life, but life goes on for Lowell, who, in her 50s, made her first public appearance since news of her divorce surfaced in the media. In December 2020, Lowell walked the 19th annual Artwalk NY gala in New York City.
Carey Lowell's Time Onscreen
Carey Lowell globe trotted as a child due to her father's profession. When she became a University student, she explored modeling and fortunately hit big as a fashion model.
The youthful Lowell spent a few years building her portfolio by working with big brands like Calvin Klein and Ralph Lauren. To her, modeling was a hobby and a fun way of making money and exploring the rest of the world via frequent travels.
In 1986, she redirected the wheels of her life by hitting the big screens in "Club Paradise." This was the beginning of an excellent film career.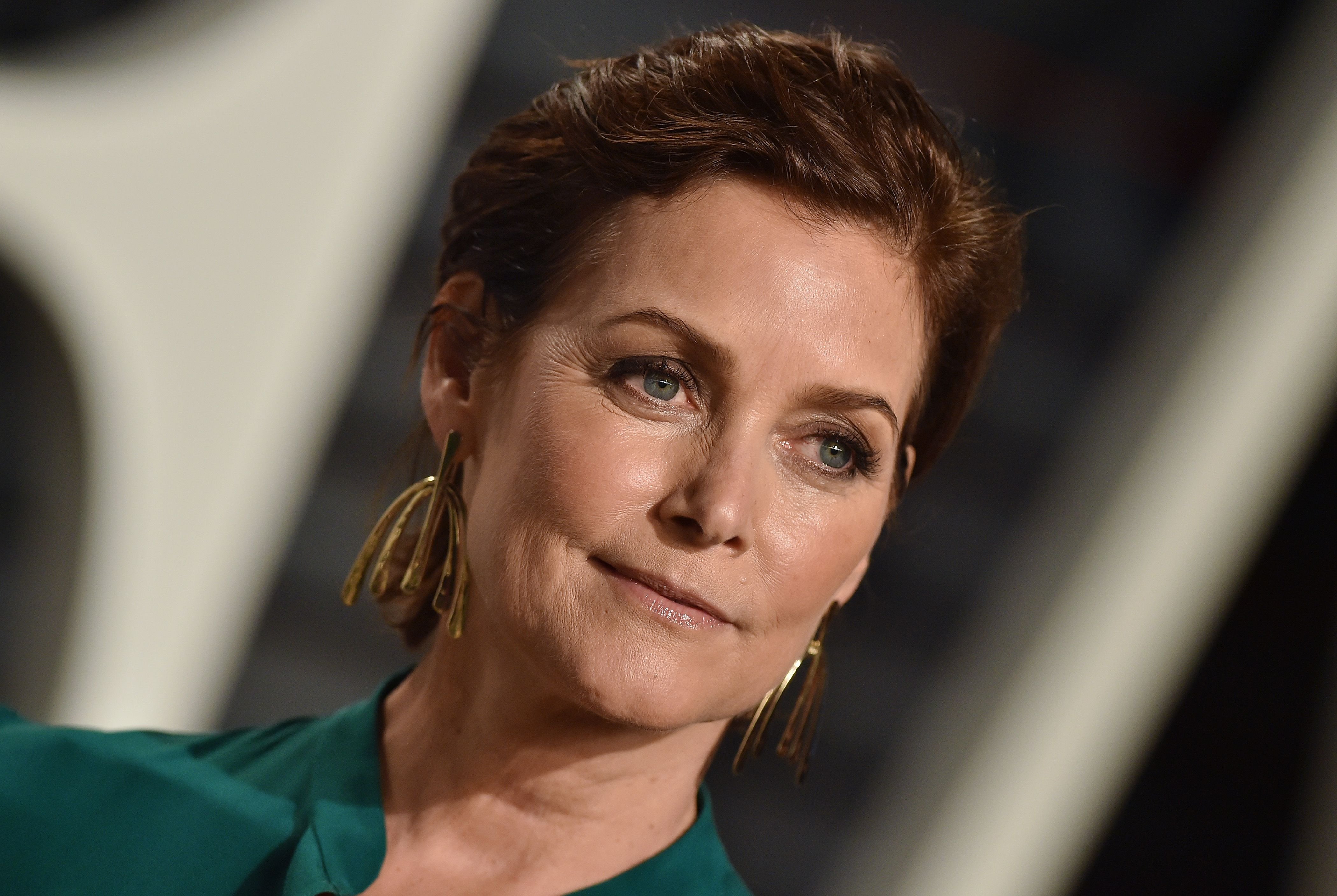 Carey Lowell during the 2017 Vanity Fair Oscar Party Hosted By Graydon Carter at Wallis Annenberg Center for the Performing Arts on February 26, 2017 in Beverly Hills, California. | Source: Getty Images
Two years later, the actress featured in the James Bond film "License to Kill" as a pilot and CIA informant. She also played a significant role in "Law & Order" from 1996 to 2001.
Powell reprised her character "Jamie Ross" in two episodes of the crime drama in 2005. It was not until 2013 that the actress worked on the script of a short movie titled "The Cause." Since then, she has kept her business under wraps and left the acting industry to fuel other desires like ceramic sculpting.
Carey Lowell's Love Life
Carey Lowell was first married to John Stember from 1984 to1988. She later married Griffin Dunne from 1989 to 1995, and together they shared her first child Hannah Dunne.
Lowell walked down the aisle again in 2002 to marry Gere, the man she had been dating for nearly a decade.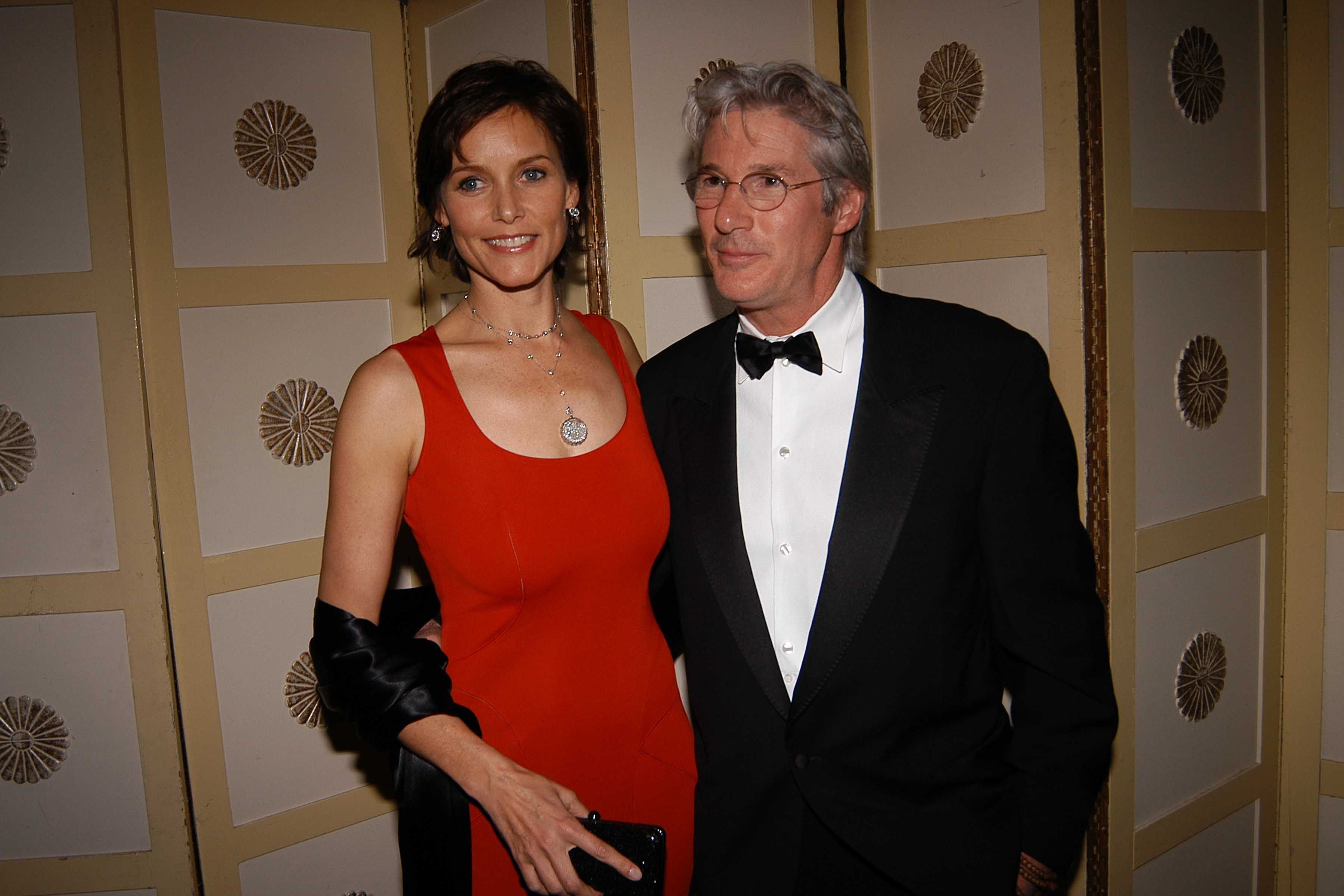 Carey Lowell and Richard Gere during The Eighth Red Ball at Pierre Hotel on February 7, 2005 in New York City. | Source: Getty Images
Lowell and Gere got along well despite their 12-year age gap and even had a two-year-old son, Homer, during their wedding. Lowell also slowed down her career to focus on their child.
Although Gere had been married before to supermodel Cindy Crawford, they did not have a child. Their relationship lasted four years before the divorce. Crawford said about their getting married to the actor:
"I didn't think I was young, though, but I was young. I was with Richard for like six years, but I was only married for two years."
Love Gone Sour
When the couple began growing apart, they decided to call it quits amicably. A friend of the couple revealed that the pair had already separated and had been living in separate homes for a while. Gere stayed in their Bedford, New York home, while Lowell stayed in their North Haven mansion.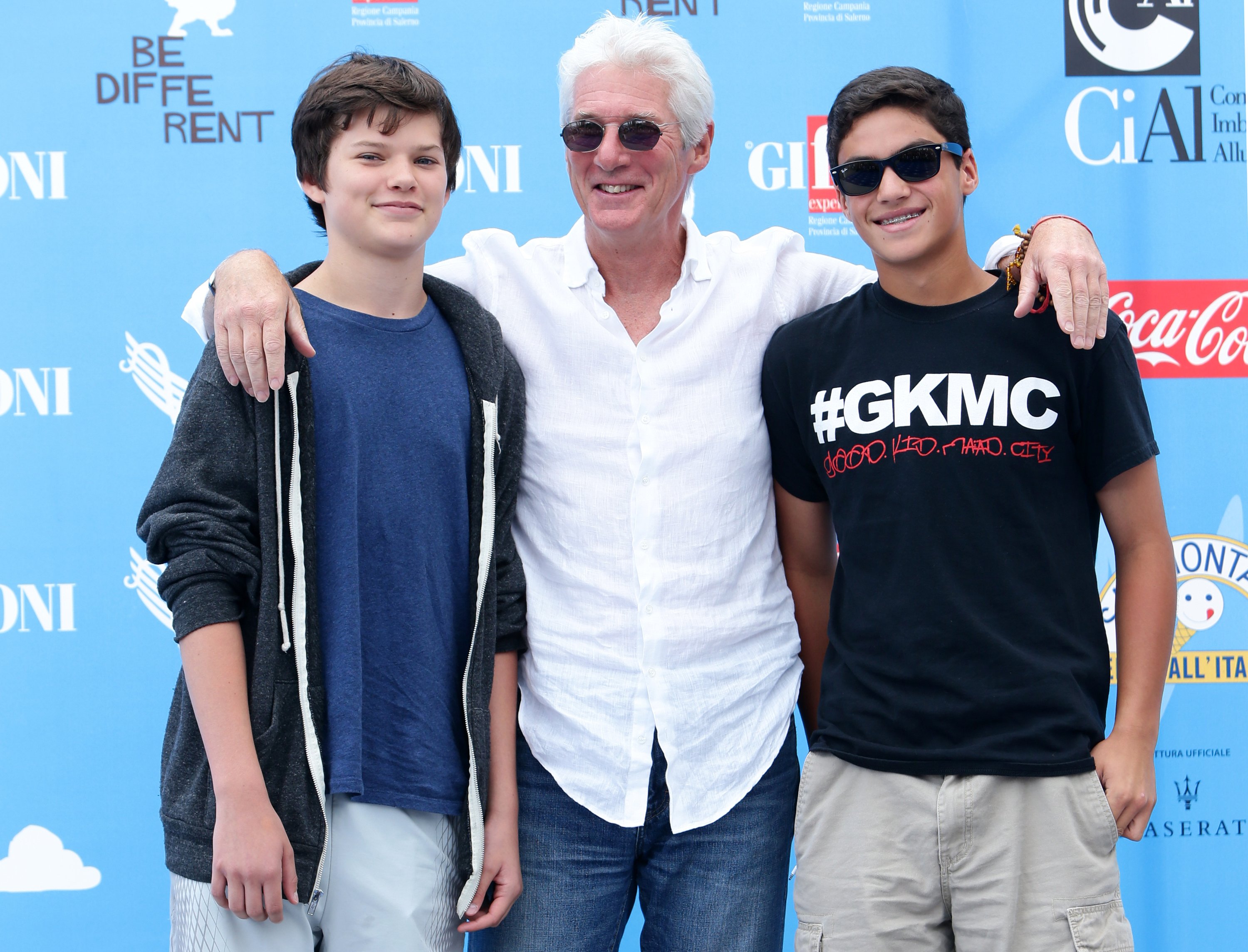 Richard Gere, Homer James, and a friend attend Giffoni Film Festival photocall on July 22, 2014, in Giffoni Valle Piana, Italy. | Source: Getty Images
Although the "Runaway Bride" star's rep had no comment amidst the news, the insider claimed, "They'll do everything possible to keep things amicable and put their child first."
It seems that their differences have made living separately comfortable. While Lowell enjoys a social life, Gere, a devout Buddhist, prefers living in solitude and quiet.
Although Homer's parents tried to settle on friendly ground as they quickly agreed to the custody arrangements, their divorce took four years before it was finalized.
This was because Gere and his second ex-wife visited the court countless times over his million-dollar fortune.
In 2016, their divorce saga ended after a judgment in a Manhattan court by Supreme Court Justice Matthew Cooper. None of the former couples was at the courthouse when the ruling was made.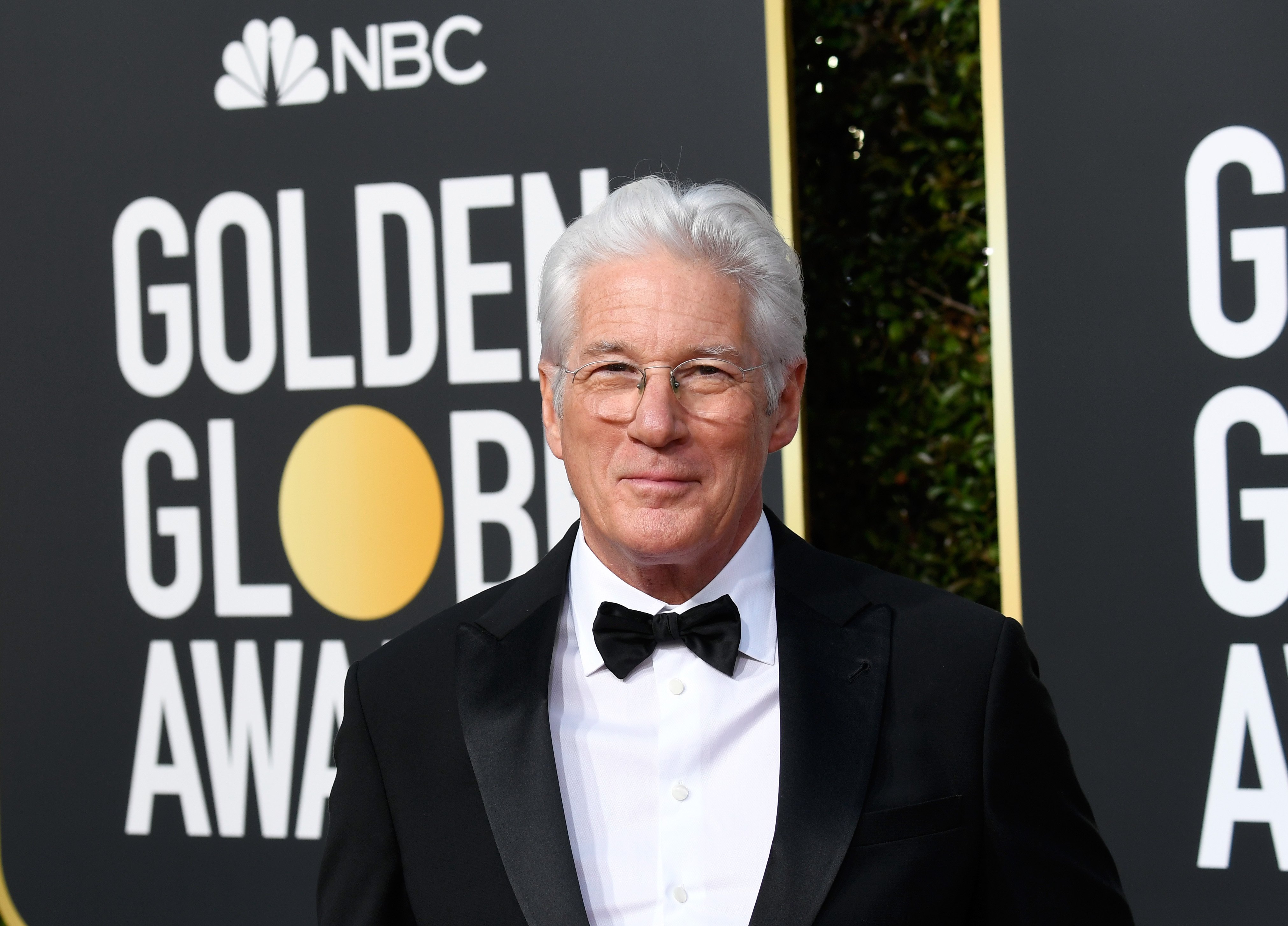 Richard Gere attends the 76th Annual Golden Globe Awards at The Beverly Hilton Hotel on January 6, 2019 in Beverly Hills, California. | Source: Getty Images
Lowell's Life After
Since her divorce, Lowell has advanced her likeness for creating lovely pieces. She is a professional ceramic maker, and like many craft makers, she is in love with the art.
This creativity was first introduced during her time in Colorado High School art class at age 13. After signing up at House Pottery Studio decades ago, she never stopped returning. However, the pandemic pushed her to turn the hobby into a business.
Time in quarantine allowed her to have the time to dedicate to her studio. She no longer had a reason to leave home and found immense happiness working on her craft. She said:
"It's a career shift. It just feels like an extension of who I am already. It's sort of an expression of creativity that I am in control of, that I can do for myself, that I'm not waiting for somebody else to hire me. It's much nicer to be autonomous in that way."
While love did not give her the required longevity she had hoped, the "License to Kill" star ventured into something that fulfills the desire to be appreciated by lovers of arts.
Lowell works without an assistant, mainly in porcelain, and employs gold luster to highlight her creations further. The ceramic expert also uses fascinating materials from gun parts to make incredible hand-glazed candle holders and other ceramic wares.
These innovations have been showcased in Celadon Gallery, Water Mill, NY, and Greenwich House Pottery and are sold at ARossGirl.com, while she markets them in various outlets like restaurants. Before making income from her work, Lowell would give away her pieces to friends.
"My inspiration is definitely anything organic, anything in nature," she said. "It's odd because sometimes my things are really feminine, in a way. And I don't really always think of myself [that way]. I think of myself more as sort of a tomboy. So it's interesting. It's weird that it comes out in that way in my ceramics."
Richard Gere Found Love Again
After his marriage with Lowell ended, Gere got hooked to a Spanish publicist, Alejandra Silva, who became Richard Gere's wife.
These two exchanged vows in 2018 and have not stopped gushing about each other. Gere explains that his wife is a great cook and is empathetic, while Silva loves to talk about her husband's humanitarian spirit.
The couple is parents to two sons, Alexander Gere and a toddler whose name is unknown to the public. The father of three admitted that his kids made him become a better person and parent, an unforgettable experience that would never be traded for anything in the world.
Please fill in your e-mail so we can share with you our top stories!