Kate Middleton Steps Out in a Black Double-Breasted Coat for 1st Outing since Prince Philip's Funeral
Kate Middleton accompanied Prince William as they visited 282 Squadron, Air Training Corps in East London as a special tribute to Prince Philip. 
Prince William and Kate Middleton have returned to their royal duties after Prince Philip was laid to rest on Saturday. The Duke and Duchess of Cambridge's first public appearance since the Prince's funeral held a special connection to him. 
Middleton looked sophisticated in a black double-breasted coat as she stood next to her husband during their visit to the Air Cadets. The royal couple's appearance coincided with Queen Elizabeth's birthday on Wednesday.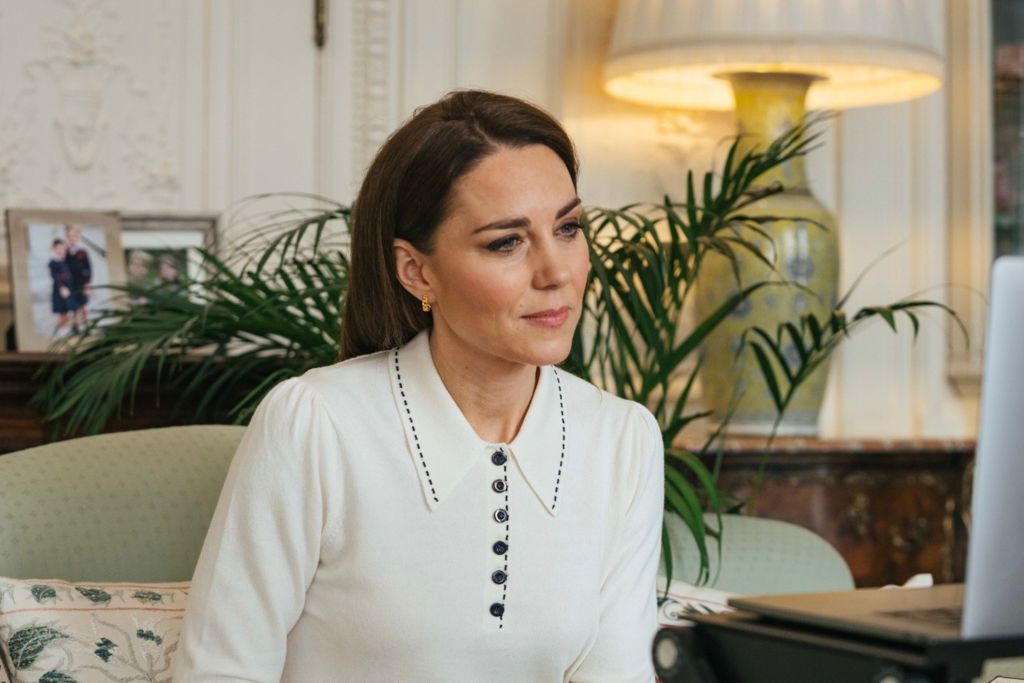 TRIBUTE TO PRINCE PHILIP
The royal family is still in the mourning period following the death of 99-year-old Prince Philip earlier in April, but the Duke and Duchess of Cambridge have stepped out to pay a special visit in honor of the Queen's husband. 
The Queen's brooch caught royal experts' eyes as it a piece of jewelry that holds the romantic stories of many generations.
Middleton, 39, and her husband went to the Air Training Corps as a tribute to Prince Philip, who was the Air Commodore-in-Chief of the Air Training Corps for 63 years. He handed over the military patronage to Middleton in 2015. 
Today The Duke and Duchess visited @282ATC, which supports its @aircadets to gain skills and qualifications across a variety of different disciplines, before speaking to a number of the young people who are preparing for their @DofE Awards. pic.twitter.com/ExFTqUIQJG

— The Duke and Duchess of Cambridge (@KensingtonRoyal) April 21, 2021
DRESSED IN BLACK
Both Middleton and Prince William were seen in mourning dress. The Duchess sported a long black coat that came just below her knee paired with modest black heels whilst her husband wore a dark navy suit and brown dress shoes. 
The couple's official Twitter account shared snaps of them chatting with various cadets who were busy with fieldcraft exercises and leadership tasks. The post reads: 
"Paying tribute to His Royal Highness The Duke of Edinburgh, who served as Air Commodore-in-Chief of the @aircadets for 63 years."  
In 2015, The Duke of Edinburgh passed his @aircadets military patronage to The Duchess of Cambridge, who became Honorary Air Commandant. pic.twitter.com/TmKr7mbdj6

— The Duke and Duchess of Cambridge (@KensingtonRoyal) April 21, 2021
ALL ALONE
Middleton has been a source of support and comfort to Prince William as the family navigates life without the Windsor family patriarch. The future queen was pictured sitting alone in the back of the vehicle that transported her to Prince Philip's funeral.
The image resulted in an overwhelming response as Britons caught a glimpse of what Middleton would look like as the queen consort. Looking more regal and royal than ever, a body language expert described the photo as a: 
"Truly stunning and memorable photo of Kate taken at her father-in-law's funeral."
Kate Middleton honors Queen Elizabeth, Princess Diana with pearls https://t.co/AsvAZ3wxFK pic.twitter.com/HbMafvcPdd

— New York Post (@nypost) April 17, 2021
FASHION ICON
Middleton's fashion choices are often analyzed and used as inspiration for the generation that follows her. Recently, the royal donned a white lace Catherine Walker scallop-edge coat dress that brought up memories from her wedding. 
The Duchess of Cambridge chose to wear the white ensemble whilst visiting a vaccination center located at Westminster Abbey, where she walked down the aisle to tie the knot with Prince William. 
'Born to be Queen' Kate Middleton 'breathtaking' in 'compelling' snaphttps://t.co/Yu2iJ5eZQg

— Daily Express (@Daily_Express) April 17, 2021
While all fashion eyes are on Middleton, 95-year-old Queen Elizabeth's wardrobe choices do not go unnoticed. The reigning royal sported a very sentimental brooch to her husband's funeral on Saturday. 
The Queen's brooch caught royal experts' eyes as it a piece of jewelry that holds the romantic stories of many generations. The large diamond brooch was the Queen's grandmother's brooch, gifted to her at her wedding in 1893.