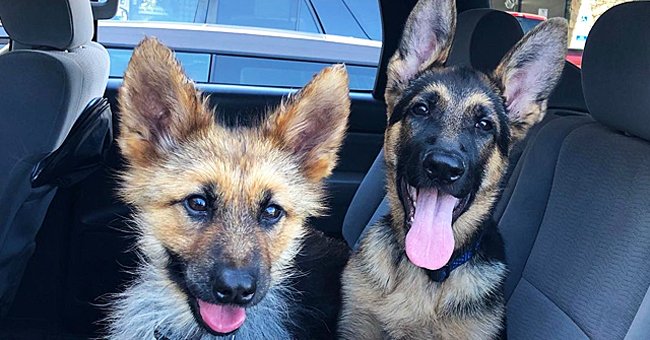 instagram.com/ranger_thegshepherd
Here's Why This Tiny German Shepherd Will Look Like a Puppy Forever
Meet Ranger, the German Shepherd who will look like a puppy forever because of his genetic condition. Continue reading to find out more.
Some people might wish that their puppy would stay small forever, and for one dog, that is the case. Meet Ranger, the German Shephard who will stay a puppy forever.
He has a genetic condition called Pituitary Dwarfism. The condition means he will retain his puppy features for a lot longer than normal dogs of his breed.
Ranger was diagnosed with the genetic disorder after he contracted a parasite. His owner, Shelby Mayo, shared the details of discovering his diagnosis during an interview with SWNS.
When the Mayo family first got him from their breeder, they noticed that he was the smallest puppy in his litter, but the family thought it was because he had a parasite called Coccidia. Mayo explained:
"When we originally got Ranger from the breeder, he was smaller than all his other littermates, but we figured that was because he had a parasite called Coccidia."
However, once they took him home and he was free from the first parasite, his health declined again. He got another parasite called Giardia and an infection on his neck. The family continued to reason his health struggles were the reason for his small size.
But eventually, when he was finally parasite-free, he still was not growing any bigger. It was at this time that the family's vet suspected that he had Pituitary Dwarfism.
Of course, the family was a bit skeptical as the condition is very rare. Ranger still did not grow any bigger, and so the family was certain he did have the genetic mutation.
Unfortunately, little Ranger's health declined again when he was neutered. He lost his appetite, started losing a lot of hair, and his skin became very dry and flaky. Mayo's Instagram followers had warned the family as she explained:
"Many people on our Instagram page warned us that Pituitary Dwarfs can have many medical issues, but up until that point we hadn't experienced any."
The family was advised to check his thyroid levels, as another dog owner had said his Dwarf German Shephard had the same issues. It turned out he had hypothyroidism.
Ranger quickly went on Levothyroxine, and Mayo started washing him with a goat milk soap one of her followers had sent her. His condition quickly improved, his hair grew back, and his skin was no longer flaky.
Little Ranger is now almost three years old. He does not let his small stature stop him from jumping about, playing with his toys and his dog siblings, Hazel, the Labrador, and Jessie, the German Shepherd.
The Mayo family shares photos of his many adventures on his Instagram page, @ranger_thegshepherd. The account is filled with adorable photos of Ranger and his doggie siblings.
Please fill in your e-mail so we can share with you our top stories!