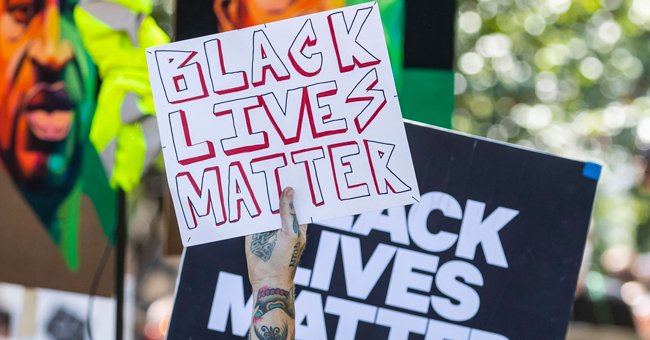 Getty Images
Darnella Frazier Filmed George Floyd's Murder — Meet the Teen Who Encouraged the Nation to Rise Up
Darnella Frazier became a household name after playing a brave role in filming the moment George Floyd was murdered by police officer Derek Chauvin.
Aside from the COVID-19 pandemic, which plagued the world in 2020, the world also witnessed a revolution and multiple protests stemming from the death of George Floyd at the hands of police officers.
A teenage hero, Darnella Frazier, played a huge role in bringing global awareness to the horrific murder by filming it on her phone. Her actions led to awakening all around the world.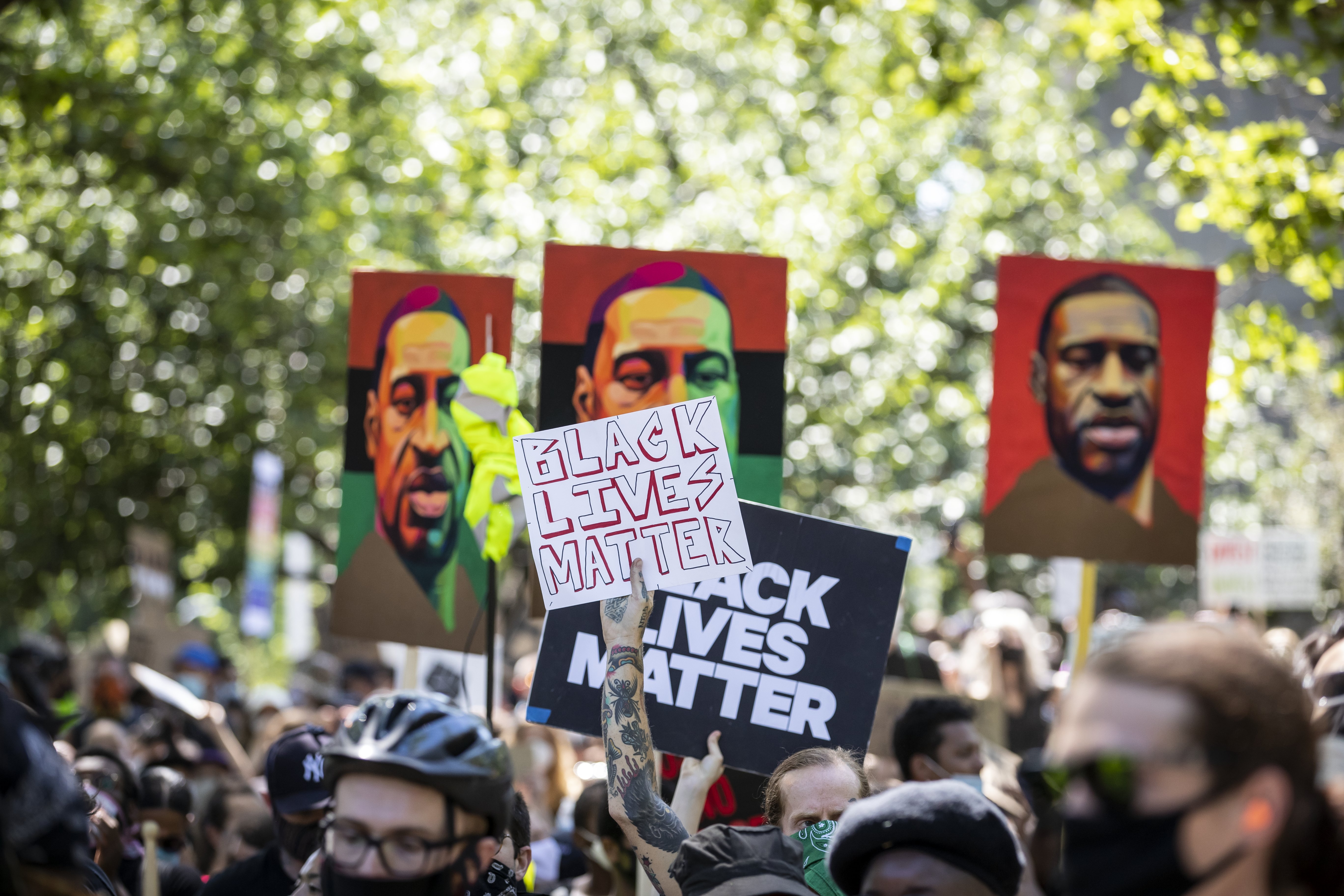 A protester with tattoos holds a sign that says, "Black Lives Matter" with three painted portraits of George Floyd at the Brooklyn Borough of New York on June 19, 2020. | Photo Getty Images
SHE WAS ONLY 17
When Frazier captured officer Chauvin kneeling on George Floyd's neck for more than 9 minutes, she was only a 17-year-old high school student. She was walking her nine-year-old cousin to the Cup foods convenience store to pick up snacks in Minneapolis, Minnesota.
It was on their way to the store that she witnessed an unarmed black man struggling with four police officers — Chauvin, Alexander Kueng, Thomas Lane, and Tou Thao.
AN EMOTIONAL TESTIMONY
Now 18 years old, Frazier recalled in her testimony that when she saw Chauvin kneeling on Floyd, she realized that it was not the right thing to do.
Frazier was one of the first witnesses to be called to testify during Chauvin's murder trial. The 18-year-old noted that the incident reminded her of her black friends, black brothers, and father.
Ariana Grande shared clips of her taking part in the protest and holding a "Black Lives Matter" sign.
SHE FELT BAD FOR FLOYD
After witnessing the horrible scene, Frazier revealed that she spent days feeling bad for the late Floyd and stayed up at night thinking about what she could have done to protect him.
Despite not being able to stand up to the four officers who were bent on making an example of Floyd, Frazier's effort was enough to bring Chauvin to justice.
SHE RECEIVED A PEN AMERICA AWARD
Frazier received the 2020 PEN/Benenson Courage Award from the charitable group PEN America in December 2020 for capturing Floyd's arrest and murder.
Spike Lee helped present the award to the overwhelmed Frazier, who noted that she never imagined she would be recognized for her little contribution.
FRAZIER SUFFERED RACISM
Shortly after sharing the footage, the 18-year-old became subjected to bullying and abuse from racists. Following the harassment she faced, a GoFundMe fundraiser was set up to help push back against the racism she suffered. Nearly $600,000 has been raised so far.
CELEBRITIES REACT
George Floyd's death sparked a series of protests that included celebrities like Keke Palmer, Madison Beer, Paris Jackson, who took to the street to raise their voice against injustice.
Ariana Grande shared clips of her taking part in the protest and holding a "Black Lives Matter" sign while obliging to fans' requests for selfies.
Please fill in your e-mail so we can share with you our top stories!