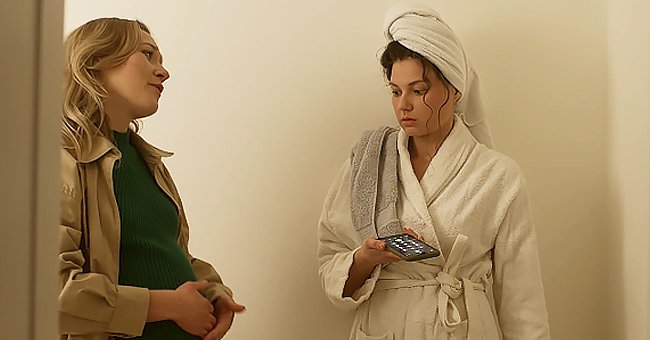 Facebook/AmoMama
Story of the Day: Wife Almost Left Her Loving Husband Because of a Pregnant Mistress
Today's #storyoftheday is about a pregnant mistress who nearly broke two relationships, including the marriage of her former boyfriend.
Cheating on a spouse or a significant other is perhaps one of the most painful and heartbreaking happenings to endure in a relationship, making it even more challenging to learn about it from other people.
In today's story, Lily and Martha learned about their partners' affair through the mistress. However, things didn't turn out the way they thought. Here's what happened.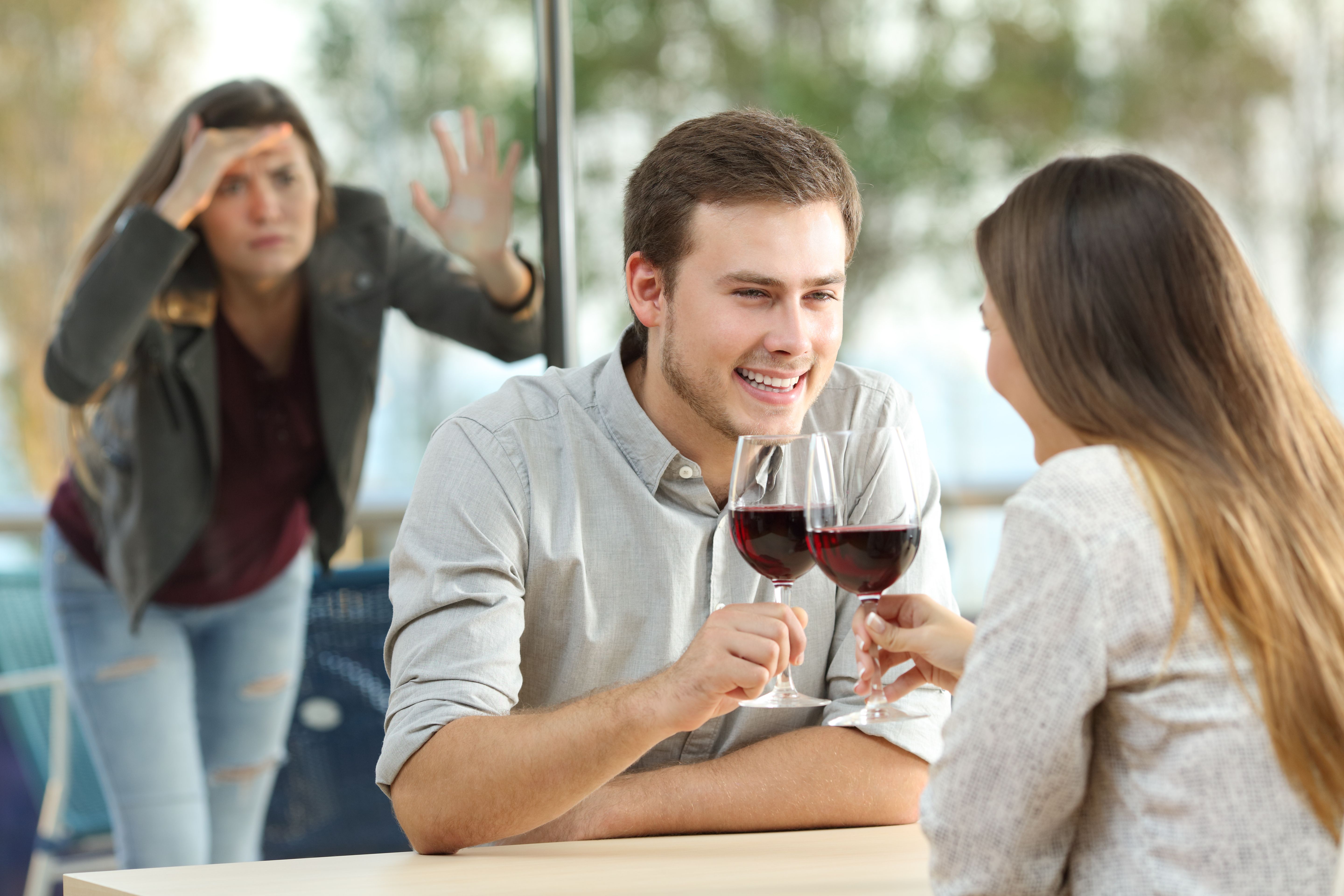 A woman found her partner cheating inside a restaurant. | Source: Shutterstock
Before getting into relationships, Lily and Martha knew nothing about each other aside from their names, although they went to the same college. It was in the same university that Lily met Marco, the man she would later marry.
During their third year, the two were randomly paired for a project in the same class. Working together the entire semester allowed them to form a bond, but as soon as the class ended, so did their friendship.
However, they coincidentally had the same class the following year and were randomly paired together again. It was during this time that their connection developed into a romantic relationship.
After graduating college, Marco proposed to Lily and tied the knot during an intimate wedding ceremony soon after. On the other hand, it wasn't until they were both working that Martha and Stew met and fell madly in love.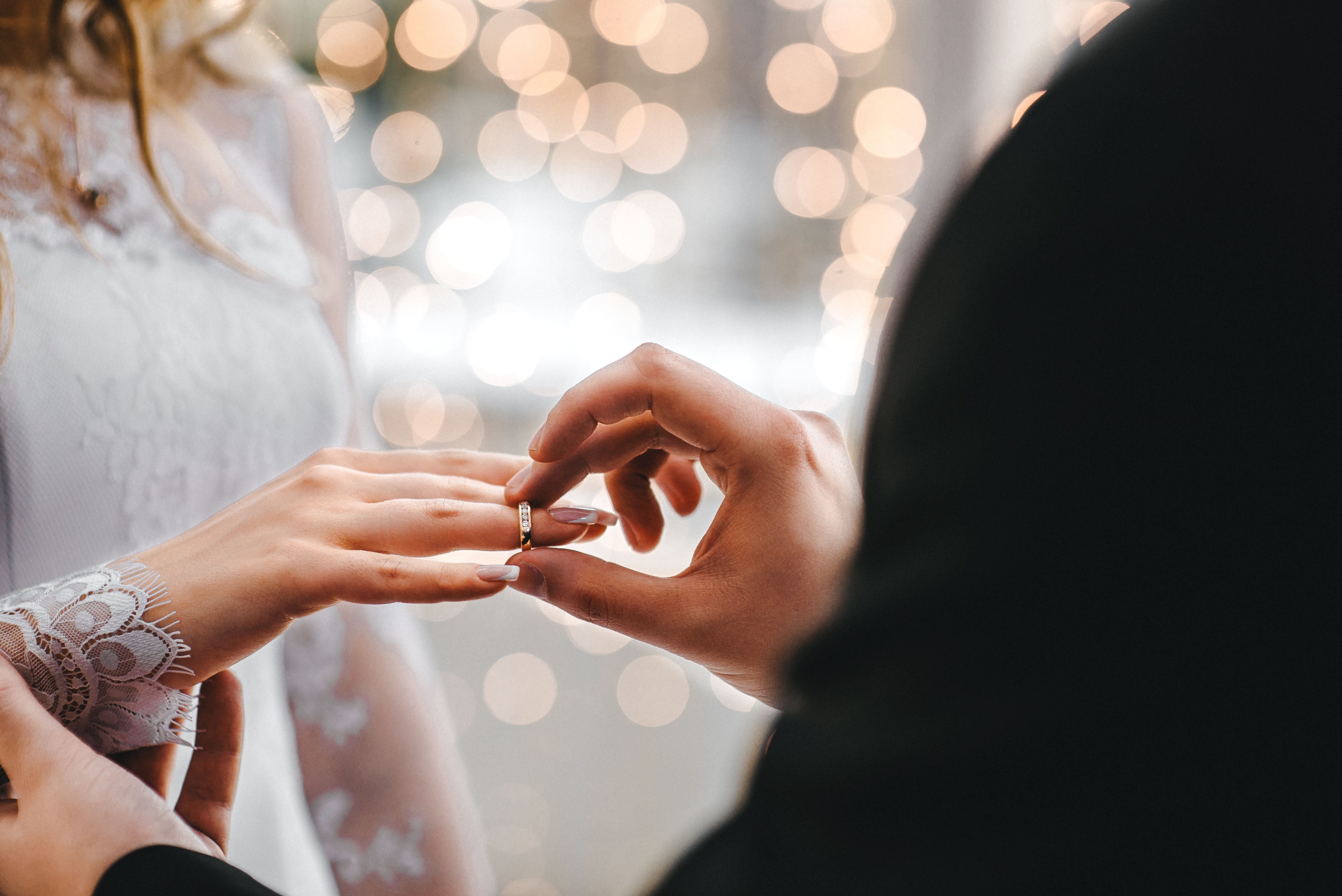 A groom puts a wedding ring on his bride's finger. | Source: Shutterstock
Stew is Marco's best friend since preschool and has been a constant third wheel in the newlywed's relationship. He met Martha while she was working in a company that collaborated with her team.
Their love story happened quickly as the attraction came at an instant. Through the best friends, Lily and Martha met and slowly formed a beautiful friendship. In fact, Martha asked Lily to be her maid of honor after Stew's proposal.
For the past few weeks, the two girls met to collaborate on Martha's big wedding ideas, but what was supposed to be a happy preparation turned into their worst nightmare.
Lily agreed that what Vanessa did was downright wrong but could not turn a blind eye on a pregnant woman desperate for money.
One workday, a woman named Vanessa called Lily and revealed that she and Marco were having an affair. Instantly, Lily dropped the phone and refused to believe the stranger's claims without first confronting her husband.
When Marco arrived home, Lily greeted him with a question, "Do you know a woman named Vanessa?" After thinking for a few seconds, Marco replied that Vanessa was his girlfriend before meeting Lily, to which she revealed:
"Well, your Vanessa called me today and claimed that you were still in contact with her, even telling me to watch out."
Marco remained silent for a few seconds before asking his wife if she believed such a thing. "Babe, I would never cheat on you, and I don't even know why that person is calling or how she even got our number."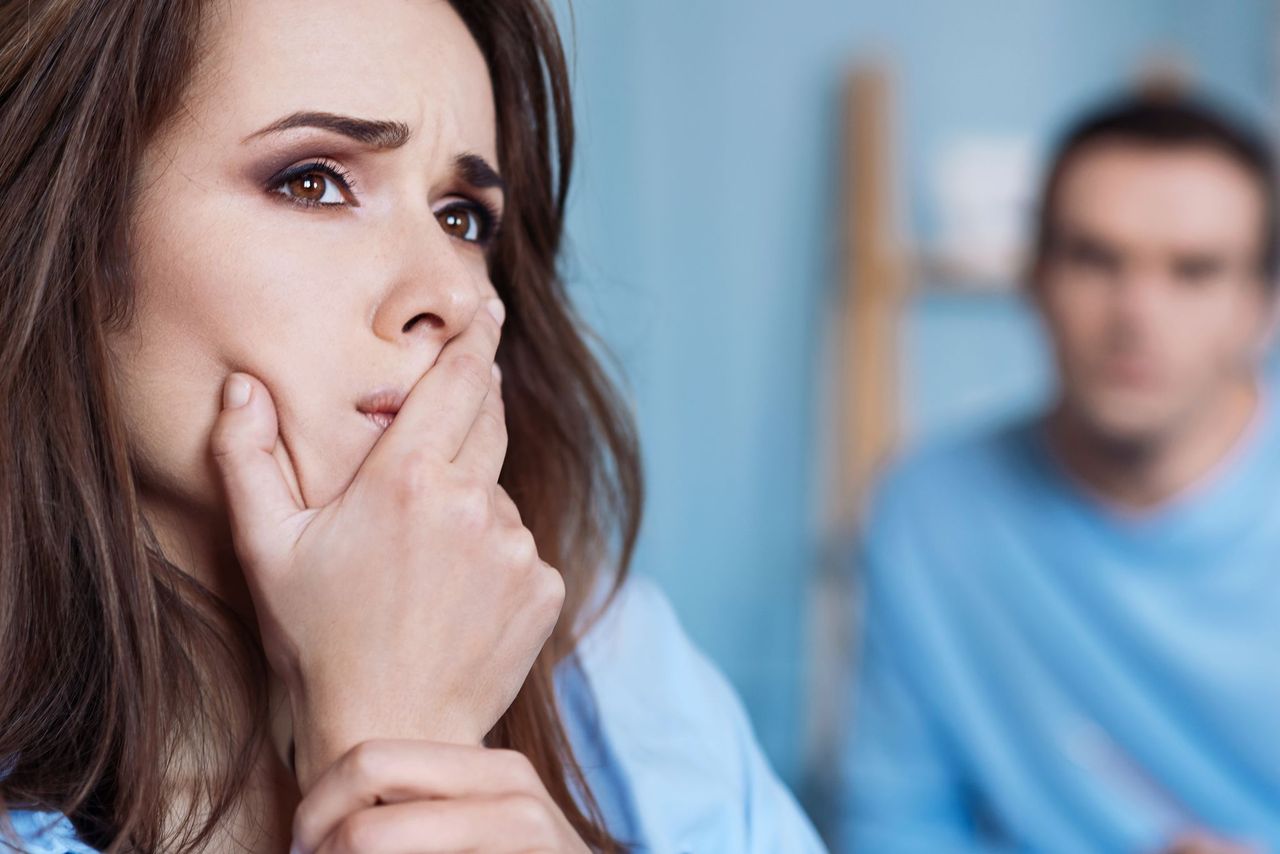 A woman stares blankly into space while in an argument with her partner.| Source: Shutterstock
Lily gave her husband the benefit of the doubt and ended the night on good terms. The following afternoon, while Marco was at work, Vanessa visited Lily's home and showed her growing belly. The alleged mistress said:
"I'm three months pregnant with Marco's child, and I'm here because your husband does not want to support the child. For my baby, I will never let both of you live happily ever after and expose Marco to everyone."
Lily was ultimately shocked and about to cry when Vanessa added, "But if you help me, I will leave with the child and never bother you again." She proposed that Lily pay her $10,000 in exchange for her silence without telling Marco.
At first, Lily was hesitant but agreed and asked Vanessa for a few days to come up with the amount. It felt as though someone pierced through her heart as she heard that Marco got his mistress pregnant.
Martha invited Lily for dinner and drinks later that evening, and although Lily did not feel like going out, she didn't want to see her husband at home. As soon as they met, Martha began crying to Lily and revealed that her wedding might not push through. She said with tears in her eyes:
"The other day, I found out that Stew has been cheating on me. His mistress came to my house and revealed that he had gotten her pregnant and threatened to ruin our relationship."
As Martha continued to sob, Lily realized how familiar her friend's story sounded. "What's the name of the woman," she asked, to which Martha revealed, Vanessa. The evening continued with both ladies devising a plan to catch the supposed mistress.
During the weekend, Lily called Vanessa to meet so that she could hand over the money. As soon as Vanessa knocked on the door, Lily invited her in to talk, and to the mom-to-be's surprise, Martha, Marco, and Stew were all inside.
"What the hell do you think you're doing?" Marco exclaimed while demanding to know why Vanessa was scamming everyone in the room. Shocked, Vanessa was at a loss for words and began to tear up.
When Stew threatened to call the cops on her, Vanessa begged to explain. "Please, hear me out. I'm begging all of you. I'm sorry," she said. She went on to explain the difficult situation she was in.
According to Vanessa, her boyfriend, Robert, got her pregnant three months ago and asked her to quit working to focus on the baby. Thinking that he would provide and give them a happy life, she did as she was told.
However, Robert left her after a week and suddenly wanted nothing to do with her or their baby. With no one to turn to and no income, she decided to ask close friends for help to no avail. The pandemic had affected her few friends and family was not an option after they disowned her years ago.
When she saw that her ex-boyfriend, Marco, was happily married and well off, she got jealous. With her helpless situation, Vanessa planned to deceive Lily thinking that $10,000 was not a significant amount for her.
While looking through Marco's profile, she came across Stew's page and decided to do the same in a desperate attempt to make money for her unborn child. By the end of her explanation, Vanessa was on her knees and begging for forgiveness while claiming she had no one.
Out of the goodness of her heart, Lily helped Vanessa up and asked Marco to help get his ex a job. "Are you serious?" Marco replied. "She literally scammed all of us for thousands!"
Lily agreed that what Vanessa did was downright wrong but could not turn a blind eye on a pregnant woman desperate for money. According to Lily, a mother would do anything for their child's survival.
Would you also help Vanessa like Lily did, despite her illegal scheme to make money? For a similar story, read about a mistress who sought revenge after her lover refused to accept their child.
Please fill in your e-mail so we can share with you our top stories!