Several Celebrities Wear the Same Louis Vuitton Monogram Jacket with Several Pockets – See Their Photos
Since the year of its release, Louis Vuitton's jacket with multiple pockets has been rocked by several celebrities. From new-age stars to veteran celebrities, here's a look at those who have rocked this piece.
The Monogram Admiral jacket, Louis Vuitton's jacket with multiple pockets, is a favorite among celebrities from different eras and with different styles.
This shows that the designer brand transcends time as it has managed to make an impression on both the new-age stars and celebrities from years before.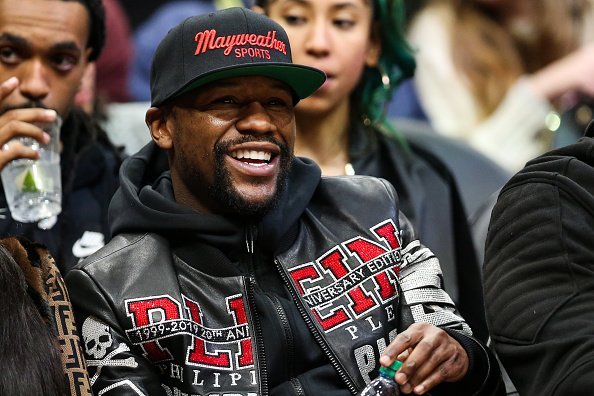 EJ JOHNSON
Last month, reality star and socialite EJ Johnson was pictured wearing the jacket while at one of the Los Angeles Dodgers' games with his parents, Cookie and Magic Johnson.
He wore the chic jacket over the Dodgers' jersey. EJ accessorized with a cross chained pendant and donned his face with full glamorous makeup.
KOFFI OLOMIDE
In November 2020, veteran Congolese singer Koffi Olomide showed off his fashion style, donning the jacket in some Instagram photos shared with his fans.
Olomide paired the stylish fashion item with khaki pants and pointed tie-dye print shoes. He accessorized with a baseball hat, sunglasses, and some jewelry.
FLOYD MAYWEATHER
Earlier that year, boxing champion Floyd Mayweather rocked the jacket while posing at the 2020 Super Bowl event. As always, the athlete looked dapper.
Mayweather matched the jacket with khaki pants and accessorized with a pair of sunglasses and several chains draped around his neck. 
WILLIE XO
In September 2019, Nigerian singer Willie Xo hopped on the trend when he shared a picture of himself donning the luxury jacket.
Willie took his style a step higher, accessorizing with a matching Louis Vuitton bandana and camouflage pants. He also sported a shiny necklace and a pair of sunglasses.
TYGA
A few months before then, famous rapper Tyga was pictured wearing the jacket and khaki pants. With his braided hair and a pair of sunglasses, he effortlessly pulled off the look.
Over the years, Louis Vuitton has consistently given its clients the best of luxury clothing items.
THE POPULARITY OF LOUIS VUITTON
While this particular jacket seems to have become a go-to for stars worldwide, it is not the first piece from Louis Vuitton that celebrities are rocking in recent years.
In April 2019, EJ made headlines when he was spotted showing off his legs in a short Louis Vuitton dress while shopping for clothes in Beverly Hills.
Last year, the luxury brand also had several celebrities at its Fashion Week. These included the likes of Tyga, Offset, Quavo, Diplo, and Daniel Kaluuya, all of whom have proved themselves to be incredibly stylish men.
Over the years, Louis Vuitton has consistently given its clients the best of luxury clothing items. It, therefore, comes as no surprise that it is a must-have brand for several stars around the world.