Magic Johnson's Son EJ Looks Stylish In a Louis Vuitton Jacket Posing With His Parents in a Stadium
Entertainment star EJ Johnson joined his mom and dad for a fun evening at the Dodgers game and shared a warm embrace while posing for the camera.
Reality star EJ Johnson and his famous parents, Cookie and Magic Johnson were a dazzling trio during their family night out. They were out at the stain for the Dodgers game against the Padres.
EJ looked stylish as always, rocking his classy glam as he stood near his mom and dad. The pair opted for sweatshirts and pants while they posed with big smiles.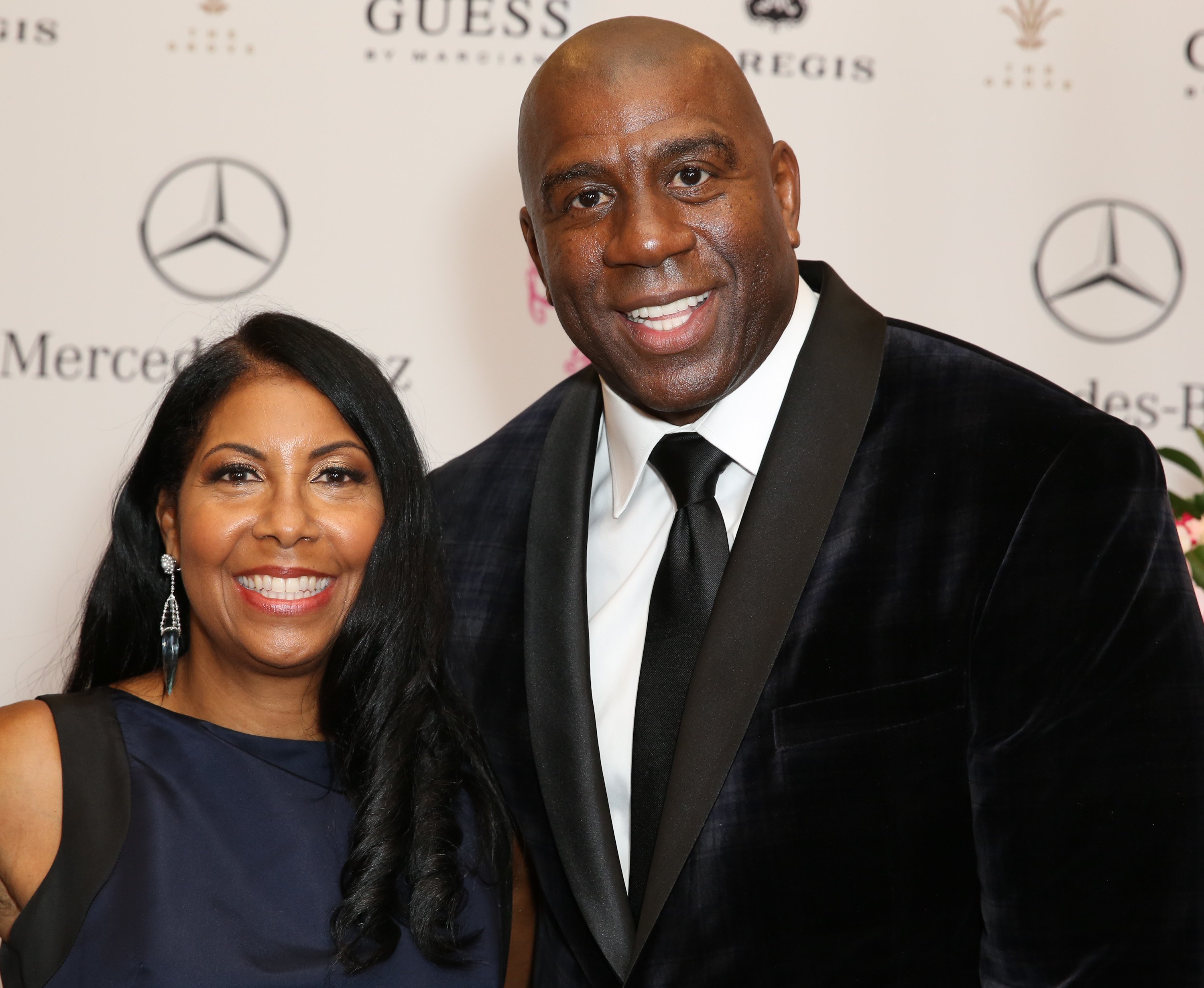 EJ's look included an unbuttoned Louis Vuitton utility jacket which he donned over a white ensemble with a plunging neckline. He sported a choker that had a cross pendant. 
The following slide showed Cookie and her longtime spouse posing with other people at the stadium. This time, EJ was not part of the group. Cookie wrote in the post:
"A great way to end the night with family, friends and a @ladodgers win! #DodgersWin 💙💙."
Magic also shared the warming family photo on his Instagram page as he gushed over their bonding moment. He also penned some praises, celebrating the Dodgers' win.
EJ is the glamorous son of the NBA legend and his author wife. While he is Cookie's first child, he comes as the second for Magic, who has a son, Andre, from a previous relationship. 
[H]is mom had a hard time processing the HIV status of her spouse. 
EJ came out as gay in 2013 and had since been attaining milestones in the entertainment industry. The star appeared on several reality shows and his stint on "The Rich Kids of Beverly Hills" was most prominent. 
A member of the LGBTQ community, he once made it clear that he does not see the need to transition. He made it known that he was comfortable in his body and did not feel like he was someone else.
Coupled with his lovable personality, EJ is a pro at working up the best styling games. The star has switched up his style on many occasions, going from being a blonde bombshell to acing Halloween looks. 
EJ was a little boy when he discovered his dad's HIV status in a report book at school. His mom recalled his teachers calling her to ask if he could learn about Magic's health status through reports. 
The 28-year-old seemed to have taken the news well, especially knowing that his father was faring well. However, his mom had a hard time processing the HIV status of her spouse. 
She once recalled being so heartbroken she fell to her knees and cried, and Magic was right beside her, also crying. However, the couple was strong for each other through the rocky moments.