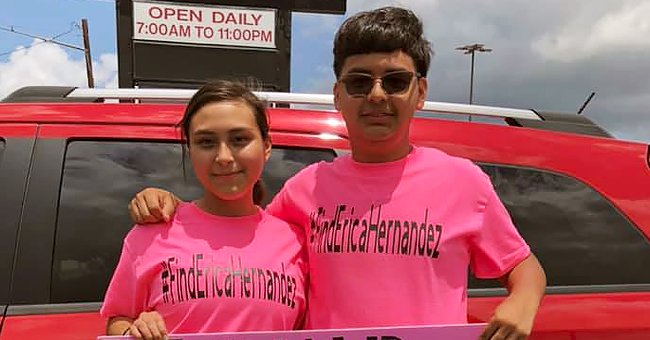 facebook.com/briza.armenta.1
Houston Family Asks for Help in Finding Mother Erica Hernandez, Who Disappeared 3 Weeks Ago
Erica Hernandez, a Houston native, went missing three weeks ago, and her family has been pleading with anyone who may know her whereabouts to come forward with information.
Erica Hernandez's family are asking for people to help locate her since her disappearance. They created a Facebook page under the name: "Let's Find Erica Hernandez."
They have been keeping track of how many days she has been missing. On May 9, her family took to the platform to note how heartbreaking it was for her kids to celebrate Mother's Day without her.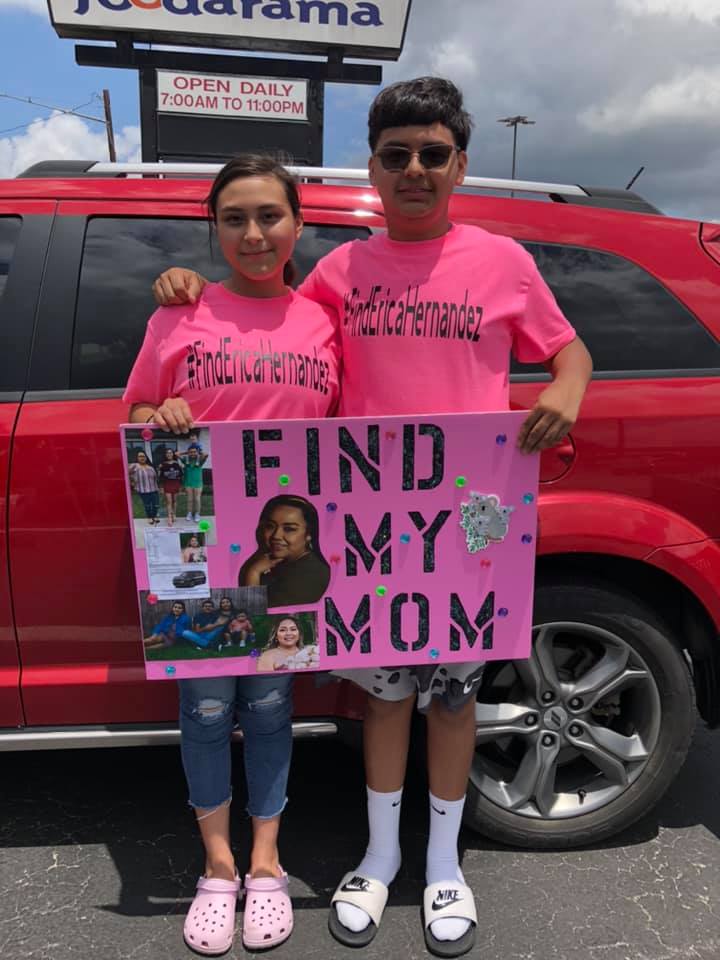 Erica Hernandez's family holding a poster in search for her | Source: Facebook/@briza.armenta.1
"Day 21: Mother's Day without Erica…not closer to finding her…anyone who knows anything, we beg you, please come forward! Do the right thing!!" they wrote.
They added that her children need her and that celebrating Mother's Day was the roughest day yet. "Erica, if you can read this, your kids are in good hands, momma, but they need you to come home," said the family.
They added that nothing could replace the love the 40-year-old can give her kids. The family directed a message to Hernandez and told her to hold on because they are coming to rescue her, and she should survive just a bit longer.
A Facebook user took to the comments section and shared Hernandez was on her mind all day long and felt guilty celebrating the day for moms while she is missing and that her kids are suffering without her.
Since vanishing, the mother of three missed her son's 16th birthday, including the special day for mothers. Hernandez's sister Ashley and her two older kids Dennis and Briza, opened up to ABC123 on what had been their most challenging days.
Briza shared their primary focus is: to keep searching for their mother, keep looking for clues, and make her story known because they will not stop searching for her.
Dennis described his mom as a loving and caring individual, and that even though they annoy her at times, she still manages to bring joy to the situation.
According to People, Hernandez was last spotted leaving her friend's home at about 2:30 a.m. on April 18. The family revealed that thirty minutes after her departure, she sent a text saying she was five minutes away from getting home.
However, she never made it home. Congresswoman Jackie Lee shared during a press conference that they cannot imagine that no one has come forward with information and that the family is desperate for any intel.
On Friday, her family urged people in Houston and beyond to join them in prayer over the weekend and pleaded for any break in the case. Hernandez's daughter told Eyewitness News that she hopes her mom makes it back home, especially for her younger brothers.
The FBI has also joined in the search for her. Investigators revealed she was near Highway 288 and the Beltway when she disappeared. Hernandez is a single mother who works full-time to fend for her kids aged 19, 16, and 3.
With the search for her still ongoing, another female was reported missing on March 8 from her boyfriend's boat off the US Virgin Islands. The search also continues for the British native, Sarm Heslop, 41, who disappeared more than eight weeks ago.
Please fill in your e-mail so we can share with you our top stories!