Brandy's Daughter Sy'Rai Puckers up in a Selfie Featuring Her Long Braids and Fancy Top
Brandy's daughter Sy'Rai shows off her fashionable side by wearing long braids, a fancy top, and a glammed-up look while pouting her glossy lip.
Brandy's mini-me is the spitting image of the iconic singer. What is even more interesting is that she shares a unique love for singing too.
Over the years, Sy'Rai has gained a few fans on her social media platform whom she shares memorable events with via photos. 
Recently, she shared two selfie snaps on her Instagram feed that revealed a stylish side and a distinct resemblance with her mother.
It featured her wearing a colorful crop top styled with a choker, a bracelet and two wrapped braided buns, and an inscription that read: "That's a wrap," on the photos.
Sy'Rai puckered up her lips while focusing on the shutters of the camera. The closeup selfies had been worked on with filters, but fans could see the artificial lashes, glossy lips, eye-shadows, and properly drawn brows that accentuated her face.
Both Brandy and her daughter share distinct facial features. Even when the iconic singer is not in the photo, when fans see her child, they never fail to draw the similarities between them.
The mother-of-one is the young adult's biggest fan and has credited her for being the reason she successfully battled depression.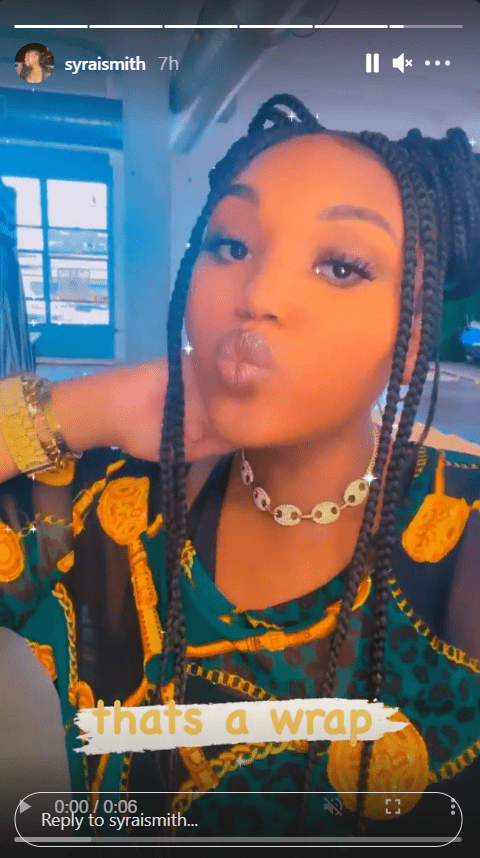 One other thing that makes them a dynamic duo apart from their looks is their unique mother-daughter bond and likeness to music. 
When Sy'Rai turned 17, she hit the streets with her debut track in a song where she displayed an impressive use of notes and vocals. Her mom sweetly shared the song and urged fans to listen to the charming tone of her child's voice.
Brandy has done more than promote her mini-me's music; she also gushes on the upcoming singer's sassy attitude and ability to whip up cool styles.
Apart from that, the mother-of-one is the young adult's biggest fan and has credited her for being the reason she successfully got through depression and her darker moments in life.
The veteran singer admitted that her career suffered because of her mental health eight years ago. She was able to get past the situation by merely thinking about her daughter.
To mark her comeback into the music industry after nearly a decade hiatus, Brandy released an album titled "B7." It featured other great talents, including her daughter!