Chris Brown's Only Daughter Royalty Takes Tennis Lessons in a New Video
Chris Brown's daughter, Royalty, recently uploaded a cool new video of herself taking tennis lessons. Royalty is one of the "Look At Me Now" hitmaker's two adorable kids from two different women.
Royalty Brown, the only daughter of singer and actor Chris Brown, has already made a name for herself as a mini-influencer and model. Additionally, she's also a business owner with her eponymous clothing label.
The six-year-old is looking to expand her skill set and recently took some tennis lessons. Her experience was documented in pics and a video uploaded on her Instagram page run by her mom, Nia Guzman.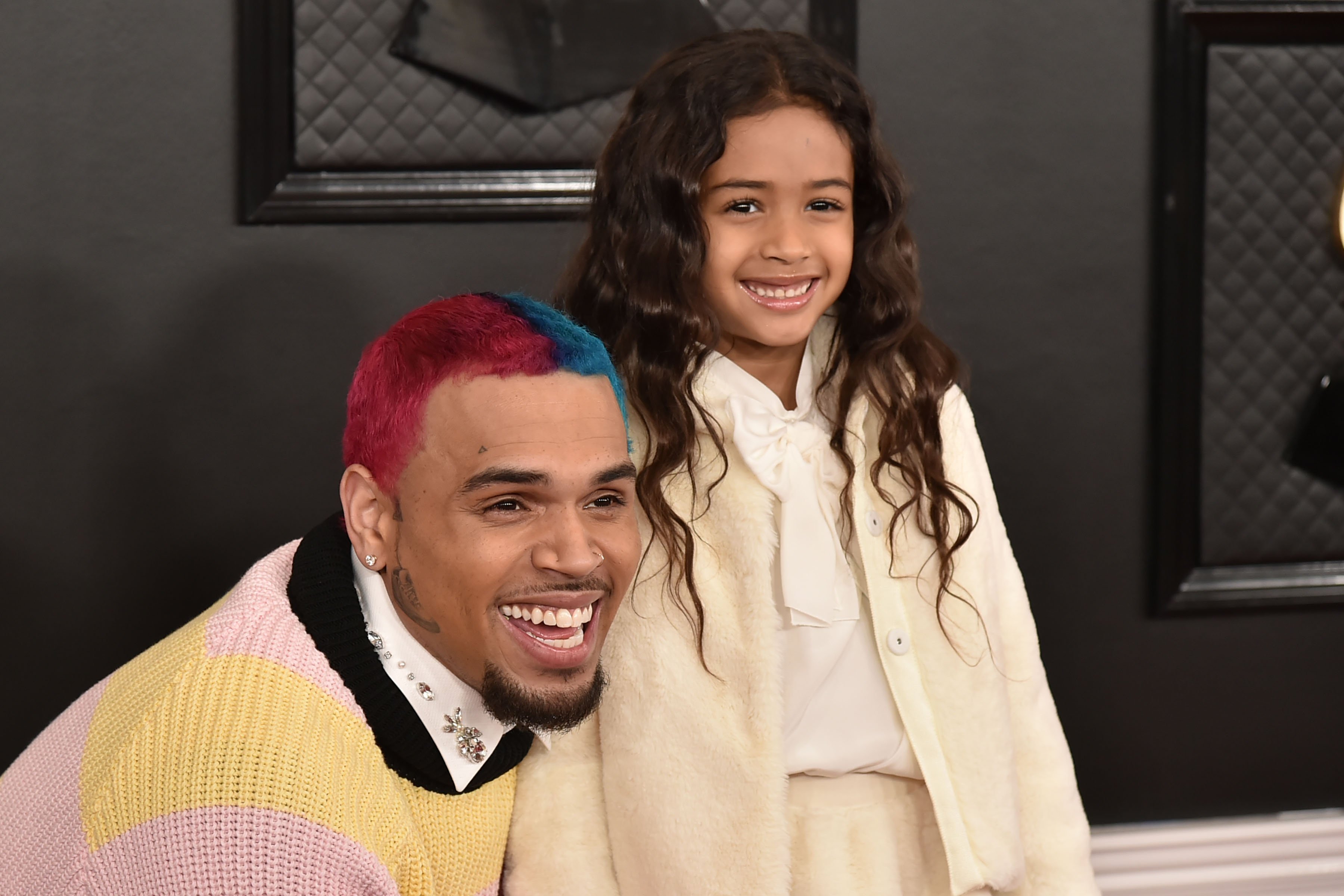 The carousel started with pics of Royalty posing with her purple tennis racquet while sporting a matching purple outfit that featured a sleeveless top and a short tennis skirt. She paired her outfit with white Nike sneakers. 
In one snap, the youngster smiled sweetly while holding up the racquet, which was adorned with a red heart and smiley face badges, while a second photo showed her sticking her tongue out at the camera. 
The slideshow concluded with a video clip of Royalty practicing her double-handed swing as her trainer threw the tennis balls. In the background, a woman could be heard encouraging and applauding her efforts. The post was captioned:
"Tennis anyone?"
Judging from her powerful swings, Royalty stands a chance at being a great tennis player, adding to her many talents. She has already proven that she is a phenomenal dancer, just like her father, Brown.
Back in 2019, the "Deuces" singer shared a video of his daughter street dancing to his hit song, "Gimme That." Royalty showed that she has inherited her dad's dance skills and his confidence and showmanship.
Besides a shared passion for music and dance, Royalty is her dad's mini-me in every way. Not only does she imitate Brown's moves flawlessly, but she is also the spitting image of the "Go Crazy" singer.
[Brown] shares his son with Ammika Harris, with whom he had an on-and-off relationship since 2015.
Even Brown recognizes the likeness between him and the young beauty. In August 2020, he took to Instagram to show off his first child getting her hair done and proudly exclaimed, "YOU BEAUTIFUL TWIN."
While Brown has a strong bond with Royalty, he has plenty of love to share with his second child, Aeko Catori Brown. The "Takers" actor shares his son with Ammika Harris, with whom he had an on-and-off relationship since 2015.
Brown and Harris welcomed Aeko in November 2019, but unfortunately, amid the coronavirus pandemic, Brown has spent little time with his baby boy. Harris and Aeko currently reside in Germany while the superstar lives in the U.S.