Baby Archie Makes an Appearance Sitting on Meghan Markle's Lap in an Upcoming Documentary
Baby Archie made an appearance with his mother, Meghan Markle, in a trailer for his father, Prince Harry's upcoming Documentary. 
Apple TV released a trailer for Prince Harry and Oprah Winfrey's docuseries, "The Me You Can't See," on May 17, 2021, and Harry's family made an appearance in the video. 
His wife, Meghan Markle, appeared two separate times. The first time in a clip, she is standing behind her husband, smiling and wearing a Mère Soeur T-shirt, that had a slogan printed on it.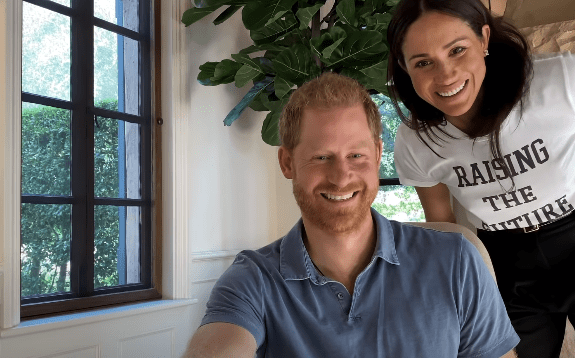 The second time was an old video clip with their son, Archie Harrison. The clip was from a campaign for Save the Children, in which Markle read her son the children's book, "Duck! Rabbit!"
The rest of the trailer featured clips from the series and the different people who tell their stories, including Lady Gaga and Oprah. The description of the docuseries explained what audiences could expect:
"The Me You Can't See is a new docuseries... explores mental health and emotional well-being with stories from people around the world. "
The docuseries is set to be released with all episodes on May 21, 2021, on Apple TV +. Prince Harry and Winfrey are co-creators and executive producers of the documentary. 
The docuseries is one of the projects Prince Harry has been working on since stepping back from his role as a senior royal family member last year. He and his family relocated to California in January 2020. 
Prince Harry's father, Prince Charles has only seen Archie twice in person.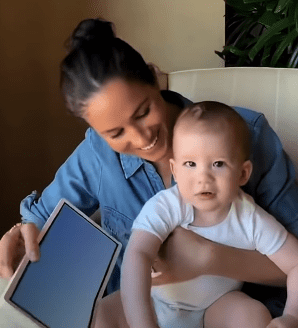 Perhaps Harry will mention his family in the series. After relocating, the couple has made sure to keep Archie's privacy as they have shared very few photos of him, and the few they have released do not show his face. 
This year, the Sussexes released a heavily filtered photo of their two-year-old to their website for his second birthday. Archie is facing away from the camera while holding on to a bouquet of balloons in the photo. 
What wonderful news to celebrate on International Women's Day! Congratulations my friends, and welcome to the #girldad club H ❤️#internationalwomensday #womenshistorymonth #remoteshoot #shotonipad #shotbymisan #itsagirl pic.twitter.com/OONzZrBBYK

— Misan Harriman (@misanharriman) March 8, 2021
The Sussexes's photographer, Misan Harriman, also shared a photo of Archie around Mother's Day this year. In the photo, a pregnant Markle holds Archie, whose face is buried into her shoulder. 
Archie's parents just celebrated his second birthday on May 6, 2021. Harry's family took to their various social media accounts to wish Archie. However, they all used older photos as the family has not seen Archie in over a year. 
Prince Harry's father, Prince Charles has only seen Archie twice in person. One time being his christening. Charles shared a photo with Archie and Prince Harry from the christening to wish Archie for his birthday. 
Archie has only met his aunt, Kate Middleton, and his uncle, Prince William, a few times. He has also only met his UK cousins, Prince George, Princess Charlotte, and Prince Louis, once.