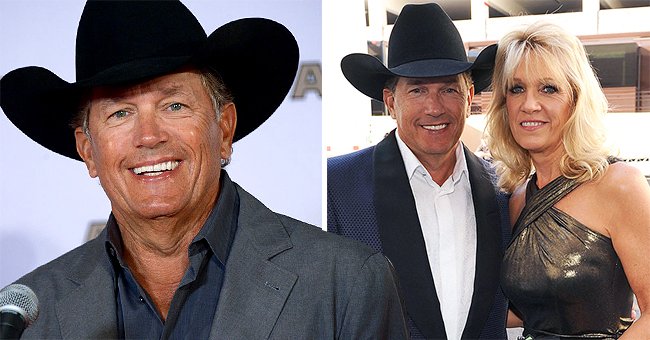 Getty Images
George Strait Has Been Married for the past Five Decades – Meet His Wife Norma
George Strait and his wife, Norma, will mark their 50th year together this year. Get to know the country crooner's longtime love below.
The accomplished country singer George Strait and his wife, Norma, celebrate their 50th year together this year. The pair were high school sweethearts, and both attended the same school in Pearsall, Texas.
Strait once admitted that she is the only woman he has ever loved. The couple had actually gone on one date during their school days but did not see each other for a long time afterward.
George Strait and his wife, Norma pictured at the 130th Running of the Kentucky Derby, 2004, Louisville, Kentucky. | Photo: Getty Images
Strait quickly realized he might miss out on something amazing, and so they started dating again. Fast forward 50 years, and they have accomplished so much together.
The country crooner who sings about love really found true romance in his wife, Norman. For Valentine's Day this year, his official Instagram page shared an adorable throwback photo of the couple. The caption read:
"Happy Valentine's Day, George and Norma! ❤️"
The longtime couple swapped vowels and eloped on December 4, 1971, when they were 19. The following year they welcomed their first child, daughter Jenifer. Their second child, George "Bubba" Jr, arrived 10 years later in 1981.
Unfortunately, tragedy struck the family when they lost Jenifer in the mid-1980s. The 13-year-old was killed in a car crash as the car she was in lost control and rolled over in San Marcos, Texas, in 1986.
That means besides being parents, Strait and Norma are grandparents.
The family kept her memory alive by setting up a foundation in her honor called, Jenifer Strait Memorial Foundation. Norma runs the foundation, which raises money for non-profit organizations such as The Boys and Girls Club and St. Jude's ranch.
Strait and Norma have really experienced so much together, from the death of their oldest child to Strait's huge success as a country music artist. Strait once said of their relationship:
"Norma and I are so blessed that we found each other … and were able to do all of this together, experience this life together."
Norma kept the household together and raised the children while Strait pursued his music career. He was an awe-inspiring career which saw him produce 60 number 1 singles and have the biggest audience at a concert in North American.
Strait credited his wife for raising their son. He shared in 2012 that after Bubba graduated high school and headed to college, Norma joined him on tour. Their son is grown up, married, and has two kids of his own.
That means besides being parents, Strait and Norma are grandparents. Their son's children's names are George III and Jilliann, and he shares them with his wife Tamara Strait, who he married in 2010.
The Bubba and Tamara welcomed their first child in 2012. At the time, Strait had described the milestone of being grandparents as the biggest blessing ever.
Please fill in your e-mail so we can share with you our top stories!