Queen Elizabeth Pays Tribute to Her Beloved Husband Prince Philip during a Public Outing
The matriarch recently went on a public outing and traveled to Portsmouth to bid farewell to HMS Queen Elizabeth and paid homage to her late husband.
Her Majesty paid tribute to her beloved spouse Prince Philip during her second public outing since her husband died last month. Buckingham Palace took to Instagram to detail her trip.
The post on the royal page stated the Queen visited the company of HMS Queen Elizabeth in Portsmouth to bid them farewell ahead of the ship's maiden operational deployment.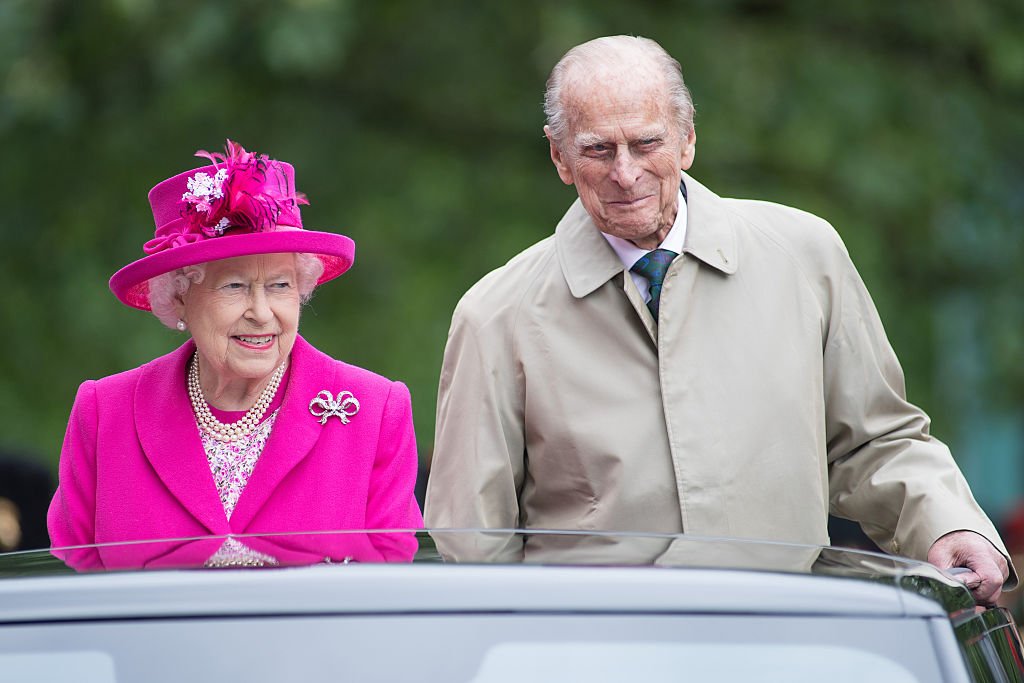 PORTSMOUTH TRIP
"The Queen is the Sponsor of HMS Queen Elizabeth, one of the two largest warships ever built by @RoyalNavy," the statement read.
According to the royal account, the 95-year-old named HMS Queen Elizabeth, on July 4, 2014, at Rosyth Scotland and attended the ship's Commissioning Ceremony in Portsmouth in 2017.
During her visit, she met some of the 1,700 Royal Navy, Royal Airforce, Royal Marines personnel, 250 US Marines, and US Marine Corps, preparing to deploy onboard HMS Queen Elizabeth.
The palace shared a series of photos from the Queen's visit showing her interacting with some of the personnel as she was greeted by Captain Angus Essenhigh.
THE OUTFIT
The monarch looked elegant with a red cashmere coat with a black velvet collar and a gorgeous Rachel Trevor-Morgan hat. She paired her outfit with a Scarab brooch, a personal gift from the Duke of Edinburgh. 
The piece in yellow gold has carved rubies and diamonds, and the Queen has worn it numerous times, including their 70th wedding anniversary.
TOUCHING GESTURE
Following the Duke's passing, a schoolgirl, Erin Bywater penned a sweet letter to the royal matriarch to cheer her up. The 5-year-old had just begun to learn about the Royal family when she heard about the devastating news of Prince Philip's death.
Erin received a letter back from the Queen on Saturday thanking her for the thoughtful note, which she plans to treasure forever.
THE QUEEN'S PUP
Lately, Her Majesty was also left heartbroken after her five-month-old Dorgi pup died. She was gifted the dog by her son Prince Andrew to keep her company while his father was in the hospital.
The puppy named Fergus died last week, and sources say the monarch was devastated as the pet dog's death came in less than two months after she lost her husband.
THE TRIO
In her long reign, the Queen has fully trusted three people, including her spouse, mother, and sister, whom she was closer to than her children or friends.
Following the deaths of Queen Mother and Princess Margaret in 2002, Prince Philip was her sole remaining confidant. With his loss, the monarch is arguably more alone than she has ever been in her life.