Kate Middleton Sports a Lovely $700 Necklace as a Tribute to Her Kids While Being Away from Them
While being on royal outings, Kate Middleton still keeps her children close to her heart, and her latest gesture proves it as she wore a necklace as a homage to them.
The Duchess of Cambridge recently sported a lovely $700 necklace as a tribute to her three kids while being away from them. Kate Middleton met local school children as they participated in an exercise set by the Lawn Tennis Association Youth Program.
The Duchess stepped out wearing a white knitted sweater with red and black stripes and paired it with black trousers. Middleton accessorized the look with the necklace and matching earrings.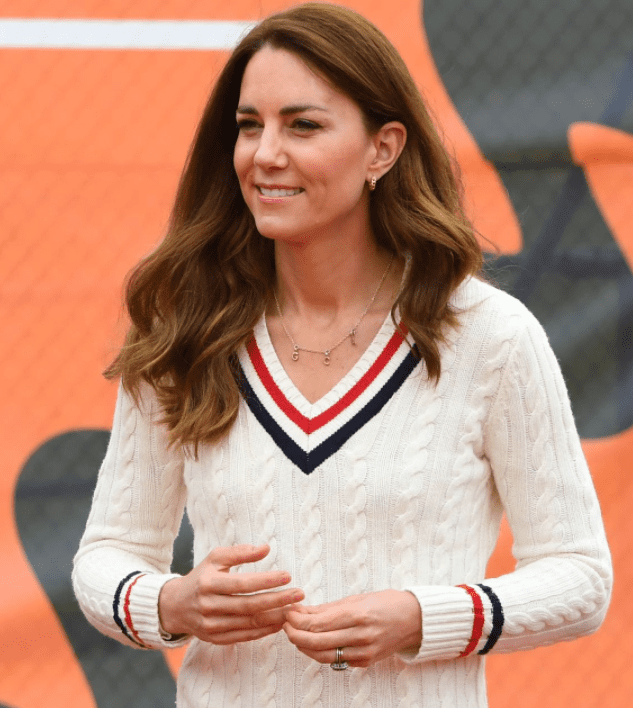 The piece has her children's initials on it. Middleton wore her thick brunette locks down as she dressed comfortably for the activity.
She had her team playing against her husband Prince William and his team as well. Their Instagram page noted that the LTA's youth program had made tennis around the United Kingdom accessible to many kids possible.
"Through its inclusivity approach, children are able to enjoy the benefits of playing and staying in tennis whatever their age, gender, ability, disability or background," the statement read.
They praised the program for doing incredibly well to create environments that allow kids and their parents to have fun while learning, with over 685,000 members playing on more than 23,000 courts.
The royal couple stepped out once again on Thursday in Edinburgh for the last visit of their week-long Scotland tour. The Duchess looked lovely in another blazer and trousers combo.
She added a pair of white trainers for their royal engagement with Fields In Trust – an organization that helps to protect green spaces in Edinburgh. Middleton, 39, wore a polka dot cardigan and clinched her waist with a black leather belt.
The Duchess, who invited little Mila Sneddon and her family to the Queen's official Edinburgh home, wowed royal fans once again as she donned a stunning pink ME+EM outfit that matched the five-year-old's dress.
The youngster previously told her that it was her favorite color. Mila, who is undergoing chemotherapy, was featured in an iconic picture from Middleton's lockdown photographic project.
While the royal made the lovely gesture for the toddler, she did the same for her late mother-in-law. Middleton continues to keep Princess Diana's memory alive through her fashion choices.
She usually makes a subtle nod to her by wearing her jewelry, and recently she channeled an entire look from 1992. Princess Diana wore an all-blue ensemble comprised of a blazer and a long skirt at the time.
And now, 30 years later, her daughter-in-law wore a Zara blazer and Hope skirt in a similar shade of blue. The only difference in their outfits was the princess' shoes. Rather than matching her heels, the Duchess chose a pair of tan pumps.
Aside from consistently paying tribute to her in-law, Middleton also acts as a glue to keep the Royal family together, according to a royal expert. Katie Nicholl claims Middleton has stepped into Prince Philip's shoes.
Nicoll shared that the Duchess has become The Firm's "greatest asset" and that she is "the perfect vehicle for good PR for the family" in a difficult time.