Kimora Lee Simmons' Son With Djimon Hounsou, Kenzo, Celebrates His Birthday – See Family Tributes
Kimora Lee Simmons and ex Djimon Hounsou don't have the best relationship, but they make sure to show love for Kenzo, celebrating his birthday and teaching him how to combat racism. 
Former model Kimora Lee Simmons showered her son Kenzo with love on his birthday. His relatives also didn't hold back, posting tributes galore for him on Instagram. 
Stepsisters Aoki Lee and Ming Lee Simmons, and the girls' father, Russell Simmons, all shared a post too. They lovingly wished their beloved family member a happy birthday.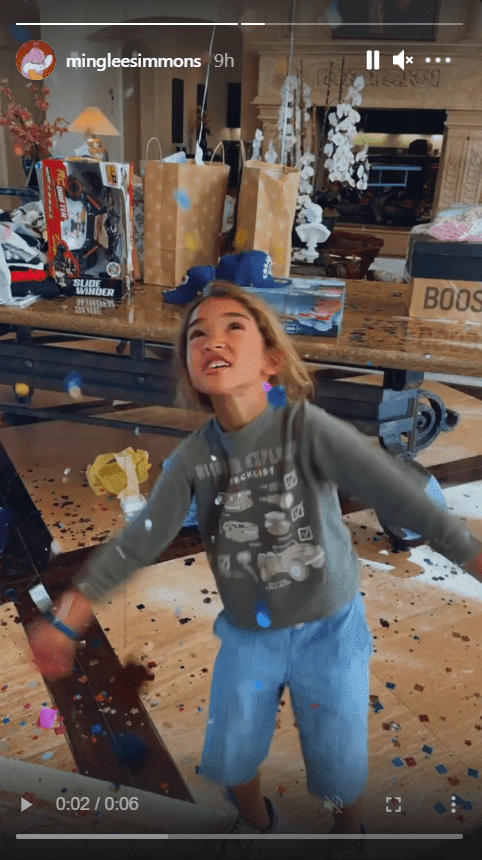 LOVE ALL AROUND
Aoki posted two pictures of her stepbrother wearing a Lakers shirt and surrounded by birthday decorations. She penned a long tribute in the caption, which partially read: 
"He is the most compassionate person I know. The first to lend a hand, the first to care for someone who is sick."
Kimora shared a post featuring a short clip of Kenzo and his friends grinning while jumping up and down at the now 12-year-old's birthday party. She also posted a close-up of Kenzo and herself smiling.
Ming shared an Instagram story with both her and Kenzo's stepbrother, the son of Kimora with her husband, Tim Leissner, playing around. Presents from Kenzo's birthday party surrounded the young boy.  
Someone used a racial slur against the African American child [Kenzo].
Meanwhile, Russell shared a picture of himself and other family members, along with an animated picture of a birthday cake. He expressed his unconditional love for the young boy in the caption. 
WHO WILL WIN? 
Kenzo's parents are now exes in an ongoing custody battle. In 2020, it was reported that his father, Djimon Hounsou, upped his determination to gain custody when allegedly, Kimora didn't let him see Kenzo on Father's Day. 
Sources claimed in the past that Hounsou was fighting to take Kenzo with him to Africa. Russell tried to deal with the actor, asking him to sign a form pledging he would bring the boy back, but he declined. 
DEALING WITH RACISM
Hounsou said, due to limited time with Kenzo, it's difficult finding the space to discuss important issues. This includes when someone used a racial slur against the African American child, Honsou expressing: 
"And so he's wondering 'why am I - why do you have to call me that word and what's so different about me that you have to patronize me like that."
The father told his son not to take it to heart. The kid who called him this had received a card at a soccer game, and so, Hounsou chalked it up to them feeling insecure and having to bring someone else down. 
Beyond teaching his child how to deal with racism, Hounsou has broken ground in the acting world, empowering the Black community. He was the first Black man to be nominated for an Oscar. 
His first nomination was for "In America." He was also nominated a second time for his performance of a lifetime in "Blood Diamond."